Children of John and Mary Kay
John Kay
It has always been assumed that John Kay was the first known child of John and Mary Kay but this may not be the case. If we rely on the 1841 and 1851 census returns referred to above, we have John aged 25 (give or take 5 years rounding) in 1841 and then from the latter census, where we have a Mary and John Kay residing at 14 Albert Street, Buslingthorpe, Leeds, the son's is given as 37, giving an estimated year of birth of 1814.
Mary Kay (W) 70 No Occupation Leeds

John Kay 37 Gardener Leeds
The year 1814 does not tie in with any of the IGI records I have found for the baptism of a John Kay, son of John Kay, all for Saint Peter's Church, Leeds - 30 Jan 1787; 15 May 1791; 20 Oct 1793; 8 Nov 1794. These records can be discounted if John's father was born/baptised in 1877. Further support for discarding the IGI records is that we know that John's sisters Elizabeth and Sarah were born respectively about 1808 and 1811, making 1814, if not correct, at least nearer the mark. Really, the only 'firm' records we have for John are found in his great-uncle's Will. John was still alive in December 1848 when his great uncle decided to include him as one of the estate beneficiaries.
To my…great nephew John Kay, child(ren) of my said late nephew John Kay, £19…

To the children of my late niece Ann Mayking one fourth of the remaining fourth part therof another fourth to the children of my niece Eliza Hollings and the other 2 parts to the children of my said late nephew John Kay.
The second provision refers to the proceeds of the Talbot Capital Account, the income of which was to be distributed on the death of the last surviving annuitant, who turned out to be Eliza Hollings (née Wright), who died in October 1890. The document allocating the division of funds was drawn up on 28th August 1890. Each of the children of John and Mary Kay was to receive £405-1-6. However the document also shows that by August 1890 John Kay was deceased and that the money was to be given to his Executor.
Ann Kay
As with John, we have no documentation to confirm Ann's date of birth and any other rites of passage that may have punctuated her life. A search of the IGI records for likely birth/baptism dates results in only two - 13 Oct 1782 – Leeds, Yorkshire; 20 May 1793 – Hunslet, Yorkshire - both being too early given the estimated date of her father's birth and the mooted birth years, where known, of her siblings.
<![if !vml]>

<![endif]>
We know that at some stage Ann married, but when she became Mrs. Leadbeater is not known, but we know that was her married name from the Talbot Capital Account referred to above. As with the other Kay siblings, Ann was due to receive £19 as a direct bequest from her great uncle and also a share of the Talbot Estate income. And as with her brother, she did not live to benefit, with the proceeds being taken care of by her Administrator.
While John Fretwell referred to his married great nieces by their married names he referred to Ann as Ann Kay which suggests that if she did marry it would have been after 1848, but I have found no marriage record to substantiate this. Alternatively, John may have lost touch with Ann, and not been aware that she had married.
And again, this raised the question as to whether Ann, was not born in Yorkshire, and perhaps also their father John did marry a Lancashire girl – e.g. the Mary Ashworth referred to previously – and spent his early married life in Lancashire before relocating to Leeds where the younger children were born..
Now if this is the case, it does not tally with the information for the 1841 census cited above.
We also have no real clue as to what Ann's husband's first name was, and a notation by WEF regarding a John Leadbeater, joiner, living in Woodhouse Carr in 1800 has, I think, hoodwinked me into assuming that Ann's husband was also named John.
Notwithstanding I have on file some census documentation relating to a John and Ann Leadbeater, both born in Manchester. This John was born about 1799 and he earned his living as a bookkeeper. The Ann in question was born about 1802. This couple had at least three children, Mary, Jane and William. A death registration indicates that this John Leadbeater died in 1862 and his wife Ann survived him by nearly four years and died 1866 aged 49.
However, as with much of the information for her brother John, what I have managed to find is very speculative, and without some firm basis to continue, I will leave Ann Kay at this point and proceed to the much more rewarding research on the other Kay children.
Elizabeth Kay
Elizabeth Kay, born about 1808 in Leeds, was the second known daughter born to John and Mary Kay. She married John Dixon, who had been born about 1812 Morley, on 6th November 1833 at St Peter's Leeds. We know from Elizabeth's great uncle's will that John Dixon was in the wool trade as they are both referred to as follows.
<![if !vml]>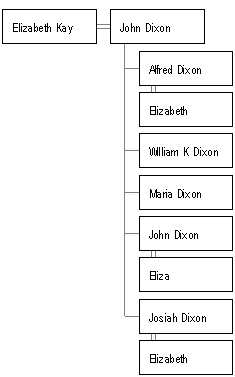 <![endif]>
Click here for the PDF notes on Elizabeth Kay
Sarah Kay
As far as is known, Sarah was the third child of John and Mary Kay. It was through the will of John Fretwell, drawn up on 2nd December 1848, that a little more was discovered about Sarah and her family, and it was the brief reference to Sarah that gave the impetus to try and find out more.
To my great niece Sarah Dark daughter of my said late nephew John Kay deceased £40 and to each of her children £10.
So, by 1848 Sarah Kay had married – but who – and how many children were there in 1848 to benefit from their great-grand uncle's bequests?
<![if !vml]>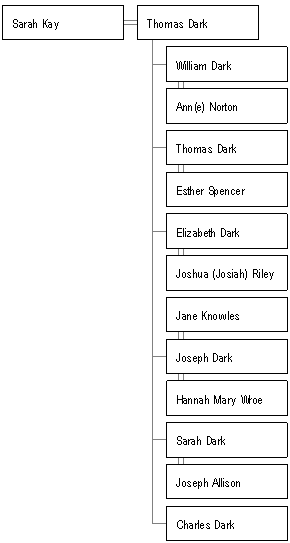 <![endif]>
Click here for the PDF notes on Sarah Kay
Children of Edward and Mary Kay
James Robert Kay
James Kay married twice. His first wife was Ellen Hodgson. His second wife was his first cousin, Clara Fretwell Todd. This section will cover the first marriage. The second marriage, and a more extensive account of James Robert, is covered under the section dealing with Isabella (née Fretwell) Todd and her family, Clara being the youngest child born to Isabella and her husband Charles Todd.
<![if !vml]>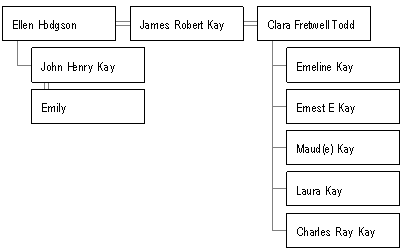 <![endif]>
James was born about 1828 in Leeds. He and Ellen Hodgson were married in 1849 at St Mary the Virgin, Hunslet. It was likely that they spend their first months of marriage at Silver Street, Hunslet, which was the address given by James as the informant on his father's death certificate. Their only child, John Henry was born in Hunslet and, very shortly after this, the family relocated to Brighton where they are found for the 1851 census at 74 Elder Street.
James Rob Kay 24 Engineer Leeds

Ellen Kay 24 Middleton, Yorkshire

John Henry Kay 1 Hunslet
Theirs' was a very short marriage as there is a death registration in Brighton for the December Quarter in 1851 of an Ellen Kay.
John Henry Kay
As noted above, John Henry Kay's mother Ellen died when he was around aged one. At this time the family was in Brighton. From that time forward, John Henry does not appear to have lived at home either before or after his father remarried, to Clara Todd.
John is found with living with his mother's brother for both the 1861 and 1871 census. In 1861 the address was given as Market Hotel Beer House, Hoyland Nether, and 10 years later it was recorded as Elsecar, Wombwell.
Given the birthplaces of Mary Hodgson and Sarah Crump, it is possible that they were sisters.
For the 1881 and 1891 census returns John Henry Kay was no longer listed with the Hodgsons and has not yet been located post-1871.
There is an IGI Record of a Mary Amelia Kay being christened on 16th October 1837 at Manchester Cathedral, Lancashire, with her parents being listed as Edward and May Kay. She is listed in the 1851 and 1861 census returns as living at home with her mother. She was mentioned, along with her brothers, in the will of her Great Uncle John Fretwell, by which she was to receive after his death (in 1851) a bequest of £25 and for her ongoing maintenance and support, an amount of a ¼ part of the proceeds of the sale of the Talbot Estate.
However, Mary Amelia seems to have been located in the 1871 census as a Pauper at the Leeds Workhouse under the governorship of Mr. Henry Douglas.
A search on Ancestry for a possible birth registration of Edward Kay, one year either side of his estimated birth year, returns only one entry – for an Edward Kay, with the birth being registered in the Jul-Sep quarter of 1841 in the Prescot district, Lancashire.<![if !supportFootnotes]>]<![endif]> The year fits with the information gleaned from the 1841 and 1851 census, but not with the stated birthplace of Hunslet, Leeds. However, his mother Mary Kay was a native of Prescot, and she may have been back in her birth place when she registered the birth of Edward.
Elizabeth was the oldest known surviving child of Ann and John Newton. She was listed as being 35 in the 1841 census, but a more accurate estimate of her birth year is provided by the 1851 census where she was found, still at home, with her mother at 23 St. Paul's Street. From this record Elizabeth would have been born around 1803. However an IGI record may pinpoint her date of birth more accurately. This record has Elizabeth, father John Newton, being born on 19th October 1802 in Hunslet, and being baptised on Christmas Day of that year – a customary day for christenings.
The Talbot Capital Account document names Elizabeth still as Newton, by which we can assume that she never married. The document also lists her as 'deceased' which means that she must have died sometime between the 1851 census and the winding up of the estate in late 1889. However, at this stage no lead has been found for her in either the census records or the death registrations.
George Newton
The IGI Family Group Record of George Newton being born on 14th July 1804, and another IGI record of one George Newton, son of John Newton, being christened at St. Peter's, Leeds, on 20th August 1804 have been taken as the first documented records of this boy, the first surviving of 5 sons. George married twice - first to Mary Ann Furness by whom he had three children, and then to widow Elizabeth Hopward.
<![if !vml]>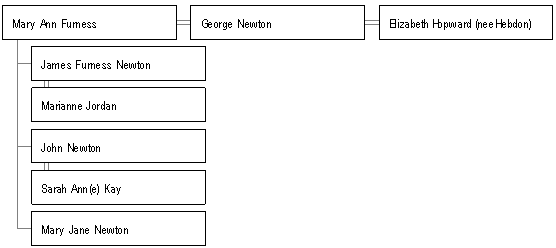 <![endif]>
Click here for the PDF notes on George Newton
Ann Newton
Of all the female relatives of John Fretwell, Gentleman, whose will has enabled me to unravel the accounts of his nieces and their families, his great-niece Ann Newton can be said to have been the one to have really landed on her feet – both in social standing and wealth.
An IGI reference records Ann, the second daughter of Ann and John Newton, as being born on 25th September 1806 in Leeds. On 13th September 1828, just before her 22nd birthday, she married James Kitson at St. Peter's Leeds. James, having been born in Leeds on 27th October 1807 had just reached his majority on their wedding day.
<![if !vml]>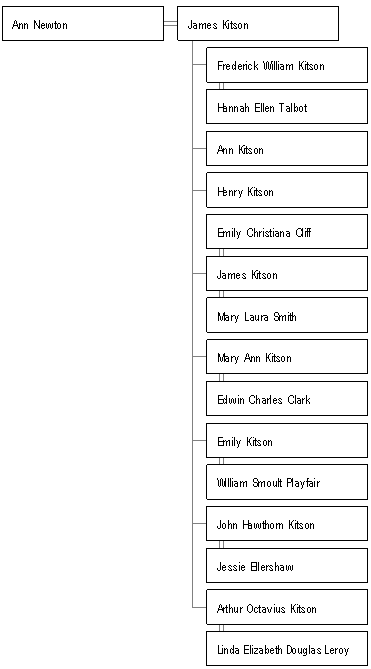 <![endif]>
Click here for the PDF notes on Ann Newton (and for James Kitson and his second wife Elizabeth Hutchinson)
John Newton
<![if !vml]>

<![endif]>
John was born on 8th June 1809, at Leeds. John Jnr, like his father, was a Letter Carrier and, until his father's death, they would have been working together at the Leeds Post Office. We have a listing for him and his wife for the 1841 census in which he is listed as having been born in Yorkshire, but not his wife. Both are listed as age 30. It is not known at this stage if they had any children as none are listed as being at home with them in Leighton Place on census night.
John Newton 30 Letter Carrier

Elizabeth Newton 30
A possible record of their marriage, and a lead as to Elizabeth's maiden name, is an IGI Family Group Record of a marriage at St. Peter's, Leeds, on 2nd April 1832, between John Newton and Elizabeth Fowler, but this would need to be checked out.
In 1851 he was aged 41, still living in at 4 Upper Leighton Place with his wife Elizabeth, who we now learn was born in London. Again, no children are listed.
John Newton 41 Letter Carrier Post Office Leeds

Elizabeth Newton 39 Dress Maker London
Ten years later all we learn from the 1861 census is that John and Elizabeth are still living at the same house. Elizabeth is no longer listed as a dressmaker, but we have the additional information that she was born in Westminster.
John Newton 51 Letter Carrier Post Office Leeds

Elizabeth Newton 49 Westminster, London
This couple is also found in the 1871 and 1881 Census returns, now living at 44 Caledonian Road, West Leeds. By 1881 John has retired.<![if !supportFootnotes]>[vi]<![endif]>
John Newton 61 Superannuated Postman Leeds

Elizabeth Newton 59 London

John Newton 71 Superannuated Letter Carrier Leeds

Elizabeth Newton 69 Middlesex, London
Elizabeth is found again in the 1891 census, still living at 44 Caledonian Road, but she is now a widow. Again, her place of birth is different - over the Census returns it is variously given as London, Westminster, Middlesex, and Piccadilly.
Elizabeth Newton 79 Her own means Piccadilly, London
A registration of the death of a John Newton, at Leeds, for the Jan-Mar quarter of 1886 has been followed up and a copy of the certificate obtained. This is our John Newton, Letter Carrier, who died at the age of 76 on 26th January 1886, at home at 44 Caledonian Road. The cause of death was heart disease. His wife/widow was present at the death which she registered the next day.
Following up on a similar reference for a death registration of an Elizabeth Newton was also successful. She outlived her late husband by just over 5 years, dying aged 79 on 30th June 1891 at 11 Chapel Street, Headingley of Bronchitis and Syncope Heart. The person who registered the death on 1st July and who was present at the death was Richard Taylor, nephew, also of 11 Chapel Street. It is likely that Richard was a child of one of Elizabeth Newton's female siblings, and that she went to live with him and his family after John died.
Ann Hartley has written an account of one John Read Storman, Letter Carrier, of Leeds.<![if !supportFootnotes]>]<![endif]> He would have been a co-worker with John Newton. The following extract gives some idea of the Leeds postal system and the conditions of letter sorter at the time.
Leeds had a very efficient postal service by the 1830s with the post office situated in Mill Hill. With the introduction in January 1840 of the uniform postal rate of one penny per half-ounce for any distance – Rowland Hill's Penny Post – much bigger accommodation was required and a large warehouse was taken in Albion Street. In 1858 there were 25 clerks and 26 letter carriers, ten pillar boxes and another 19 'receiving houses' in different parts of the town. Most impressively there were three deliveries a day both in the town and suburbs! In 1861 the Court House in Park Row was converted into the main post office and about 1871 numbers of postal staff had increased to almost 400 and deliveries were made four times daily. In 1861 the scarlet uniform of the letter carrier had been replaced by a blue coat with scarlet collar, cuffs and piping. One each side of the collar the letters GPO were embroidered in white, above the postman's number. Winter trousers were blue with a scarlet stripe and summer trousers were grey. John would have worn a single peak shako hat, which was introduced in 1862 to replace the tall glazed had and was covered with a dark blue cloth with red piping around the top and bottom. In April 1865 the pay for a Postman was 22/- per week, or £1,144 per year (with further increases, after John had retired, to 25/- and 26/- per week in 1872 and 1882 respectively). A pension was payable on retirement and, on the superannuant's death, his widow also received a pension from the Post Office. At a time when an unskilled labourer earned about £50 per year in Leeds, John Newton would have been reasonably well paid as a letter carrier. For comparison, John's 1865 wage, converted to 2002 values, was £65.5 pw or £68,213.78 pa.
Edward Newton
Edward was for some time something of a mystery as I had not been able to locate any definite record of him. We know from the Talbot Trust deed that he was dead by 1889. He does not appear in the family listing for the 1841 census. However, an IGI Family Group record has him listed as having been born on 3rd December 1811 at Leeds and another IGI reference records him being baptised at St. Peter's, Leeds, on 13th January 1812. It was not until I obtained the copy of the death certificate of his father that some more clues about Edward were found. He was present at the death of his father John on 28th July 1849, and on the certificate gave his address as East Retford.
<![if !vml]>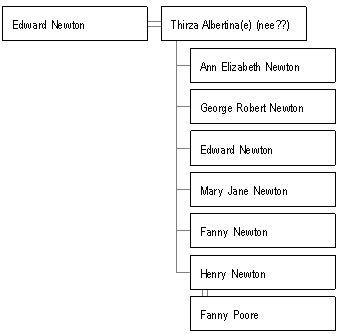 <![endif]>
Click here for the PDF notes on Edward Newton
James Newton
It is likely that James was born in 1816 as there is an IGI record of him being baptised on 13th September 1816, at St Peter's, Leeds. At the time of the 1841 census he would have been about 25, and he is not listed at home with the family for that census night and, at this stage has not been located in the census returns. He has been located for the 1851 census by which time he had married. Although we know that his wife Margaret was born in Bolton, her surname has not yet been established, nor where and when they were married. By the time of the next census, Margaret has been replaced by Harriet.
<![if !vml]>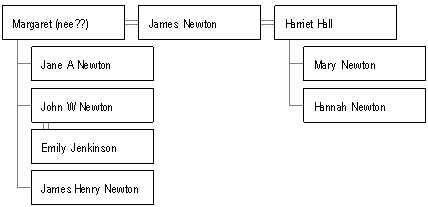 <![endif]>
Click here for the PDF notes on James Newton
Francis Newton
Francis, according to an IGI reference, was baptised on 10th October 1819 at St. Peter's, Leeds. For the 1841 census Francis, now about 20 years of age, was living at home at St. Paul's Street, Leeds, and employed as a Cloth Warehouseman Journeyman. The 1851 census records a change of career direction for Francis who is now a school teacher and now also has a wife and family.
<![if !vml]>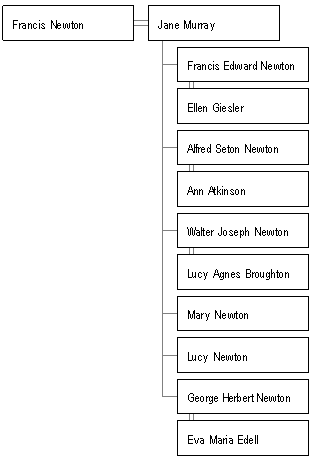 <![endif]>
Click here for the PDF notes on Francis Newton
Mary Newton
Mary, the youngest known child, and second of three daughters born to Ann Kay and John Newton, was born in Leeds in 1823. Mary was living at home at 23 St. Paul's Street, Leeds, for both the 1841 and the 1851 census. The 1851 census was conducted on 30th March and just short of four years later, somewhat later in life than was customary Mary married and became Mrs. Beetham. She and John Beetham were married by licence in the parish church of Leeds (St. Peter's) on the 26th February 1855.
<![if !vml]>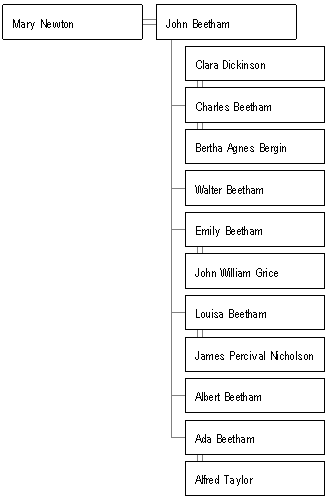 <![endif]>
Click here for the PDF notes on Mary Newton
Children of Mary (née Kay) and William May
Rowland William May
<![if !vml]>

<![endif]>
Rowland, who seems to have been the first born of William and Mary May, was baptised on 30th June 1823 at Pickhill with Roxby. While he was with his family for the 1841 census he was not with them ten years later, and in fact, Rowland has not been located at all for the 1851 census or any other England census thereafter. However, we do know that he married, and that his father would still have been alive to see his oldest son become a husband. On 16th May 1849 Rowland William May and Elizabeth Robinson were married by Licence at the Bedale parish church. They were both 'of full age', and respectively their addresses prior to the marriage were Hope Nursery and Bedale. Elizabeth's father was recorded as George Robinson, Jobber, and the witnesses were George Anderson, John Thomas Carter, Isabella Waggett and Ann Clarkson. Elizabeth, who was born about 1826 at Patrick Brompton, Yorkshire, is listed in the 1841 living at home with her mother and brother at Newton Le Willows, together with two members of Waggett family, who would have been related to the Isabella Waggett referred to above.
Ann Robinson 50

Elizabeth Robinson 15

William Robinson 8

John Waggett 20 Ag Lab

Mary Waggett 15
No further record has been found for Rowland at this stage. However, from the Talbot Estate documents, Rowland would have died sometime between the drawing up of the document in October 1889 and the release of funds in August 1890.
Ann Eliza May
<![if !vml]>

<![endif]>
Ann Eliza has proved to be difficult to trace. We have a record of her being baptised on 12th April 1824 at Pickhill with Roxby.<![if !supportFootnotes]>]<![endif]> We know that she was with her family for the 1841 census and in Leeds with her aunt Ann Newton for the 1851 census. We know she married a person called Rankin, that she received a bequest of £30 from her great uncle John Fretwell and, from the Talbot Estate Account, that she had died before October 1889. But no further documentation has been found for her after the 1851 census.
Henry May
Unlike his older siblings, there is quite a deal of information for Henry May. He is recorded as being baptised at Pickhill with Roxby on 16th May 1828. He was at home for the 1841 census and again for the 1851 census. He was named as one of the Executors for the 1848 Will of John Fretwell, as Henry May of the Hope Nursery, Leeming Lane, Burneston in the Country of York, Nurseryman. And in 1852 he married local girl Rebecca Hepple, which event was registered in the Bedale district in the Jan-Mar quarter.
<![if !vml]>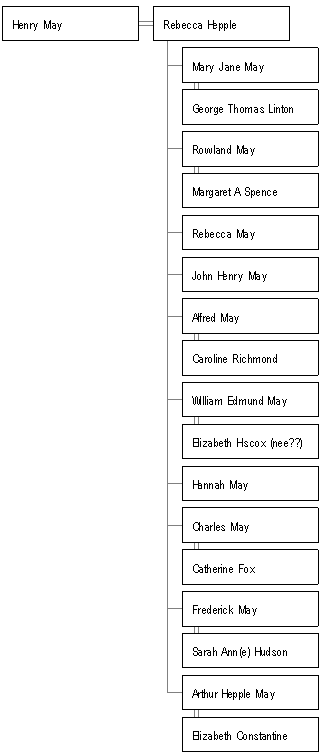 <![endif]>
Click here for the PDF notes on Henry May
Charles May
<![if !vml]>

<![endif]>
Charles was the third son born to William and Mary May and be was baptised at Pickhill with Roxby on 1st January 1830. We have followed him as a young boy with his family for the 1841 census and as an Assistant Nurseryman working in the family business for the 1851 census. In the late summer of 1852 Charles married Rosamond (Rose) Ann(e) Wells on 14th September at the Parish Church, Kirklington. Rosamond, who had been baptised, probably at the same church, at Kirklington on 17th April 1830, was the daughter of William and Elizabeth Wells. For the 1841 census the Wells family was living at Berry Hills, Sutton Howgrave, just south of Kirklington. All members of the family (including one who was probably William's brother), were listed as being born in Yorkshire.
William Wells 40 Farmer

Elizabeth Wells 40

James Wells 16

Richard Wells 14

Rosmond Wells 11

Catherine Wells 6

Elizabeth Wells 8

William Wells 5

Christopher Wells 3

Henry Wells 1

James Wells 35 Currier
I have not been able to locate Rosamond in the 1851 census and while the Talbot Account document has him listed as still being alive in 1889, there are no further English census records for Charles after 1851. The reason for this is that sometime between their wedding day and the birth of their first child, Arthur William May on 1st September 1854 at Heidelberg, Melbourne, Charles and Rosamond emigrated to Australia. Quite likely, Charles decided that, with three elder brothers, there was no future for him in the family business and he decided to strike out on his own. Whether the news of the Victorian gold rush had tempted him to Australia is, of course, speculation! At this stage no record has been located in the Victorian PRO or other immigration records.
Sophia May
<![if !vml]>

<![endif]>
Another of the 'disappearing' Mays! Based on an LDS reference, Sophia May was born on 16th August 1833 and baptised one year later on 21 August 1834. She was not at home with the rest of her family for the 1841 census as she was a pupil at a school at Patrick Brompton, between Bedale and Leyburn. She makes an appearance at home for the 1851 census but after that nothing further has been found for her in the Ancestry records. But we do know that she married an Allinson and it may be significant that one of Sophia's fellow pupils in 1841 was an Annie Allinson. We also know that the Talbot Estate document lists one Sophia Maria Allinson as being deceased by October 1889.
Edwin Fretwell May
Edwin, the baby of the May family, was born in 1840 and was baptised on 20th March of that year in Burneston. As an infant he was with his family for the 1841 census. Masquerading as 'Edward' May he was enrolled as a boarding pupil at Red Hill House, a school under the supervision of John Greaves, School Master. The school was at Spofforth, south of Knaresborough and quite some distance away from his home town. Having graduated from Red Hill House, Edwin is next found living with his mother at Masham, for the 1861 census. By this time 21 year old Edwin is earning his living as a grocer's assistant. What he did with his life after this is a mystery. Did he marry? Did he, like his older brother Charles, emigrate? We know that he was alive in October 1889 as he is one of the living relatives listed in the Talbot Estate document.
The only other reference found for Edwin Fretwell May is the registration of his death, aged 65 for the Jan-Mar quarter of 1906 in the Doncaster district. This was followed up and revealed a little bit more about Edwin. He died on 5th March 1906 at 3 Queens Road, Wheatley, Yorkshire. His occupation was given as retired Indigo Planter. The cause of death was Angina Pectoris from which he had been ailing for 22 days. Most interesting is that his widow, Lilian May, also of 3 Queens Road was present at his death.
So we know that at some time after 1861 he married. However a search of the FreeBMD Marriage Index has failed to find any record of a marriage between Edwin and the mysterious Lilian. We also now know that he was an indigo planter, but where is unknown. It is possible that he met and married Lilian overseas. However, knowing that he was in back in England in 1906, I did a check of the 1901 census, searching on the name May, in the census district of Wheatley, and drilling down to the household at 3 Queens Road. This proved somewhat enlightening. For the 1901 census, the head of household of 3 Queens Road was Caroline Anderson and the full household is listed below.
Caroline Anderson (W) 64 Living on own means Leeds

Maud May (Grand-Daur) 22 Halifax

Lily May (Grand-Daur) 20 Halifax

Daisy May (Grand-Daug) 17 Barnes, Middlesex
I then checked on the same address for the 1891 census, and found
Caroline Anderson (W) 54 Living on own means Leeds

Maud May (Grand-Daur) 13 Scholar Halifax

Kathleen May (Grand-Daur)) 12 Scholar Halifax

Lilian May (Grand-Daur) 10 Scholar Halifax
It would seem, therefore, that Edwin and Lilian (nee Anderson?) had at least 4 daughters. Although they were recorded in the census as being born in England, I have found no FreeBMD records of their possible birth registrations. Kathleen May was not living with her grandmother in 1901, but a girl not listed with her in 1891 – Daisy – is.
<![if !vml]>

<![endif]>
The circumstances leading to the girls being in the care of their grandmother have not been established. It is possible, as was the custom for parents living abroad, that their daughters were sent 'home' for their education. Hopefully the 1911 census will reveal more.
Children of Isabella (née Kay) and Charles Todd
Emma Todd
Of the four surviving daughters, it would seem that only Emma remained unmarried. As noted already, an IGI record has a christening for an Emma Isabella Todd, daughter of Chas. and Isabella Todd, for 20th November 1825 at St Peters, Bolton Le Moors, Lancashire, England. However, from the census returns featuring Emma, it would appear that her she may have been born a few years later.
In 1841 she is recorded as being 15 - but, due to rounding, this is an unreliable reference. The 1851 census adds to the confusion as she is here recorded as being 22, and again, at home in 1861 she is 30. In 1871 she is found as a 40 year old visitor in the household in Southampton of her sister Clara and brother-in-law James and she was present at Clara's death in 1876. She is again visiting for the 1881 census, this time at her house of sister Mary Amelia and family. According to this record, she is now 43.
No record has yet been found for Emma after the 1881 census. She may of course have married late in life, in which case she would have to be searched by her married name. This is a possibility that still needs to be followed up.
Laura Todd
For the 1841 census Laura's age was given as 15 – the same as her sister Emma Isabella. Mindful that the 1841 census is not entirely reliable, it is interesting nevertheless to speculate that Emma and Laura were twins. However this supposition is quashed by the IGI record of Laura's baptism on 4th November 1827 as Bolton le Moors, Lancashire. She died at home in Dewsbury Road on the 10th September 1846 of typhus, aged 18. The informant was her father Charles, who was present at his daughter's death.