The information for some members of this generation is more comprehensive than for individuals in previous generations. However, the actual number of family groupings covered is smaller, due to a paucity of information for some of these groupings which featured in the earlier sections. John and Isabella Fretwell, as has been noted, were parents to ten children. But, as with so many families, they suffered the early loss of a number of their offspring. Much of the information relies on an interpretation of the terms of the Will of John and Isabella's son John. While there is no difficulty in following through on the families of John's nephews, the nieces present more difficulties. I have tried to deduce which nieces belonged to which sisters, and, pending verification, the information should be read in that context.
For the children of the Hoyland Swaine Fretwells nothing is known except for their baptismal dates and inferences from census data.
If anyone has anything they can add, I would love to hear from them and am only an email away!

5th Generation Spouses

| Surname | Given Name | Spouse of |
| --- | --- | --- |
| Jenkins | Elizabeth | Thomas Bulkeley Fretwell |
| Kay | Richard | Mary Fretwell |
| Fawcett | William | Isabella Fretwell |
| Wright | Thomas | Ann Fretwell |
| Robinson | Elizabeth | Peter Fretwell |
| Vause | Mary | William Fretwell |
| Walshaw | Jonas | Ann Fretwell |
Thomas Bulkeley Fretwell
The National Burial Index for England and Wales has a record of the burial, in 1848 at Fladbury, Worcestershire, of one 70 year old Thomas Bulkeley Fretwell who had been born about 1778. It is most likely that he was a grandson of Robert and Alice (née Bulkeley) Fretwell and the son of Thomas Fretwell who, on 19 December 1771, married Joyce Allcock at Fladbury, Worcestershire, although I have not located any record to confirm or refute this premise. We know that this couple had at least four children - Elizabeth, baptised at Fladbury, Worcestershire, on 1 January 1773; Francis, baptised at Blockley, Gloucestershire, on 12 June 1775; Thomas Bulkeley, baptised at Blockley on 31 December 1777, and Susanna, baptised on 3 May 1780, also at Blockley. A further record shows that a Joyce Fretwell, was buried at Fladbury on 26 April 1782. The Hereford Journal of Wednesday 11 December 1799 reported that -
On Friday se'nnight died, after a few days illness, much lamented, Thomas Fretwell, Esq, of Upton-old, Worcestershire.
According to the Cheltenham Marriage Register, on 26 February 1818 Thomas Bulkeley Fretwell, of the parish of Blockley, Worcestershire, married by licence Elizabeth Jenkins, spinster of the same parish. The witnesses were Edward Collier, Rupertia Higgs, and John Barnard. The Hereford Journal of 11 March 1818 notified its readers of the event.
At Cheltenham, Thos. Fretwell, Esq. of Upton-old, Worcestershire, to Elizabeth, second daughter of the late Rev. Arnold Jenkins, Rector of Tredington.
Elizabeth Jenkins was baptised at Tredington on 8 July 1793. Her parents were Arnold Jenkins and his wife Ann (née Collier) who had married at Blockley on 14 October 1790. By the time Elizabeth married Thomas, both of her parents had died - Arnold Jenkins in 1802, and Ann Jenkins in 1811. It was two of Ann's siblings who witnessed Elizabeth's marriage - uncle, Edward Collier, and aunt, Rupertia (née Collier) Higgs.
It is from a legal case, reported in the Worcester Journal of 6 January 1831, that we glean something more of the background of Thomas Bulkeley Fretwell. The case relates not only to the tenancy of property owned by Lord Northwick but also to the time when disgruntled workers, seeking higher wages, formed into gangs for the purpose of destroying farm machinery and, in particular, thrashing machines.
Singular Case - James Gilson, Richard Sanders, George Watcott, Richard Keyteley, and William Blackford, were charged with riot and assault, on the premises of Mr. Fretwell, at Blockley, on the 7th ult. Mr. Godson and Mr. Lee appeared for the prosecution; Mr. Shutt and Mr. Evans for the defence. Mr. Godson, in opening the case to the Jury, stated that the prosecutor, Mr. Fretwell, had, for thirty years, rented a farm of Lord Northwick, at Blockley, where his father had also resided for the same number of years. Mr. Fretwell had given his landlord notice that he intended to quit the farm, at Michaelmas last. By the custom of the country, however, he was entitled to the use of the barn upon the farm, until Lady-day next. In that barn, Mr. F. used a threshing-machine; and, on Saturday, the 4th ult. the defendant Gilson, Lord Northwick's bailiff, called on him, to request that he would remove the machine, which Mr. F. refused to do, and Gilson threatened to have it pulled down, if he did not. On the following Tuesday, while the machine was at work, and Mr. F. was standing by, the six defendants, with another man named Day, rushed into the barn, with axes, hammers, &c. and broke some parts of the machine, though not so much as to render it useless, and thereby subject themselves to the heavy penalties of the laws that relate to the destruction of machinery. One of the defendants, Blackford, produced a constable's staff, and threatened Mr. F. if he interfered. - Mr Godson proceeded to call

Mr. Fretwell who stated the facts detailed in Mr. Godson's opening, adding that Gilson told him Lord Northwick wished the machine taken down. When Mr. Fretwelll remonstrated with the men who took down the machine, Blackford shook his staff at him, and told the men not to mind him. Several persons were present, and were much alarmed at the proceeding. Mr. Holton (who succeeded Mr. F. in the farm,) remonstrated against the proceeding; Gilson took him aside, and showed him a letter. Gilson told the people not to mind witness, for he had Lord Northwick's authority for what he did.

Cross-examined - Gave notice to quit because Lord Northwick would not reduce his rent, which was much raised when his Lordship came into the property; the estate is about 420 acres, the present tenant's rent is 464l. Had heard of machines being destroyed in the neighbourhood, and that many had been taken down. Gilson might have said that Lord N. wished the machine taken down, lest its being worked should cause the property to be destroyed. Told Gilson that after Lord N.'s cruel and unchristianlike treatment, he was the last person who should ask him to do any such thing, and added he would oppose every wish of his Lordship; might have said he was insured, and was not at all alarmed at fire, because he never had any threat; believes he did not say "my property is insured, and I do not care a d___n about the premises," but would not swear he did not say so. Mr. Holton had advised him to take the machine down, saying he should be afraid. Witness could not thrash out his corn in proper time without it. Gilson offered to send men to thrash his corn, but he did not choose to accept this offer. Believes he did not put his hand on Blackford; was going to shove him out of the barn, when he produced his staff; the men seemed to wish to avoid hurting the machine, while taking it down. The expenses of this prosecution were to be paid by the Blockley Association for the prosecution of Felons.*

Re-examined. - Lord N. had been his landlord 11 years. When the notice was served, witness said he wished 200l taken off the rent, but sooner than leave, he would have been contented with 150l.

Jos. Smith and Wm Harrold, labourers in Mr. Fretwell's employ, spoke to the defendants being present or assisting in taking down the machine. Daniel Powell saw Blackford at a public-house; he said that Mr. F. did not strike him.

The case for the prosecution being closed, Mr. Shutt and Mr. Evans contended that there was no evidence to go to the Jury. Mr. Godson and Mr. Lee having replied, the Court decided that there was evidence to go to the Jury. Mr. Shutt, in consequence, addressed the Court for the defendants, and contended that there was no evidence to shew that there had been a riot and assault.

The Chairman summed up very minutely and impartially; and the Jury, after about ten minutes' deliberation, returned a verdict, finding Blackford guilty of riot and assault, and the rest guilty of riot only. - The Magistrates adjourned to consider the sentence. Upon their return, the Chairman told the defendants that no one could doubt the illegality of their conduct. The sentence was, that Gilson and Blackford pay a fine of £30 each - the other defendants, £20 each; all of them to be imprisoned till the fines were paid.

The case occupied nearly six hours. - Lord Northwick was in Court during the trial.

* Note : In the 18th and early 19th centuries, before the creation of a national police force, rural communities formed mutual subscription societies to prosecute criminals. These evolved out of resolutions passed at parish vestry meetings to prosecute felons out of the public purse.
It was this case to which, four years later, Thomas Bulkeley Fretwell referred in a somewhat convoluted and disgruntled letter penned at Fair View Cottage, Cheltenham, dated 20 December 1834, and addressed to the Rt. Honble. Lord Northwick, of Northwick Park, Moreton in Marsh, Gloucestershire. (The original spelling is retained).**
My Lord

I am much surprised to hear from a Gentleman (a friend of mine), that Col. Henry Lygon made a remark to concerning the trial of my thrashing machine 4 years ago at Worcester, viz. that I had not sworn to the truth by saying that Mrs Fretwell did not persuade me to fight your Banditti on that most extraordinary operation, now I find it a duty (as my caracter is at stake) and for the sake of my Wife (an inofenceve Woman) (as no person who deserves the name of a Man) would have mention'd on the affair) to say that it was not my wife but another Lady that made the use of the words (If I was in your place I whou'd fight and turn them all out of the Barn) which Lady is not afraid of owning if required, now I shall be obliged to you to explain this Mistake to Col. Lygon the first opportunity you have (as I am afraid it was you that must have made such a report to Col. L.) as you most unfairly told me that I did not swear to all that was right before my Neighbours at the Bell Inn in Blockley in January 1831, now I am much blamed by all classes (?) that I did not fight on that Momentous Occasion on the 7 of Dec. 1830 which was owing entirely to my command of good temper well knowing if one blow had been struck that Death might have occured as the most Dangerous Weapons were in the hands of both parties and therefore you may put it down to my Credit that you (as the Leader of the Gang) was not made to pay the penalty of the Law of your Country ... He that takes from me my good name robs me me of that which not enriches him but makes me poor indeed. Now such an unfair report is of great consequent to me at this time as I am going to undertake the Cheltenham Harriers on the first of January and must depend on the Liberal subscribers to that Pack and the Gentleman whom I mention'd is going to be a new subscriber with many others on my account and I am sorry to say I am obliged to do something for the support of my Wife and interesting(?) Child at my time of Life ... owing entirely to my not leaving Upton Wold Farm in the year of 1818 which I resigned to you on the 5 October in that year after consulting my Friends ... on the taking of it at such a high rent.
It seems that Thomas, now in his mid-50s and no longer farming, was having to rely on income derived from organising hunting events to support himself and his family, a predicament he blamed entirely on Lord Northwick, as somewhat confusingly set out in the letter. Thomas also makes reference to mutual family connections, which are not entirely clear, but which Thomas regards as significant, and reminds Lord Northwick of his concern and care for the late Lady Northwick. The letter concludes on a conciliatory note, and with the hope that Thomas can return to Blockley.
I was going from Northwick to Esam on that day to have hand bills printed of my sale of stocks when you fixed to leave it to a Mr. Eagle to settle between us which said Mr. Eagle was never apply'd too but the Farm was offer'd to Mr. Hancock, Mr Penson and Mr. J Marshall and I was kept in the dark for a long time waiting for Mr. Eagle till my Stock and Crop was not worth so much by 1000 pounds, as it was the day I gave it up to you and then I took the Farm on your promise to lower according to the times and therefore I am more than five thousand pounds loss by your extraordinary Conduct by being led by dishonest Servants, even to the last I was deceived by being kept in the House by your own proposal to look over the Farm for two days viz. the 9 and 10 of September 1830 when you lett it to a Cow dealer instead of attending to me an old tenant and I may say Friend and Neighbour for a number of years and having married a Neice of our good and lamented Friend the Rev. W. Collier and son in law to that good Woman Mrs Fretwell from Yorkshire who gave in charity to the poor of Blockley on Sunday [?] and the villages round that Neighbourhood hundred of pounds with the best intention and she gave me thousand of pounds to pay your enormous rent and yet your and your Sisters I suppose have forgot such a good lady for the last ten years.

Now if you had refer'd according to my particular wish to that good honest experiance Man Mr C. Marshall of Snowshill I shou'd have been still living at my native house where I resided for 53 years of my life and respected by all Classes in the Neigbourhood and I have every reason to believe I had not a single Enemy (beside yourself) in the course of my life but your conduct towards me made me miserable for the last few years who ought to have been my best friend in such bad times as I pay'd every attention in my power to the late Lady Northwick in her infermity for the last few years of her life which [?] Lady your Sister Mrs Rushout well knows and for whom I have every respect for which I hope to will inform her of when I next see her (or write to her) perhaps it may happen that thro: having some good friends I may come to end my latter days at my native Village Blockley and shake hands with you and die in perfect peace with all Men and I understand Dovedale* is now to be Let and with your aid and assistance it is in your power to make me happy in my old age for I am sadly afraid I shall be a cripple the rest of my life thro: a bad accident I have met with from a fall from my Horse which have kept my bed for the last 7 weeks therefore not well cut out for my new occupation and I must say it is very galling to be accused of things by my bedside as I am quite innocent off, but being free from all malice I from my very Heart forgive you for what is past and as I hope to receive the holy Sacrament on Christmas Day hoping you will forgive me for speaking truth of mind his the humble prayer of your Lordships most
true and well wishing Friend and Servant
Thos Bulkeley Fretwell

* Note : Dovedale House was the dower house for the Northwick Estate. It was at Dovedale House that Thomas' widow Elizabeth was found for the 1851 census return - see below.

Thomas' appointment with the Cheltenham Harriers was short-lived (see below), but, in his own right, between 1835 and and 1836, he regularly advertised in the Hunting Appointments columns, the various hunting fixtures he had organised. For instance, the Worcester Herald of 2 January 1836 advised that Mr. Bulkeley Fretwell's Hounds would run on 5 January from Naunton Inn, on 7 January from Postlip House, and on 9 January from Woolstone Village. Appended to this programme was the following assurance.

We are glad to hear that this old sportsman will not, on any account, hunt bag foxes, although they are offered to be sent to him: Mr. Fretwell remembers his late father father saying, when he hunted the Cotswold country, that nothing annoyed him more than harriers hunting bag foxes, - it was unsportsmanlike and unfair.

However, further correspondence between Thomas and Lord Northwick indicates that Thomas faced some difficulties in running his business. From a letter dated 20 December 1835 we learn that Lord Northwich had given notice that Thomas was not permitted to run his hounds over his Lordship's land, and further, that Lord Northwich refused to pay money owing to Thomas who begged

... his Lordship will send the ten Guineas he promised by letter (which letter is fortunately kept) by Christmas Day when all honest men pay their debts or Mr. F will put it in his attorneys hands to recover which he shall be very sorry to be obliged to do - Mr Fretwell is sorry Ld. Northwick is inclined to wage War at the season of the year when peace and goodwill ought to be kept by order of our Blessed Master.

and added, as an aside

Mr. Fretwell is not surprized at anything Lord Northwick can do to his Neighbour when he insults his Maker by constantly disturbing the good people in his Parish Church in the Middle of the service by coming in late with his Conveyance(?), and then to read the newspaper as Mr Fretwell was inform'd of by the late worthy Vicar and Curate of Blockley to their annoyance when Church Warden.

On 19 October 1837, from 42 Clarence Square, Pittville, Cheltenham, Thomas again wrote to Lord Northwick reminding him that, by a letter of 31 December 1834, the latter had apparently agreed to take out a three-year subscription, at £10 a year, which amount was still outstanding. Thomas begged to ask, for the last time before taking legal action, whether Lord Northwick intended to pay up. By this time, according to a postscript to this letter, Thomas Bulkeley Fretwell had 'given up the Hounds'.

** Note : John Hine generously provided copies of the correspondence from Thomas Bulkeley Fretwell to Lord Northwick cited above..

By 1836 Thomas was also in dispute with the Cheltenham Harriers over access to hunting grounds (and his management practices), as reported in the Worcester Journal of 22 September 1836.

Mr. Fretwell having stated in the Cheltenham Chronicle that "he begged the Managers of the Cheltenham Harriers to understand that he considered the boundary of his hunt to be the Turnpike road from Cheltenham to Northleach, and, again, the Turnpike road from Cheltenham to Beckford Inn, (Winchcomb side,) Mr. F. having the leave of the principal part of both landlords and tenants to hunt on their respective estates in that neighbourhood;".- Mr. H. Lucas, Manager of the Cheltenham Harriers, has, on behalf of the committee, contradicted the statement, which he considers as a gross and wilful misrepresentation. "With the exception of Beckford Inn and the neighbourhood, there is (says Mr. Lucas) scarcely any part of the country named by Mr. F. that he can go upon, without committing a trespass - that person is, and can be considered in no other light than an intruder. It cannot be too generally known, that in consequence of Mr. F.'s hounds being allowed to be out whole days and sometimes nights in the fox covers and about the country, he is doing an incalculable deal of mischief, and that it is absolutely necessary that effectual means should be taken to prevent him, of which he has had due notice."

It was through the Cheltenham Chronicle of 22 September 1836 that Thomas Bulkeley Fretwell answered his critics. The following statement was appended to his published programme of forthcoming fixtures.

Mr. F. took to the Naunton Inn and Hawling country two years ago, when Mr. Wynniatt gave up his hounds, with the consent of all parties concerned in that neighbourhood, and who had forbidden the Cheltenham Harriers hunting over their respective farms. It is not generally known in Cheltenham and its neighbourhood that Mr. F. got the finest quarter of the Cotswold Hunt for Lord Segrave from the Warwickshire Hunt, after that pack had hunted it for more than ten seasons, or the gentlemen of Cheltenham would be more generous and grateful to him, for the good sport they have enjoyed for more than twenty years in this part of the country. Mr. F. has now got the letter, in which his Lordship thanks him in the most gentlemanly way for the trouble he took in procuring the covers for him to hunt. Mr. F. begs to say that the report of his hounds running foxes in the covers in the night is untrue.

Immediately below was the following letter to the Editor which explains the circumstances in which Thomas was forced to relinquish the management of the Cheltenham Harriers and defines the extent of his rights to hunting lands.

Sir, - Observing in a paper of this day a paragraph about hunting this country, signed by one Mr. Lucas : though I could not condescend to answer him, after the occurrence of certain circumstances, yet, in deference to the Members of the Committee for managing the Cheltenham Harriers, I must say, that I do not believe they ever authorized that person to make so unwarrantable an attack on me; for the same gentlemen who now form that Committee appointed me to be the Master of the Harriers, two years ago, whereby I was put to considerable expense, and was, in fact, made a cripple for life, by a fall from my horse, in hunting that pack. The only reason ever assigned for my removal from management of the Cheltenham Harriers was, that I was, in consequence of the fall, never likely to ride over five-barred gates again; and this Mr. Lucas was appointed my successor. Now, it is well known, that the Cheltenham Harriers were, under him, noticed off the Sandwell estates; the owners and occupiers of which voluntarily gave me leave to hunt over them, as being an old sportsman, and there is not a single farmer in the neighbourhood who will object to me hunting over their farms, unless over-ruled by their landlords. I may safely say I have more thousands of acres to hunt over, by the consent of both landlords and tenants, on the north side of the road leading from Cheltenham to Northleach, than the said Mr. Lucas has hundreds.
I am, Sir, your obedient servant
THOMAS BULKELEY FRETWELL
Clarence Square Cheltenham, Sept 17, 1836.

The bad blood between Thomas and Richard Hurd Lucas spilled over into 1838, resulting in Thomas being recorded in the Home Office Criminal Registers on a charge of assaulting Richard Lucas. At his trial at the Gloucester Assizes on 28 July 1838 he pleaded guilty and was fined £1. Further evidence of his ill-nature was attested to the following year when he was again in court on Saturday 7 September 1839, as reported in the Cheltenham Chronicle of 12 September.

Mr Thomas Bulkeley Fretwell appeared on the complaint of H. Bulkeley, Esq. having used violent and threatening language to that gentleman on Monday week last. The complainant stated that he was exceedingly sorry to prefer such a charge against Mr. Fretwell as he was a distant relation; but from the great annoyance and abominable language which he received it could not be borne with any longer. On Monday week, as complainant was walking up the street with a gentleman, the accused met him near the Assembly Rooms, and applied the most gross language towards him, calling him a d___d scoundrel, and threatening to strike him.

Mr. C. Gray happened to be passing by at the time, and he heard the defendant threaten to strike Mr. Bulkeley calling him a d___d scoundrel, and held up a large stick over his head, as if he felt inclined to carry his threats into execution. The complainant shortly afterwards went into the Ball Rooms, accompanied by a gentleman, to avoid further altercation with Mr. Fretwell. Informant neither saw or heard anything on the part of Mr. Bulkeley which would warrant the violent conduct of the defendant. He was not present, however, at the commencement of the dispute.

One Col. Charntie also complained of a similar annoyance on the part of Mr. Fretwell on Friday last, and described the language applied to him by the defendant as most abusive and unprovoked, in fact that nothing could exceed its vulgarity.

Notwithstanding the statement by one Mr. Packwood that it was, in fact, Mr. Bulkeley who had started the argument by calling Mr. Fretwell a d___d old fool and threatening (had he been a younger man) to give him a good thrashing, the Magistrates

... after strongly animadverting on the conduct of the defendant, called upon him to produce bail, himself in 100ll. and two sureties in 50l. each, to keep the peace for 12 months towards the said complainant. Mr. F. requested to be allowed till Monday to procure the required sureties, which was ultimately agreed to, at the suggestion of Mr. Bulkeley.

For the 1841 census Thomas was recorded as a 60 year old man of independent means, living in the township of Blockley. While one Mary Pain, a female servant, was also living with him, I have not yet found any 1841 census record for his wife and daughter. But by 1842 he was living at Cheltenham, and the subject of yet further legal action - Heron [Hiron] v Fretwell - at the Spring Assizes, Oxford Circuit, Gloucester, on Tuesday 5 April, as reported in the The Times of 8 April 1842.

This case was a very singular one. Mr. Samuel Heron, the plaintiff, is a most respectable silk-throwster, at Chipping Camden, and Mr. Thomas Bulkeley Fretwell, the defendant, resides at Cheltenham. Fretwell has fallen latterly into indigent circumstances, and had been in the practice of receiving pecuniary support from Mrs. Bowhay, an aged lady of large property, residing at Blockley, and a relation of the plaintiff, Mr Heron. In September, 1828, the premises of a Mr. Franklin, since deceased, had been broken into, and considerable property carried away. This Mr. Franklin was the brother of Mrs. Bowhay. A reward of 100/. was offered for the discovery of the depredator; but without success. It was generally supposed that a person of the name of Smith, who soon after the robbery went to America, was the offender; but the transaction after a time fell into oblivion. Mrs. Bowhay, having, for some reason or other, withdrawn her contributions from Mr. Fretwell, that person became restiff and resorted to means calculated, as he thought, to bring her into a renewal of her acts of generosity. In April 1841, he addressed to her the following note:- "Monday, April 12, 1841, - Mr. Fretwell's very best regards, and informs Mrs. Bowhay he did not think it right to remind her last night of the promise made to him him some time ago, that if he would have patience, she would put it into his power to live happy with his wife and daughter, and on that account he has been living at Blockley separated from them for the last two years in the most private way, thinking it right to do so, and for the great friendship that always existed between her late revered brother and himself he doubts not but what her promises will be made good". Mrs. Bowhay had made no promise of the kind to Fretwell, and paid no attention to his note. He again addressed her on the 18th of the same month, reiterating the assertion about the promise. He notes having met with no replies, he changed his ground, and began to insinuate in his subsequent letter that he knew who was the real culprit was who committed the burglary on Mr. Franklin's house. Under date July 19 he said, - "Mr. Fretwell fancies himself quite at liberty to expose the party concerned in the late Mr. Franklin's robbery some years ago, and as there was a 100l. reward offered if the offenders were bought to justice and convicted, of course that sum will not be paid, but this will be settled by Mr. Fretwell's attorney, who has got the business in hand". These insinuations were repeated in a dark and mysterious form, but as the correspondence went on - it was all on the side of Mr. Fretwell - it became apparent that a person was to be implicated in whom it was supposed that Mrs. Bowhay felt an interest, and it next came out that the person was Mr. Heron, the plaintiff, and the godson of Mrs. Bowhay. Fretwell's nefarious proceedings having failed to fill his pockets, he proceeded to carry his threats into execution. On the 28th December last he swore an information of burglary against Mr. Heron before Mr. Thomas Beale Cooper, one of the justices of the peace for Worcester. On the following day Mr. Heron was apprehended, and only released on finding sureties. After undergoing two examinations he was discharged.

Mr. Greaves said, the jury were now called upon under the writ of inquiry to assess the damages due to the plaintiff for the grievous injury he had sustained.

Serjeant Ludlow followed, and the witnesses were about to be called when Mr. Godson rose.

Mr Godson said - This is certainly a melancholy case. I at once admit all the facts stated by my learned friends. I admit that the letters which have been read were written by the unfortunate defendant, and therefore I will not trouble my learned friends to call any witnesses to prove what I so readily admit. The learned counsel then read that part of the declaration which recounted the injury which the plaintiff had sustained by the malicious and unfounded charge preferred against him by the defendant, and stated that the defendant having admitted the truth of it by allowing the judgment to go by default, he (Mr. Godson) now, in the presence of the Court, admitted that it was true, and that there was not the slightest ground for the prosecution to which the plaintiff had been subjected. He (Mr. Godson) was sure the jury would be glad to hear one statement more, and it was that the defendant was upwards of 70 years of age, and that he (Mr. Godson) agreed with his learned friend (Serjeant Ludlow) in thinking that the only way of accounting for his extraordinary conduct was on the ground of insanity, or perhaps, more properly speaking, of delusion. It was natural under such circumstances that the friends of the defendant should endeavour to repair, as far as they could, the injury which had been inflicted upon the plaintiff; and it was under their instructions that he (Mr. Godson) appeared to tender to Mr. Heron their most sincere and heartfelt regret for what had taken place. It appeared that the unfortunate defendant having been disappointed in his expectation of continued relief from Mrs. Bowhay, had got fretful. A chord had been struck in his mind of a singular character, and the results had been of the most objectionable and distressing kind. He seems all of a sudden to have resolved to implicate the plaintiff, without the shadow of a reason, in a burglary which had occurred in the neighbourhood 14 years previously. The jury would be pleased to bear in mind that the defendant was at the present moment in the lowest circumstances; and it was therefore for the benefit of the plaintiff that the friends of the defendant should make appearance upon this occasion. It might, had a different course been adopted, have gone abroad that the damages had been assessed on the hearing of one side only. Such could not be said now. Both sides had been heard; and the result was the most ample retraction and apology on the part of the friends of the unfortunate defendant. As to damages, a large sum should be given. Such a sum as must convince the plaintiff that the jury regarded his character as untainted, unsullied, perfectly good, moral and just. He (Mr. Godson) was prepared to consent, and the arrangement had been sanctioned by his learned friends on the opposite side, that the verdict should be for 200l. If this arrangement was assented to by the jury, he hoped that what he had said in the course of his address would be regarded as the strongest and the most ample apology which one man who had done an injury could offer to the man who had sustained it.

A verdict of 200l. damages was then recorded for the plaintiff.

Thomas Bulkeley Fretwell died in 1848, and was buried on 9 May at St. John the Baptist, Fladbury, Worcestershire. His passing was noted in the Worcestershire Chronicle of 17 May 1848.

In his 71st year, Thomas Bulkeley Fretwell, Esq., formerly of Upenwold, in this county.

His widow Elizabeth outlived him by nearly twenty years. For the 1851 census return she was living with her uncle Edward Collier, Rear Admiral and Magistrate, at Dovedale House, Blockley, and she was still included in his household at Southwick Terrace, Blockley, for the 1861 census. However, it was at Southwold, Suffolk, that she died, as reported in the Worcestershire Journal on 13 July 1867.

FRETWELL - July 3, at Southwold, Elizabeth, relict of Thomas Bulkeley Fretwell, Esq., of Upton Wold, in this country, aged 74.

She was buried at St Andrew's Church, Bramfield, on 9 July. It is likely that her son-in-law officiated at her funeral.

Only one child has been recorded for Thomas and Elizabeth - a daughter, Elizabeth Bulkeley Fretwell, born at Upton Wold, and baptised at Blockley by Reverend Richard Collier on 11 September 1821. On 1 June 1847 she married Nicholas Simons at the parish church of Leamington Prior, Warwickshire, as noted in the Cheltenham Chronicle of 3 June.

June 1, at Leamington, the Rev. Nicholas Simons, Vicar of Bramfield, Suffolk, to Elizabeth, daughter of Thomas Bulkeley Fretwell, Esq.

Nicholas Simons had been born on 8 June 1810, at Canterbury, Kent, son of Nicholas Simons, barrister, and his wife Elizabeth. As announced in the Cambridge Chronicle and Journal of 22 August 1846, he had been instituted to the vicarage of Bramfield on 22 July of the previous month. The Framlingham Weekly News of 17 April 1886 and the Bury and Norwich Post of 24 July 1888 carried notices of the deaths respectively of Nicholas and Elizabeth Bulkeley Simons.

Simons - 10th inst, at Bramfield, Suffolk, the Rev. Nicholas Simons, for nearly 40 years Vicar of Bramfield, aged 76 years.

Simons - 16th inst., at The Grove, Holt, Elizabeth Bulkeley, widow of the Rev. N. Simons, late vicar of Bramfield, Suffolk, aged 66 years.



Catherine Fretwell
Before John Fretwell and Isabella Farrel had been married one year their first child, Catherine was born. They must have known that she was not likely to live long as they had her privately baptised on 6 August 1753, and again publicly at St Mary's Church, Tadcaster, Yorks, on 2 September of that year. Catherine lived only 15 months and was buried at Tadcaster on 22 November 1754.
John Fretwell
Isabella was most likely pregnant again either just before or immediately after Catherine's death because a second child, John, arrived and was baptised at St Mary's Church, Tadcaster, on 10 August 1755. However he too died young, being buried at Tadcaster on 14 June 1759, just before his fourth birthday. The loss of two children within such a short time must have been devastating.
Francis Fretwell
John and Isabella would have taken consolation from the fact that their third child, and second son, Francis had been born in 1756. His baptism, also at St Mary's Church, Tadcaster, is recorded as taking place on 24 October 1756. However, there is no further information about Francis at this stage apart from a reference in a newspaper notice placed by the solicitors dealing with his younger brother John's Will. From this reference, together with no recorded early burial, it can be reasonably assumed that he lived to adulthood. But if he did survive childhood, it was not he, as eldest son, who took over the family business, as would have been his due, or as a fulfilment of his parents' expectations. Did he seek his fortunes elsewhere? Did he have a falling out with his parents? Or was the grocery trade not to his liking?
Mary Fretwell
Mary, fourth child of John and Isabella, must have been a more robust baby. She was baptised at St. Mary's Church, Tadcaster on 7 November 1757. Twenty years later she married Richard Kay, a gardener of Leeds, on 10 July 1777 at St. Peter's Parish Church Leeds, by Banns, the event witnessed by Andrew Duncan and Mary Widdell. The record for the calling of the banns in June carries an annotation 'forbid in the Church by the Woman's mother'. What reason did Isabella Fretwell have against the marriage? Regardless, it went ahead. Based on the will of Mary's brother John Fretwell, it is possible to identify five children - sons John and Edward - the former who had died before 1848, and the latter still living, but 'of unsound mind' in 1848, and three daughters - Ann, Mary and Isabella. However, based on the timeframe, birthplaces and father's name I think I may have found at least three additional additional children who did not survive infancy. These are James Kay (1787-1788); William Kay (1789-1793) and Maria Kay (1783-1788), and possibly two more - Elizabeth Kay, baptised 2 January 1785, and William Kay baptised 1 May 1875. With no birth/death records located for these last two children I have not included them in the suggested family tree. There is a Parish Church of Leeds burial record of 7 November 1802 for a Richard Kay, who had been born in 1854 and who had died aged 48 of palsy. Mary lived to the ripe old age of 83, her death being reported in the Leeds Intelligencer of Saturday 5 December 1840.
Sunday, last, at the house of her brother, Mr. Fretwell, St. Paul's Buildings, aged 83, Mrs. Mary Kay, much respected and regretted.
Her death certificate records that the cause of death of Mary, widow of Richard Kay, gardener, was asthma and the informant was her granddaughter, Ann Newton, of St Pauls Buildings Leeds. Mary was buried on 3rd December 1840 at St Paul's Church, Leeds.
Isabella Fretwell
The next in line of birth was Isabella, nearly two years Mary's junior. Isabella was baptised, as were her brothers and sisters before her, at St. Mary's Church, Tadcaster on 12 August 1759. She was almost 30 when she married William Fawcett. The wedding was conducted by banns at St Peter's Parish Church Leeds on 17 June 1789, and was witnessed by Dorothy Berkwith, Sarah Keighley and Hannah Gardner. It was William Fawcett's second marriage.
William had been born on 27 September 1761 and baptised at St John's Church, Leeds the following month on 17 October. At the age of 24 he had married Ann Osman at St Peter's Church, Leeds, on 31 May 1786. A son, William Osman Fretwell, was born on 20 December 1787, and baptised on 11 February 1788, the same day as wife and mother Ann Fretwell was buried at St John the Evangelist, Leeds, the burial register entry reading -
11 Feby Ann wife of Wm Fawcett Boar Lane, Childbed, 27yr
As so often happened when the mother died, the baby soon followed. William Osman Fawcett died at the age of 6 months in June 1788.
The Leeds Intelligencer of 2 January 1797 reported on a 'numerous Meeting of Gentlemen' at which it was resolved that a Troop of Volunteer Cavalry may prove to be a 'useful and exemplary Institution at this Juncture'. William Fawcett, and his brother-in-law William Fretwell were two of the men who signed up as members of the rank and file. At the time there was a perceived threat of a French invasion.
The Leeds Directories for 1807, 1809 and 1817 list William Fawcett, of 17 Boar Lane, Leeds, as a Carver and Gilder. A notice in the Leeds Intelligencer of 3 February 1806 indicates that he ran a flourishing business.
WILLIAM FAWCETT, Carver and Gilder, Boar-Lane, Leeds respectfully informs his Friends and the Public, he has just received from London a Quantity of coloured HISTORICAL PRINTS, of the
BATTLE OF TRAFALGAR,
And the Death of Vice-Admiral Lord Vis. Nelson,
With a number of Half Length Portraits from the last Picture.
CARVING AND GILDING
Executed in the very best Manner, and on the lowest Terms. Neat and fashionable ornamented Composition Chimney Pieces, Pier and Chimney Glasses, Girandoles, handsome burnished Gold Frames for Paintings, Prints, Needle Work, &c. Also, burnished gold Bordering for Rooms, done in a plain or a most superb Stile.
TWO APPRENTICES WANTED
Youths with a Genius for Drawing, and of respectable Parents, will be taken on on moderate Terms.
Isabella and William had been married for just over thirty-five years when Isabella died at the age of 66. She was buried on 14 November 1825 at St John the Evangelist, and news of her passing was notified in the 17 November issue of the Leeds Intelligencer. Eighteen months later, William placed the following notice in the Intelligencer of 8 February 1827.
FREEHOLD PROPERTY, in the most Central Part of the populous Town of Leeds, in Yorkshire. A Valuable FREEHOLD ESTATE in BOAR-LANE, opposite Albion-Street, suitable for any Concern, however Respectable. TO BE SOLD BY PRIVATE CONTRACT.- For Price and Particulars, apply to Mr. Fawcett, Boar-Lane. Leeds.
By this time he was in his mid-60s and was perhaps not in the best of health. Before the month was out William had died, the Intelligencer of 1 March announcing his death.
On Thursday last, Mr. Wm Fawcett, of this town, carver and gilder.
A week later the newspaper carried two notices - one calling for all accounts owing and claims outstanding on the William's estate to be settled, and the other announcing the arrangements for the auction of William's 'Extensive and Valuable Stock-in-Trade'. The sale was scheduled for five consecutive days, commencing on Monday 19 March.
William and Isabella had a daughter, also named Isabella, born about 1790, who is thought to have married a Joseph Thompson, but at this stage I have not found anything further on Isabella junior.
Ann Fretwell
As with Isabella, only the briefest details are so far recorded for Ann, child number six for John and Isabella Snr. She was baptised on 28 September 1760 at St Mary's Church, Tadcaster, and married, in her 25th year to Thomas Wright. He was a Clothworker of Leeds. The ceremony was held on 20 March 1785 at St Peter's Church Leeds, by banns, and was witnessed by Elizabeth Rollinson and Joh. Appleyard. I have identified two of John Fretwell's nieces - Ann Mayking and Eliza Hollings - as being daughters of Ann and Thomas Wright.
John Fretwell
John Fretwell, seventh child and as far as is known second surviving son of John and Isabella Fretwell, made his first recorded public appearance with his baptism on 23 January 1763 - yet another entry in the St. Mary's Parish Register. John Fretwell Snr was the first to venture into the grocery business, and John Jnr capitalized on the experience, by which he was able to establish the family's reputation and standing in the commercial world of the City. He never married. Rather, during his working life he, in partnership with his brother William until the latter's premature death, and then with his sister-in-law Mary (née Vause), devoted his energies to advancing the family's grocery business.
John featured in a number of Leeds Directories. In 1807 and 1809 he is listed under Fretwell and Cockshott, Grocers of Market Place. By 1817 they have moved premises, and apparently expanded their business, being now recorded as Fretwell and Cockshott, Grocers, Tea Dealers and Hop Merchants, of 22 Cross Parish. For the same Directories, brother William is recorded as a Grocer and Tea Dealer in Upperhead Row, with the 1817 Directory listing sister-in-law and partner Mary as carrying out a grocery and tea dealer business from premises at 4 Upperhead Row. According to William Parson's 1826 Directory of Leeds, John was running his business and residing at 79 Briggate. In 1837 he was at 5 St Paul's Buildings. I839 finds him as John, Gentleman, 22 St Pauls Street, and Mrs Mary Fretwell listed as having moved to Knostrop. By this time John certainly had retired, and perhaps so too had Mary, although she may have kept a watchful eye over and interest in the business which was then carried on by her son, William - Wholesale and Retail Tea Dealer, Grocer and Coffee Roaster-operating out of Colonial Wharf, Dockside, Knostrop. The 1851 census finds John Fretwell (transcribed as Dretwell) still at the very upmarket address at the corner of St. Paul's Street and park Square. He was described as a retired grocer, living on an annuity, and looked after by two domestic servants.
In addition to the grocery business, John took an interest in, and was financially able to invest in property and, more particularly, in the burgeoning railway industry. In 1837 he purchased a sizeable block of land - 4,175 square yards - situated between Jack Lane and Hunslet Lane, known as the Dowbridge Closes. It was here that the Hunslet locomotive building industry was born, when, as announced with some fanfare in the 2 September 1837 Leeds Intelligencer, engineers Todd, Kitson and Laird commenced business at the Railway Foundry. John Fretwell was connected to Todd and Kitson through their marriages to two of John's nieces.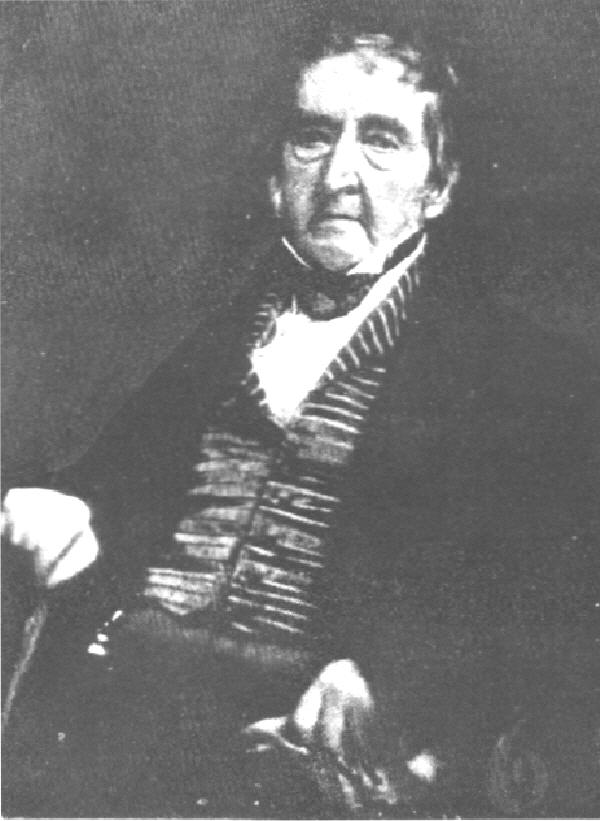 John Fretwell, Gent.
John died on 5 June 1855 at Leeds at the doughty age of 92. That he had, during his lifetime, lifetime amassed a considerable fortune and a number of properties in the Leeds district is documented in his Will.
| | |
| --- | --- |
| | Messuage and Dwelling at 22 and at 23 St Paul's Street |
| | Freehold dwelling house in West Street |
| | Freehold messuage in 30 Somers Street |
| | Freehold estate on the Westside in Briggate called "The Talbot Estate", i.e. the Talbot Inn, 3 shops etc |
| | Dowbridge Estate in Hunslet Lane, called the Railway Foundry Estate, with workshops and other buildings. |
A clearer appreciation of the extent of his estate is provided by a notice, placed in the 12 July 1873 Leeds Mercury by the Trustees of the late John Fretwell, Esq, drawing the public's attention an auction to be held on 16 July at the Great Northern Railway Hotel, Leeds.
The following Valuable Business Property:-
Leeds
Lot 1. The long established LICENSED HOUSE, known as the "Talbot Inn," situate in the Talbot-yard, leading from Briggate to Lands-Lane, together with the brewhouse, stables, and loose boxes for 17 horses, enclosed yard and requisite outbuildings, in the occupation of Mr. James Howden.
The large BILLIARD ROOM and appurtenances occupied by Mr. Austin; and the several SHOPS, DWELLINGS, and WORKSHOPS, respectively occupied by Mr. John Till, tailor; Mr Towars, Mr. Fraser, printer; Mr. Sturdy, poulterer; Mr. Peacock, tailor; and others.
This lot contains, inclusive of a portion of the Talbot-yard, about 1,100 square yards, and is bunded on the west by Lot 2, and on the east by Lots 3 and 4.
The Talbot Inn is a well-accustomed house, has a large country and town connection, and is exceedingly well situated for doing a very profitable business.
Lot 2. The well known REFRESHMENT and BILLIARD ROOMS in Lands-Lane, occupied by Mr. S. Johnson, with the workshops, warehouse, and stabling adjoining thereto, and in the occupation of Mr. James Howden and Mr. Johnson, or their undertenants.
This lot contains about 425 square yards, and has a frontage (including the Talbot-yard, 9ft wide) of 64 ft to Lands-Lane, and should the Corporation proceed with the widening of the street (part of which is already done), about 22 ft in depth of this lot will be required for that purpose, and the value of the remainder will be greatly enhanced.
Lot 3. The spacious and very valuable SHOP, four stories high, situated and being No. 79, in Briggate, and now occupied by Mr. A. R. Armstrong, ironmonger; also the LOCK-UP SHOP adjoining, and occupied by Mr. Armstrong, hosier.
These superior shops have an excellent and commanding front elevation, are most substantially built, modern in their internal arrangements, and could readily be thrown together for the formation of one large establishment. They have a frontage to Briggate (including the Talbot passage, 7ft 6in wide) of 38ft 2in and comprise an area of 176 square yards, or thereabouts.
Lot 4. A valuable SHOP, No 78, Briggate, adjoining Lot 3, on the south, and occupied by Messrs. Wright Brothers, woollen drapers.
This lot has a frontage to Briggate of 19ft 5in, and contains 95 square yards or thereabouts.
Lots 3 and 4 are near to and overlook the junction of Upperhead-row and Lowerhead-row with Briggate, and occupy a very conspicuous and advantageous business position.
Hunslet
Lot 5. About 4,175 Square Yards of LAND, with the workshops, steam engine, boiler, shafting, reservoir, well of excellent spa water, &c., thereon and therein, formerly known as the "Railway Foundry," and situated in Ripon-street, Pearson-street, and Yarmouth-street, Hunslet, near to the works of Messrs. Kitson and Co., Messrs. Manning, Wardle and Co., and in the midst of a great manufacturing business requiring space, light, water, and a convenient position.
Printed particulars and lithographed plans may be had of Messrs. Hepper, Leeds and Bradford; Mr. John Smallpage, Land Agent, Mark-lane, Leeds; or of H. DAWSON, Solicitor, 63, Albion-street, Leeds.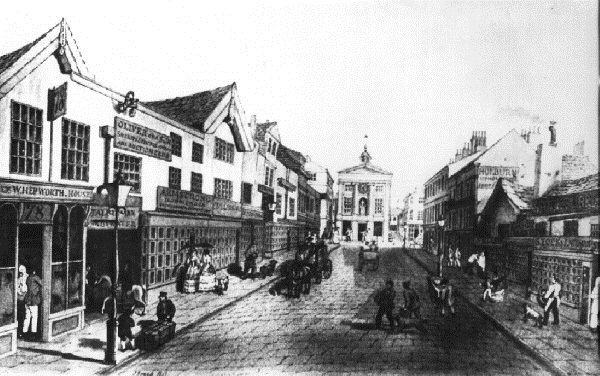 Briggate - Talbot Inn on left - looking towards Corn Exchange
Note: According to A History of Leeds, published in 1797, The Talbot Inn was a very ancient building, and in one of the chambers used to be painted, in fresco, the arms of all the Nobility and Gentry of this neighbourhood, as they were in the time of Queen Elizabeth.
Following John's death the following newspaper notice was placed by H Dawson, Solicitor, 58 Albion Street, Leeds (undated; Ref G11313):
HEIRS-AT-LAW of JOHN FRETWELL, formerly of Leeds, grocer, deceased, wanted. He had three brothers, namely, Francis, Peter and William. Francis is supposed to have died without issue. Peter had two daughters, Mary and Ann. Mary married John Robinson, weaver, of Deighton or Sheepbridge, near Huddersfield. She is supposed to have died there about 1833. The descendants of the said William Fretwell being known, need not claim.
The Executors of the Will were Charles Todd, George Newton, and John Eyres, the latter being given a legacy of 19 guineas. The Will was witnessed by M Blonne, Solicitor, Leeds, and his Clerk, Thomas Tubb. The premature death of Charles Todd, however, required a codicil dated 27 February 1854 to be added, which was witnessed by Edward Dawson, Incumbent of St. James' Leeds, and H Dawson, Solicitor, Leeds. "Whereas Charles Todd one of my Executors has lately died now I appoint my niece Isabella Todd of Leeds widow of the said Charles Todd and Henry May of the Hope Nursery Leeming Lane in the County of York nurseryman Executors in place of the said Charles Todd." The Will was duly proved on 17 November 1855 by George Newton of Leeds, Painter - one of the original Executors, Isabella Todd of the same place, and Henry May of Leeming Lane, Burneston in the County of York, Nurseryman. The final documentation on the estate was an 1890 reconciliation of accounts made on the death of the last living annuitant, Eliza Hollings. Refer also to John Fretwell's Will
Peter Fretwell
Peter arrived just over 18 months after John, and was the eighth child born to John and Isabella in the space of just under twelve years. He was baptised at St. Mary's, Tadcaster, on 10 August 1764. Unlike his brothers John and William, but possibly following the example of brother Francis, Peter did not work in the family business. He must have done some form of apprenticeship as he earned his living as a Cabinet Maker. Whether he worked for himself or for someone else is not known. Just after his 23rd birthday Peter married Elizabeth Robinson, daughter of John Robinson of Kirkgate, Leeds. Elizabeth was 8 years older than Peter, having been born on 29 July 1756 and baptised on 6 September of that year, probably at St Peter's Parish Church, Leeds. The marriage was solemnized by John Cooper, Curate of St Peter's Church on 5th November 1787, by banns, also at St Peter's Church. Witnesses to the marriage were Henrietta Robinson (possibly a sister to Elizabeth) and Thomas Knight. By their fifth wedding anniversary three children had been born to Peter and Elizabeth-one son John, 1786, and two daughters Mary, 1790 and Ann, 1792. Elizabeth died aged 67 on 4 November and was buried on 7 November 1823 at St. John's Church, Leeds, Francis Cookson, Curate, officiating. 1823 must have been a particularly sad year with both Elizabeth and her daughter dying within 3 months of each other. An inscription on a tombstone, lying flat against the east-side outside of St John's Church, Leeds commemorates not only Elizabeth's death, but also that of their younger daughter Ann (and later that of the first daughter, Mary).
Here lieth the Body of
Ann Fretwell
who died August 25th 1823
Aged 30 Years.
Also the Body of
Elizabeth Fretwell
Mother to the above, died
Nov 4th 1823 Aged 67 years.
Also the Body of Mary, the
Beloved Wife of John Robinson
of Deighton near Huddersfield
and Daughter of the above
Elizabeth, who died Nov 7th 1831
aged 42 years.
The notation on Elizabeth's burial registration describes her as a widow. This begs the question as to what happened to Peter. The date of his death is unknown, but it is reputed that he died in the West Indies. Certainly by the time his brother's solicitors were seeking legal heirs the family had lost touch with Peter's family. From the notice it is clear that they were unaware of Peter's daughter Ann's death, or the date of Mary's, nor were they sure if Peter and Elizabeth had any grandchildren. Taking as fact that Peter did go to the West Indies begs the questions - When? - How? - by what vessel/s? and Why? Further research may uncover more information about the roving Peter.
William Fretwell
William, the ninth child of John and Isabella was born at Tadcaster on 8 July 1766, and baptised some six weeks later on 28 August 1766 at St Mary's Church, Tadcaster. He went into family's grocery business with his brother John, 2½ years his senior, and is listed in the Leeds Directories of 1797 and 1800 - Fretwell Wm, grocer and tea dealer, Upperhead Row. But prior to this he had met and married, and produced a relatively modest brood of Fretwells. On 29 August 1795 William had applied for a licence to marry. The formalities completed, the marriage of William Fretwell, Grocer, to Mary Vause, Spinster, was solemnised in the Parish Church of Leeds on 3 September 1795. The officiating minister was Edward Wilson, and the two witnesses were Robert Butherford and Thomas Atkinson. As attested by William, no parental consent was required because he was 29 and Mary 30 at the time of their marriage. The happy event was recorded in the Leeds Intelligencer of Monday 7 September.
On Thursday last was married, Mr. Wm. Grocer, to Miss Mary Vause, both of this town.
According to WEF's records, Mary Vause had been born on 13 March 1765 at Epworth, Lincolnshire. She was the first owner of the Fretwell Family Bible.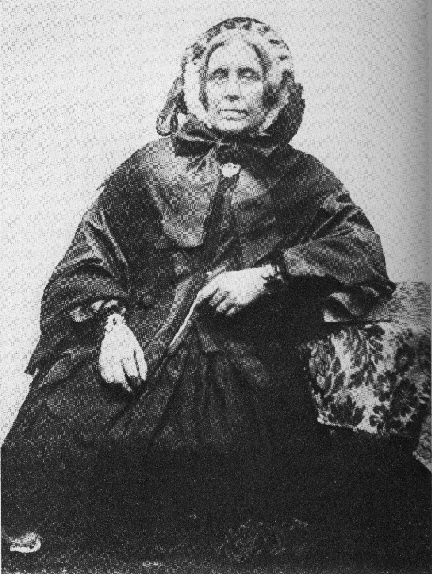 Mary Vause
In a marriage spanning nearly 14 years William and Mary had 6 children-2 daughters and 4 sons - the last two being born when Mary was in her 40s. Of these, two died as infants, two survived past childhood, but died young. Only two lived beyond their twenties and of these only one married and had a family of his own.
Children of William Fretwell and Mary Vause
| Name | Born | Died |
| --- | --- | --- |
| Mary | 17 Sep 1797 | 28 July 1830 |
| William | 13 Apr 1799 | 1 Feb 1872 |
| Frederich(k) | 17 Apr 1800 | 8 May 1848 |
| John | 1 Jul 1802 | 1 Jun 1803 |
| Sabina | 16 Oct 1804 | 22 May 1823 |
| John | 4 Aug 1807 | 21 Aug 1809 |
William was yet another Fretwell male to die relatively prematurely. This sad event occurred in his 43rd year on June 11 1809. He was buried in the Mill Hill Chapel Yard. With William's death, Mary was left a 44 year old widow with 4 young children to care for. A double tragedy for the family occurred, within three months of the loss of the breadwinner, with the death of the youngest son, John.
Mary never remarried. Just eight days after William Fretwell's death his widow placed the following advertisement in the Leeds Mercury.
MARY FRETWELL
WIDOW of the late WILLIAM FRETWELL
GROCER AND TEA DEALER
RESPECTFULLY returns Thanks to the Friends of her late Husband for past Favors, and begs leave to inform them, she purposes carrying on the Business as usual, and humbly solicits a Continuance of that Support so liberally experienced by her late Husband.
Leeds, June 19, 1809

She joined her brother-in-law John as business partner and, from the Leeds Directory listings referred to earlier, apparently carried on until at least 1822, when she would have been approaching her 60th birthday. She seems to have lived and worked from a number of places in Leeds. Up to 1826 she was located at Upperhead Row, in 1837 at Alfred Place, and in 1839 at Knostrop. According to her death certificate, Mary died at the impressive age of 86 on 21 September 1851 at Gowthorpe, Selby, probably at the home of her son William, who was the informant, and daughter-in-law Ann. The cause of death was given as 'General Decay'. Mary was buried in the Woodhouse Cemetery, Leeds.
Mary was mentioned in the will of her brother-in-law John Fretwell.
To Mrs Mary Fretwell the widow of my late brother William Fretwell an annuity of £26
and
To Mary Fretwell 50 shares in the Leeds & Yorkshire Ass. Co until John Fretwell the younger attains 14 years then my Trustees shall apply the Interest of 30 shares for the clothing and education of the said John Fretwell and when he attains 22 to transfer such shares unto him and also to utilize the remaining 20 shares for the benefit of Vause Fretwell and to transfer them unto him on his attaining 22 years of age and in the case the said John and Vause Fretwell shall happen to die then I give 6 of the said shares to Elizabeth Fretwell daughter of my said nephew William Fretwell.
Bartholomew Fretwell
John and Isabella had already produced nine children in the space of twelve years, when, maintaining this daunting cycle, Bartholomew was born in the 14th year of their marriage, and he was to be their last child. Perhaps the sadness of his early death decided John and Isabella against having any more children. They were now both approaching their 40th birthdays, and had certainly 'done their bit' to ensure the continuity of the Fretwell line. Bartholomew was yet another Fretwell statistic in the St Mary's Church, Tadcaster, records. He was baptised on 9th October 1768, and buried just over 3½ years later on 30th May 1772.



We move now from the city environment to the village of Hoylandswaine, and to the grandchildren of Joshua Fretwell, by his first wife Easter Denton, and his second wife Ann Tayle(o)r.
The Two Mary Fretwells (Daughters of William)
We have a record of two daughters being born to William Fretwell of Hoylandswaine. The name of the mother/s of these two little girls is not known. As they were both named Mary, it can be assumed that the first had died prior to the birth of the second. Mary number one was, according to the Silkstone Parish Register, baptised on 30 September 1733. There is no corresponding record of burial, but if she survived infancy, she did not, in all probability, survive past her 9th year. The baptism of Mary number two, also recorded in the Silkstone Parish Register, occurred on 3 July 1741. Whether or not she survived to adulthood is unknown.
Sara Fretwell (Daughter of John)
Sara, daughter of John and Grace Fretwell (née) Burgon of Hoylandswaine, and cousin of William's two Marys, was born just after Mary number one. For this child all we have is the baptismal record of 22 February 1733/34 in the Silkstone Parish Register.
Frettwell, Sara, d. of John Frettwell of Hoylandswaine baptized
Ann and Joshua Fretwell (Children of Joshua)
Joshua and Ann's son Joshua and his wife Elizabeth had two children, a girl and a boy.
Children of Joshua Fretwell and Elizabeth Heeley
| Name | Baptised | Died |
| --- | --- | --- |
| Ann | 14 Feb 1755 | ? |
| Joshua | 26 Jun 1756 | 1842 |
First born Ann was christened on 14th February 1755, probably at the Silkstone Parish Church. Just before her twentieth birthday, on 2nd January 1775 she married, at Silkstone, Jonas Walshaw, who was her senior by five days. We do not know how long this couple lived, but their second and last known child was born probably in 1779.
The family name Joshua is yet again perpetuated with the baptism of Joshua, senior, and Ann's second child. Born just sixteen months after his sister Ann, Joshua was baptised, again probably at the Silkstone Church, on 26 June 1756. He lived to a goodly age, with his passing at the age of 86 in the year 1842.

There are no further references to the Hoylandswaine Fretwells in the inherited family records, but the Index to the 1851 Census for Hoylandswaine lists 11 Fretwells.
1851 Census Index, Hoylandswaine

| Forenames | Rel | Con | Age | Occupation | Born | EDPage |
| --- | --- | --- | --- | --- | --- | --- |
| Ann | Wi | Ma | 37 | -- | YKS | 1b 16 |
| Isaac | Hd | Un | 56 | Nail Maker & Farmer | YKS | 1b 16 |
| Joel | Hd | Un | 32 | Hand loom weaver | YKS | 1b 19 |
| Johnathon | So | - | 10 | Scholar | YKS | 1b 16 |
| Joseph | Hd | Wr | 77 | Linen Weaver | YKS | 1a 8 |
| Joshua | So | Un | 30 | Linen Weaver | YKS | 1a 8 |
| Martha | Da | Un | 28 | House keeper | YKS | 1a 8 |
| Martha | Da | - | 5 | - | YKS | 1b 16 |
| Mary | Ci | Un | 72 | House keeper | YKS | 1a 8 |
| Sarah | Da | - | 7 | - | YKS | 1b 16 |
| William | Hd | Ma | 39 | Hand loom weaver | YKS | 1b 16 |
From the above list we can tentatively identify 4 households.
| | |
| --- | --- |
| | Joseph Fretwell, a widower, occupation linen weaver, was living with his unmarried sister Mary. They were both in their 70s and would have been born respectively around 1774 and 1779. Living with them were possibly two unmarried children of Joseph, son Joshua, born about 1831, and daughter Martha, born around 1833. |
| | William Fretwell, hand loom weaver, had married Ann, and they had three children, Johnathon, Sarah and Martha. Respectively they would have been born around 1812, 1814, 1841, 1844, 1846. |
| | Joel Fretwell seems to have lived on his own, was unmarried, and earned his living as a hand loom weaver. He would have been born around 1819. |
| | Also living alone was Isaac Fretwell, also unmarried, and a nail maker and farmer. He would have been born around 1785. |
Whether this interpretation is correct, and what the relationship between the families might be, is not established. The reason for spending some time with these people is that they may provide the links between the 'Cawthorne' Fretwells and the 'Penistone' and 'Emley' Fretwells.