Peter F(f)retwell
The uncertainty as to Peter F(f)retwell's date of birth is acknowledged in this extract of a letter from WEF to the archivist of the Huddersfield Library:
I do not know when Peter F was born, nor when and to whom he was married. It might have been Mary whose death and burial is recorded in the Cawthorne parish registers on 16th November 1710. As those registers were only started in 1653, they are of little assistance. However, Miss Meredith, the archivist at the Sheffield Library, drew my attention to an entry in the Spencer Stanhope deeds, where in 1617 a Peter Fretwell is allotted a seat in the church, presumably Cawthorne. It is likely that this Peter was the grandfather or father of the other Peter...."

Some more information, though sketchy, has come to light since that letter was written. WEF surmised that Peter was born about 1630, probably in the Cawthorne area. He is believed to have married a woman named Mary (née?), again probably in Cawthorne, date unknown, but presumably, around 1650. Peter's death is recorded as 16 January 1684. If the Mary tentatively identified by WEF was Peter's wife, she outlived him by some 26 years, and her burial is recorded in the Cawthorne Parish Register for 1710 - Mary Fretwell (Maria Fretwell in B.T.) Nov 16th - and if she had been born about the same time as her husband, she would have been around 70 years old when she died - quite an age for the time. From the records, it would seem that Peter and Mary had 9 children.
Children of Peter Fretwell and Mary ?

| Name | Born/Baptised | Died/Buried |
| --- | --- | --- |
| Jenitte | Bef. 1653 | 26 May 1660 |
| Francis | Bef. 1653 | Abt. 1685 |
| Robert | Bef. 1653 | 1721 |
| Dorrithie | 29 Jul 1655 | 9 Jul 1685 |
| John | 22 Jul 1658 | 30 Nov 1692 |
| Thomas | 21 Jul 1661 | 27 Jul 1687 |
| Johannes | 29 Jul 1664 | 15 Nov 1724 |
| Joshua | 17 Jun 1668 | 30 Nov 1707 |
| Matthew | 17 Jun 1668 | 5 Jan 1728 |
At this stage there is some question as to whether Francis was the son of Peter and Mary. The Parish Register dates do tally, the following must be read with this in mind. As the Cawthorne Parish Registers so not commence until 1653, the children Francis, Robert and Jenitte were born before that year.
At the time of Peter F(f)retwell the village boasted a Church, well 'patronised' by the Fretwells, which was a perpetual curacy, dedicated to All Saints, and a Free-School founded in 1639 by decree of the Duchy court at Lancaster. The cost of maintaining a master was shared between the Court, which appointed the master, and the inhabitants of Cawthorne. By an Act of 1405 every town or village was bound to provide a pair of stocks. This was a sign of dignity, and if, along with this seat for malefactors, a village had the status symbols of a constable and a pound for stray cattle, it could not be mistaken for a mere hamlet.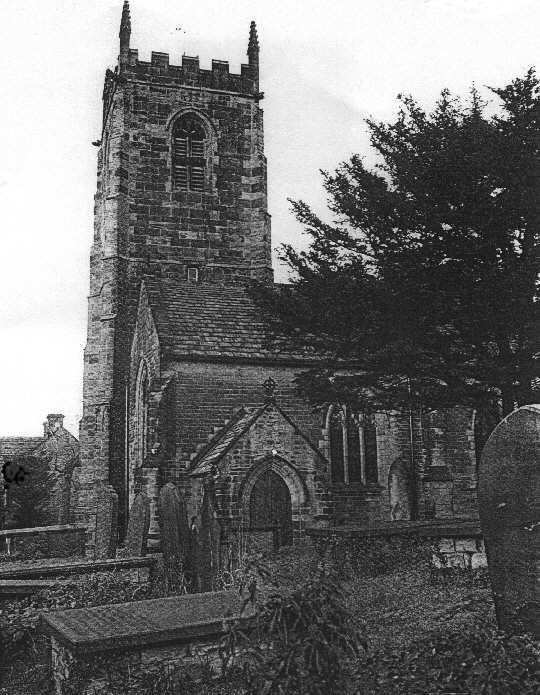 Cawthorne Parish Church
There was also a concern for the French Protestants—the Huguenots—many of whom had fled to Protestant countries such as England after the Massacre of St Bartholomew in 1560. The religious freedom granted the French Protestants by the Edict of Nantes in 1598 was revoked in 1685, resulting in further emigration. The Cawthorne residents did their bit to assist these persecuted people, as is duly recorded in the Parish Register.
Terriers 7.5.4

May ye 9th 1688
Received then of the Minister and Church Wardens of Cawthorn the som of three pound thirteen shillings an eleven pens collected for the P'sh of Cawthorn upon a breefe bearing date the 13th January 1687/88 and presented to the distressed Protestants of France. Received at Wakefield by THOM. HOLMES

July the 9 1689
Collected in the Parish of Cawthorn for Just Protestants and paid then to Mr. WALDBANK by us the sums of Three Pounds Ten shillings and Three pens EDW.SMITHSON,
THOMAS DICKSON
THOMAS FAWLEY
Churchwardens

(In August 1690 another collection was given - this time One Pound Ten Shillings and Three Pence - for the Just Protestants).
The Census of 1851 recorded that the people of Cawthorne were principally engaged in agriculture and handloom weaving, with some blacksmiths, tanners and coal miners, and it is likely that this range of occupations was not much changed from the time of this first Fretwell generation.
The most eminent family, and was still so up to the mid 1950s, was the Spencer-Stanhopes, who oversaw the social and economic life of the village from their estate residence Cannon Hall. Apart from agriculture, their fortunes had been founded in the old iron industry and later coal mining, and it was through these industries that the Spencer-Stanhopes provided employment for the great majority of Cawthorne.