3rd Generation Spouses

| Surname | Given Name | Spouse of |
| --- | --- | --- |
| Hawk(e)sworth | Sara(h) | Robert Fretwell |
| Bulkeley (Bulkley) | Alice | Robert Fretwell |
| Fawley | Thomas | Mary Fretwell |
| Hirst | Margaret | Thomas Fawley |
| Huntington (wid) | Elizabeth | Francis Fretwell |
| ? | Mary | John Fretwell |
| Fretwell (wid) | Mary | Richard M Dickinson |
| Ant | Robert | Grace Fretwell |
| Walker | George | Grace Fretwell |
| Arnold | Stephen | Ann Fretwell |
| Denton | Easter (Easther) | Joshua Fretwell |
| Taylo(e)r | Ann | Joshua Fretwell |
| Coldwell | Joseph | Ann Fretwell |
| Dixon | Ann | Joseph Coldwell |
Robert Fretwell
Robert, only son of Robert of West Bretton and his second wife Susannah (nee Helliwell), was baptised in West Bretton on 28 July 1713. Referred to as "Robert Fretwell of Cinder Hill in the parish of Cawthorne, Yorks" he was described in the entry in the Familae Minorum Gentium as "of Yorkshire, Gent."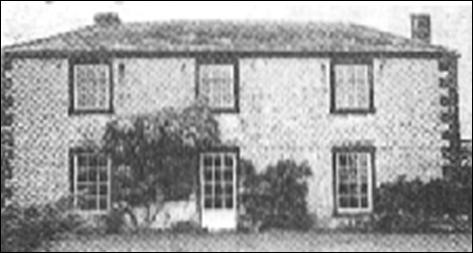 Cinder Hill Farm - Home of the Fretwells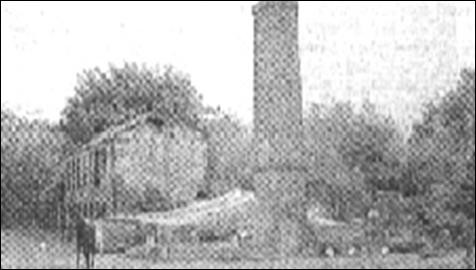 The Remains of the Cinder Hill Tannery (From The Making of Barnsley, Brian Elliot)
Like his father before him, Robert Jnr was twice-married. His first marriage, when he was around 22 years old is recorded in the Parish Register of Silkstone as occurring in 1735/36:
Robert in the Chapelry of Cawthorne and parish of Silkstone, married p. Licence to Sara Hawksworth of Denby in the parish of Penistone.
This union was very short and apparently childless. Sara may have died prematurely, as Robert married again when he was around 25, his second wife being Alice Bulkeley (variant Bulkley).
Alice, baptised at Whittington on 28 December 1704, was one of four children, and the second daughter born to Arthur Bulkeley, of Stanlowe near Leek in Staffordshire, and himself son of one Thomas Bulkeley, Gent., and wife Alice. Arthur married Elizabeth Lowe, daughter of Henry Lowe of Whittington, in 1700.
It is interesting to speculate as to the circumstances under which Robert would have met Alice. The answer may lie in Robert's fairly widespread business interests, which would have required him to travel some distances. Maybe he had some business dealings with the Bulkley family, although we do not know how Mr Bulkley earned his living.
The couple were married on 27 July 1738 at Whittington, Derbyshire. There were 4 children born to Robert and Alice, and their baptisms are recorded in the Cawthorne Parish Register.
Children of Robert Fretwell and Alice Bulkeley (Bulkley)

| Name | Born/Baptised | Died/Buried |
| --- | --- | --- |
| Thomas | 1739 | 1799 |
| Elizabeth | 1740 | ? |
| Alice | 1742 | 1796 |
| Susannah | 1748 | Aft 1771 |
He presumably took some interest in the affairs of his local church, and shared the enthusiasm of the parishioners for the planned extensions, for which Thomas Cockshutt, incumbent, had sought permission from the Archbishop of York which was granted as follows:
"…where ye said Inhabitants being thrice publickly called & none appearing to show cause to the contrary We have decreed and do by these presents grant this Our Order unto you ye said THOMAS COCKSHUTT Clerk to erect or build or cause to be erected or built a convenient Loft or Gallery near ye Belfry of the said Church to contain in length Twenty foot and in breadth Seventeen foot or thereabouts for the use of ye Parishioners and Inhabitants of ye said Parish To sit kneel and hear Divine Service and Sermons…Given at York under ye Seale of Our Office this Nineteenth day of August in ye year of Our Lord One Thousand Seven Hundred and Thirty."
However, it is not likely that Robert made any direct financial contribution towards the extensions because he was not, at the time that the 'rewards' were handed out, one of the recipients. On 23 January 1731(/32) Thomas Cockshutt reports and assigns the pews to be allocated to those whose donations made the work possible:
"Whereas I THOMAS COCKSHUTT have erected a Loft or Gallery in ye Church of Cawthorne…And whereas ye persons whose names are hereunto subjoyn'd have paid ye due proportion to ye expense of erecting ye said Loft upon condition of their having ye seats pews or closets therein…for ye use of themselves their heirs or assigns for ever…Now ye seats pews or closets hereby appropriated and ye persons to whom they are so appropriated are as follow viz ye seats on ye North side of ye said Loft or Gallery…"
Robert Fretwell did eventually secure a pew in the Church, by assigned transfer in 1738 from Mr James Oates.
Shortly after his second marriage we find him having moved from Cinder Hill, and now involved in the tanning business, which he carried out at Potterton, an outlying hamlet in the township and parish of Barwick-in-Elmet, liberty of Pontefract, 7 miles from Tadcaster.
Robert also acquired property in the Barwick-in-Elmet area after it had passed through a series of complicated transactions. William Ramsden of Longley in 1610 held the manor of Barwick, with other other property, and one Edward Copley also had a substantial holding, which was acquired by the Ramsden family by 1633. The property, described as the
"…capital messuage or manor house of Potterton with its lands and 'all the pews, closets, seats, forms and stalls' in Barwick Church usually occupied with the manor house…"
then passed through a number of hands until it came into the hands of Robert, who had already purchased the tannery.
There had been a tanning enterprise at Potterton for some time before Robert took over the business. Before him, the Vevers family had been connected with tanning in Potterton—the first known being one Richard Vevers, a tanner who in 1608-9, acquired by fine from John Gascoigne lands in Potterton including a messuage, a barn, garden, orchard, 47 acres of land, 3 acres of meadow, 30 acres of pasture, and common on turbary and pasture, paying the sum of £60 sterling. Another Richard Vevers, probably a grandson of the former, received from John Gascoigne of Parlington, on 20 July 1706, an assignment of a small part of the lord's waste in Potterton, presumably for the purpose of extending the tanning yard. In 1732 Richard Vevers mortgaged this enclosure to John Shackleton of Ripon for £100 and he, in 1744, sold it to Robert Fretwell who also bought from Shackleton other lands which had been mortgaged to him in 1732 by the Rev. William Vevers. Robert settled the tanning yard and these other estates on his wife, Alice.
But Robert had a number of business interests apart from the tanning operation, and his property interests in Potterton. The extent of Robert's wheeling and dealing is confirmed by the numerous deeds relating to Robert's transactions. Apart from Potterton Hall, Robert had widely spread property interests. He acquired Cinder Hill farm Hall Royd Farm in Cawthorne, and Bickerton Hall from his cousins. In addition, he had property at Mirfield, the birthplace of his mother, at Kexby, west of York, and at Tadcaster, where water and windmills formed a part of his property at Tadcaster Grange Farm. From Tadcaster he carried on the business of a lighterman and carrier. Here he owned wharves and warehouses and his sloops, lighters and other vessels were trading between Tadcaster and Hull. He also had waggons and carts employed in the carriage of goods between Tadcaster and Leeds, and quantities of cut timber, leather, hides, bark, and utensils belonging to the trade of a tanner.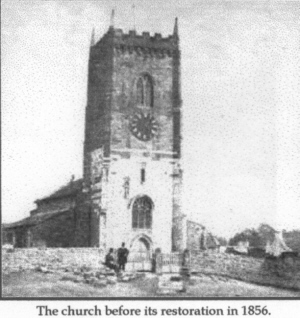 Parish Church - Barwick in Elmet
As a mark of his social standing and the esteem in which Robert was held, or perhaps because he could afford the honour or it was his by right of ownership, he was, in 1749, allotted a pew in the Parish Church. The citation reads:
Matthew by Divine Providence Lord Archbishop of York to our well beloved in Christ Robert Fretwell Gentleman a parishioner and inhabitant of and within the parish of Barwick-in-Elmet in our diocese of York Greeting. Whereas by our right as Ordinary it does and ought to belong to us to assign allot and confirm convenient seats stalls or pews and sittings to all and singular the parishioners and inhabitants of every parish or chapelry within our diocese of York. And whereas it hath been made known to us on your behalf that there was and now is a certain seat stall or pew situate in the south side of the north Isle [sic] of the parish church of Barwick-in-Elmet adjoining on the east to the seat or stall of Robert Dawson on the west to that of John Wood and John Varley on the south to that of Mr Vevers and opening on the north into the north Isle containing in length six feet two inches and in breadth three feet eleven inches. And whereas we have been petitioned on your behalf that we by out authority would assign and confirm the above to you and your family to sit kneel and pray and hear divine service and sermons. We therefore being willing to comply with your request do by these presents assign allot and confirm the said seat stall or pew to you the said Robert Fretwell and your family for the uses aforesaid so long as you shall continue to be a parishioner and inhabitant and duly frequent the said church.

Given at York under the Seal of our Consistory Court the tenth day of November, 1749"
The Church records also show that it was an occasional customer of Robert who, in 1752, received £1-0-8 for the sale of two horse hides.
The extent of Robert's wheeling and dealing is confirmed from comments in a letter from WEF to the incumbent of the Barwick in Elmet Church referring to the account of Reverend Colman. WEF states that the deeds relating to Robert's transactions are numerous and he had seen a good many of them at Wakefield. Several of the Spencer Stanhope Collection title deeds to Hall Royd Farm make reference to Robert Fretwell and by 1751 he was raising money on a mortgage of his Potterton property, and in 1757 he conveyed it to trustees for the benefit of his creditors. In one such deed, dated 1758, it is duly recorded that Robert Fretwell with a wife Alice, late of Cinder Hill, now of Potterton in the parish of Barwick in Elmet, Yorks, tanner, with a number of other persons, sells Hall Royd to John Spencer. Hall Royd Farm appears to have been part of the estate Cinder Hill estate. The Barr family bought back Cinder Hill from the Spencer Stanhopes around 1960.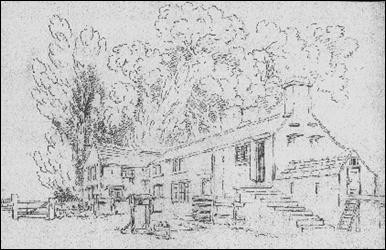 Hall Raw (Royd?) Farm
From a selection of John Nattes Drawings of Cawthorne (1808-1809
reproduced in Barry Jackson, Cawthorne 1790-1990
This financial disgrace was further compounded when he was removed from the ranks of the Conservators of the Tadcaster Wharfe, a position he is recorded as holding in 1758.
The following references are to deeds held in the Hull University Manuscripts and Archives database, and attest to a flurry of land and property transactions over the period 1753 to 1760.
8-9 October 1753; Lease and Release for £1200: John Cleaver to Robert Fretwell of Potterton tanner and wood merchant

1-2 November 1753; Mortgage for £2000: Robert Fretwell to Katherine Nevile of Chevet widow

12 June 1754; Agreement for Sale: £1200: Robert Fretwell, gent., to Dame Sarah Dawes of Escrick: messuage and lands in Kexby

3-4 July 1754; Lease and Release:

John Baird of Brayton esq, and wife Mary
Jeremiah Rawson of Bradford esq
John Fretwell of London (1st cousin, once removed to Robert) now of Tadcaster gent, and Robert Fretwell of Potterton gent
Francis Fretwell of Kirk Hamerton gent (1st cousin, once removed to Robert, brother of John)

For £2850: freehold parts of parts of messuages and lands at Priestly Green in Hipperholm and at Sowerby; and messuage and closes at Kexby. In trust for R.F.

30 July 1756; Mortgage for £600: Robert Fretwell to William Read jnr., of Leeds Merchant
1-2 February 1760; Lease and Release for £2800 in all: Katherine Nevile, William Read, Robert Fretwell and trustees for his creditors to John Stanhope of Horsforth esq., John Spencer of Cannonhall esq., and Edmund Lodge of Leeds merchant.
A notice in the Leeds Intelligencer of Tuesday 27 July 1762 advised :
"To be let on Monday the sixth of September next, at Mr. Todd's the "White Horse" in Tadcaster, the Navigation from Hull to Tadcaster and the Mills, Grounds, Wharfs and Wharehouses there used, in carrying on the said Navigation. In attendance will be given for purpose, by ten o'clock in the morning, Sir William Wentworth, Mr. Lascelles, Mr. Glover and Mr. parker, the acting trustees of the Estates and effects of Mr. Robert Fretwell having entered upon the said Navigation, Mills, Grounds, Wharfs and Wharehouses."
At the end of 1762, when he was approaching his 50th year, Robert sailed for India, having appointed as his attorneys his son Thomas, William Hill of Tadcaster, and his nephew, John Fretwell of Tadcaster, Mercer. On 15 September, 1766, Robert Fretwell, now of Chittagong in Bengal, released the mortgaged premises to Robert Denison of Leeds in consideration of £1,160. In 1771, Alice Fretwell, widow of Robert, with her son Thomas, conveyed to Robert Denison her life interest in Potterton. The details of these holdings acquired by Robert Dennison are: the dwelling house in Potterton with 18 acres of ground, and the adjoining estate, mainly farming land, consisting of 135 acres 2 roods 4 perches. Thus Robert not only lost his own substantial holdings, but he was also forced to surrender the properties, including Cinder Hill and Bickerton Hall, which, as we shall see, had been the birthright of the nephew of his cousin Francis.
The Ancestry India Deaths and Burials, 1719-1948, lists Robert Fretwell as having been buried at Calcutta, Bengal India, on 24 February, 1769. His occupation was recorded as Free Merchant. The Leeds Intelligencer of 22 May 1870 belatedly confirmed Robert's death.
The last ship arrived from Bengal brings advice of the death of Robert Fretwell, Esq; formerly of Poterton [sic], near Tadcaster, in Yorkshire, well known in that county for his extensive connections in trade, in which meeting with a continued series of misfortunes, about seven years ago, at an advanced age, he determined to quit his native country and go to the East-Indies, with a fixed resolution to re-establish his family in that affluence from which his many heavy losses in trade had reduced them, or perish in the attempt; his death is greatly lamented by all his acquaintances as in him were united the tender husband, the affectionate parent, the sincere friend, and the agreeable companion..
Alice Fretwell, left no doubt in straitened circumstances, outlived Robert by nearly twenty-one years, her death being reported in the Leeds Intelligencer of Tuesday 5 January 1790.
Sunday se'nnight died at Chesterfield, aged 87, Mrs. Fretwell, the widow and relict of Mr. Robert Fretwell, formerly of Potterton, near this town.
Mary Fretwell
Mary was the first born of Johannes (John) Fretwell and Ann (née Woodhead), and was baptised in December 1689 (or 1690, as there are two references) at the All Saints Church, Cawthorne.
MARY FRETWELL baptized Decem the 28th
MARY FRETWELL bapt December the 27
Just two months before her 18th/19th birthday, on 23 December 1707, she married, the event being recorded in the Cawthorne Parish Register.
THOMAS FAWLEY & MARY FRETWELL. Octob'r the 23nd
Thomas Ffawley, is described as Yeoman, of Hollinhouse and High Hoyland, a parish-town situated a mere 1½ miles from Cawthorne, and, in another source, as Thomas Fawley of Hall House, yeoman. I have postulated 1681 as the year of his birth from an entry, the only one for a Thomas in the appropriate time-frame, in the Cawthorne Parish Register, but have no confirmation that this is a correct assumption.
THO FAWLEY bap Decem the 1
In fact, we know virtually nothing about Mary, and not much more about her husband Thomas, except that the Fawleys were well established in the district. An earlier born Thomas was one of the Churchwardens who attested, on July 9 1689, to the collection of funds for the "Just Protestants" referred to earlier. The Fawleys were also connected to the Webster family, and thus to the Halliley family, who, in turn, were one-time owners of Bickerton Hall near Bilton. Subsequently, Mary's brothers Francis and John, were the owners of the Hall.
George Webster was the administrator of the estate of John Fawley of Cawthorne. John Fawley had married Ellen Webster, George's sister in about 1668. George's nephew, Thomas Webster of Featherstone, later of Bickerton, signed the bond as well as George, presumably after the death of John Fawley. Thomas Webster's wife Elizabeth, née Halliley, probably inherited the Bickerton Estate around 1700 from her father, Robert or Thomas Halliley.
Thomas Fawley was, in all probability the son of the above mentioned John Fawley of Barnby in Cawthorne and Ellen née Webster. If this was so, then Thomas Webster and Thomas Fawley were cousins, and Ellen was Mary's mother-in-law. It is interesting to note that the continuing Webster-Fawley-Fretwell links continued through to at least the next generation. Anthony Webster son of Thomas and Elizabeth, and Mary's nephew by marriage, was appointed as Executor of her brother John's Will. Definitely a case of 'keeping things in the family'.
According to her brother Francis's will, drawn up in 1727, by which bequests were made inter alia to the children of his sisters Mary, Grace, and Ann, there was at least one child, and maybe more, from the marriage of Mary and Thomas Fawley, which, if they lived together until Mary's death, lasted almost 30 years. But there is nothing in the family papers to indicate who the offspring may have been. But, given the date of the above-mentioned will, it is reasonable to assume that there were some children of Mary and Thomas still living in 1727. Mary died in 1736 aged 47, and her burial was recorded in the Cawthorne Parish Register.
MARY wife of THOMAS FAWLEY (from Hoyland) June 24th
If we accept the 1681 birth date, widower Thomas would have been in his mid-50s when he married for a second time, to Marg(a)ret Hirst of Cawthorne, in 1737/38.
THOMAS FAWLEY of High Hoyland and MARGRET HIRST of Cawthorne by Banns publish'd certify'd by Mr Burton Cur't marry'd by me Tho: Cockshutt Jan.31st
Francis Fretwell
The 'hatched, matched and duly dispatched' information for the second child and first son of Johannes Fretwell and Ann Woodhead, Francis Fretwell of Bickerton, in the County of the City of York, Gentleman, is : baptised 24 October 1691, married in late 1718; buried on 26th January 1727/28. Here we have another Fretwell who was 'going places'—and in every sense, since Bickerton and Bilton are more than a stone's throw away from the Cawthorne district, lying some 30 miles north east as the crow flies.
Francis, by the age of 33 when his father died, was a 'man of substance'. Confirmation, as we have seen, of Francis's relatively comfortable position is found in the terms of his father's will. John Fretwell of Cinder Hill, Cawthorne left to his son Francis one penny "as he was so well provided for". As indeed he was, for not only did he inherit Bickerton Hall, but five other properties one of which, in Messingham, he acquired by marriage.
In late 1718, when Francis was 27, he married Elizabeth Huntington of West Stockwith, Co. Notts., a widow who had lost her first husband four years earlier. Dates for her birth and death are not known but the latter event would have occurred after Francis's death on 9 January 1727/28. It was likely that the ceremony was held at Bilton as the marriage was commemorated with a Marriage Tablet in the chancel near the south wall of the Bilton. Unless there was a big disparity in age between herself and her first husband, Elizabeth would have been some years older than Francis.
William Huntington, the second son of John and Mary Huntington, died on 24 December 1714, aged 41 years and three days later was buried, at Misterton. Some years after this, on 1 October 1722, his body was removed to his own chapel at West Stockwith. The consecration of the new chapel and the relocation of its patron's remains is recorded by James Fretwell (a scion of another Fretwell family) who wrote in his diary :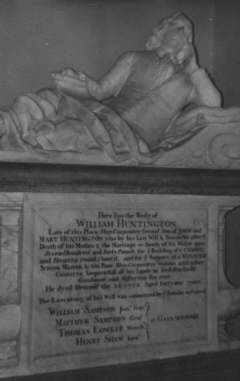 "Sunday, September 30th, 1722. - My brother John and sister Mary went to Stockwith, to see the ceremony of the consecration of the new chappel, built there pursuant to the will of the late Mr. William Huntington ship-wright, whose body was removed from the parish church of Mysterton and laid in his own chappel, the following day."
The reason for this relocation is interesting. An inscription around the basement of a marble effigy in the chapel reads :
Here lieth the body of William Huntington, late of this place, ship carpenter, second son of John and Mary Huntington: who, by his last will and testament after the death of his mother and the marriage or death of his widow, gave seven hundred and forty pounds for ye building of ye chappall and hospital round about it, and for ye support of a minister, school-master, and ten poor ship carpenters' widows, and other charitys, bequeathed all his lands in West Stockwith, Gunhouse and Misterton, for ever. He dyed Decembr. the 24th, 1714, aged forty-one years. The executing of his will was committed by ye founder to ye care of William Sampson, junr., gent., Matthew Sampson, gent., Thomas Donekin, mercht., Henry Shaw, gent. of Gainsborough.
Before their marriage Francis entered into a Bond, dated 18th October 1718, with William Sampson Jnr of Gainsborough County, Lincoln, Gentleman, and Matthew Sampson, brother of the foregoing, in the sum of £2,000 that he would leave his wife, if she survived him, £1,000, and all such goods and chattels, as she was possessed of before her marriage with him.
After a no doubt comfortable, but, seemingly, childless marriage of just less than 10 years, Elizabeth was once more a widow, with the death of Francis in his mid-30s, a young age even for those days. His passing was commemorated by a monumental inscription on the floor of the South Aisle of St Helen's Church:
Mr Francis Fretwell (37) of Bickerton Hall, died 8 Jan 1728
and from the Burial Certificate :
"Burials in the Parish of Bilton-in-Ainsty, in the County of York, in the year one thousand seven hundred and twenty eight. Mr Francis Fretwell of Bickerton was buried Jany 9th."
Only two months before his death Francis drew up his will on 10 November 1727. Sole Executor was his brother John Fretwell, Gentleman, and the Witnesses were William Carrick, William Carrick Jnr., and Richard Turner. The will was proved on 26 January 1727/28. Not only was Francis true to his bond, but he also left to Elizabeth all his lands in Messingham.
Apart from the bequests made to Elizabeth, Francis provided for other members of his family. Among those to benefit were :
John and Francis Fretwell - brother and nephew, son of John
Mary, Grace and Ann - sisters, and wives respectively of Thomas Fawley, George Walker, Stephen Arnold
Mary Fretwell - niece, daughter of John
Matthew Fretchwell - uncle
The beneficiaries also included the children of his sisters Mary, Grace, and Ann, and his cousins Robert and Susannah - son and daughter of Robert, and William and Ann — children of Matthew. And Francis did not forget the loyalty and service of his servants, William Bell and Ann Clithers, who were also provided for.
John Fretwell
John Fretwell of Bretton, and later of Bickerton Hall, in the parish of St.Helen's, Bilton, Co of York, Gentleman, was baptised according to the Cawthorne Parish Register in October 1693.
JOHN son of JOHN FRETWELL bap Octob'r the 19th
He married Mary, about whom nothing is known at present, probably around 1723, at the relatively late age of around 30. John was another Fretwell to move away from home territory, following his elder brother Francis to Bickerton. Over a period of 9 years four children were born to John and Mary.
Children of John Fretwell and Mary?

| Name | Born/Baptised | Died/Buried |
| --- | --- | --- |
| Francis | 29 Mar 1724 | Aft 1734 |
| Mary | 5 May 1726 | Aft 1734 |
| John | 16 Jun 1729 | 13 May 1772 |
| William | 2 Oct 1731 | 17 Jan 1732 |
Since his elder brother Francis died without issue, the 'responsibility' of the Fretwell lineage was passed to John Fretwell, a responsibility he fulfilled, but only through his third child John, and possibly the only son who survived to adulthood. Like his elder brother before him, John died young — in his 40th year. He was buried at York on 28 December 1732, in the graveyard of the parish church of St. Martin-cum-Gregory.
In the space of eleven months Mary had lost both her youngest child William who was buried at Bilton on 17 January 1731/32, and her husband. John had provided for them all in his will, which was witnessed by Martha Stephenson and Richard Booth, and proved on 27 January 1732/33 by the Executors, his wife, Mrs. Mary Fretwell, Mr. John Turner of Cowthorpe, Anthony Webster of Bickerton, and Thomas Stephenson of York. But the reality was that, and at the young age of twenty-nine, Mary was a widow with three dependent children aged 8, 6 and 3.
Mary was fortunate to find a person willing to take on her and her young brood. On 16 April 1734 she and Richard Dickinson, a widower of Marton with Grafton, Co. York, were married in York Minister, as is substantiated by an entry in the Marriage Bonds of the Dean and Chapter of York :
1734 April 16. Richd Dickinson, of Martin with Grafton, 33, widower, yeoman, Mary Fretwell, of Bilton, 31, widow, in Cath or Bilton.
Further, an editorial note in the Yorkshire Archaeological and Topographical Journal surmises:
"Probably Mary widow of John Fretwell, gent, of Bickerton, in par of Bilton, who died in 1732, leaving 3 children, Francis, Mary and John Fretwell, then minors"
From here we lose trace of Mary and, for a while, her children. It was likely that she moved ten miles or so further north, to the Marton with Grafton district.
Grace Fretwell
Grace, fourth child and second daughter of Johannes and Ann Woodhead was baptised on 27 December 1695 at the Cawthorne Parish Church. Also recorded in the Parish Register is her marriage, at age twenty, on 29 December 1715 to her first husband Robert Ant.
GRACE (?) dau of JOHN FRETWELL baptized December ye 27 day
ROBERT ANT (per B.T Farmer) & GRACE FRETWELL, Decemb'r the 29th
From the marriage entry we know that Robert was a farmer, but his provenance and family background is unknown apart from a record that he came from Silkstone. One line of enquiry is the records of Ants in Mexborough, Yorks, which is some 20 or so miles to the east of Silkstone. On 7 April 1663 a John Ant, son of Joseph was christened; two children of a Robert Ant - Isabel and William - were also baptised at Mexborough on 25 February 1663/64 and 25 February 1665/66 respectively. If there is a family connection it may be that either John or William was the father of Robert, but, pending further research, this must remain speculative.
There is some confusion in deciphering the WEF notes regarding the offspring of Grace and Robert. Were there two sons - named John Robert, baptised at Silkstone on 19 January 1718/19 and Thomas Francis, baptised at Silkstone on 10 January 1720/21? Or were there two sets of twins John and Robert, and Thomas and Francis? It is unlikely that two sets of twins would have gone unremarked, but a reference, in their grandfather's John's will, dated 1724, records bequests to his grandsons - John, Robert and Thomas. No mention of any Francis. Taking the will as a reasonably reliable source, it may be that there were two sets of twins, and that Francis had not survived. If this is correct, John and Robert, and Thomas were living in 1724 and would have been 6 and 4 years old.
Children of Grace Fretwell and Robert Ant

| Name | Born/Baptised | Died/Buried |
| --- | --- | --- |
| John | 2 Dec 1716 | ? |
| Robert | 9 Jan 1718/9 | ? |
| Thomas | 10 Jan 1720 | ? |
| Francis | 10 Jan 1720/1 | ? |
Further delving, by Fred Hobson on my behalf, finds a baptism for a John, son of Robert Ant, on 2 December 1716, at Darton (IGI). Darton is about 3 miles north west of Barnsley and 5 miles north of Stainborough. He did not find any entry for a Thomas.
Robert died around 1720. At this time it was the custom, in order that any dispute over a will could be more easily settled, for ecclesiastical courts that proved wills to require that the executors should appoint three or four local men to make a "true and perfect" inventory of the personal estate of the deceased. I have not located a will for Robert Ant, but I do have such an inventory of all his goods and chattels as declared and witnessed on 18 October 1720, the value of which amounted to £200-19-2. Click here to see the full document, noting that. the original manuscript is difficult to read and I have not been able to decipher some of the words.
This Inventory was signed off just shortly after Grace married a second time, again to a man from Silkstone:
Grace Ant, widow, married by banns : 14th Sep 1721, George Walker of Silkstone, yeoman
That the marriage was by Banns rather than by Licence implies that, after her first marriage, Grace had lived in Silkstone. Like husband number one, George is a shadowy figure. Apart from the joint responsibility of caring for Grace's brood of three (?) sons, George and Grace proceeded to produce six children of their own, who were born in rapid succession over the next twelve years:
Children of Grace Fretwell and George Walker

| Name | Born/Baptised | Died/Buried |
| --- | --- | --- |
| Ann | 15 Feb 1722 | ? |
| William | 14 Feb 1724 | 22 Oct 1733 |
| Mary | 28 Apr 1727 | 12 Jul 1752 |
| Martha | 28 Mar 1729 | ? |
| George | 15 Dec 1731 | 20 Jun 1732 |
| Thomas | 30 May 1733 | ? |
| William | ? | 9 Apr 1755 |
of whom I only have a record of the (early) deaths of two - William and George, which, assuming the others survived to adulthood, still left a demanding blended family of at least seven children.
This assumption would seem well founded as, once again thanks to Fred Hobson, there are records for the burial in 1752 of Mary, at age 25 and of a second William in 1755, both of Stainbrough. When and where this William was born is not known. Until Fred's assistance I had no record of the death dates of Grace and George, but it is now certain that George was buried on 15 December 1757 and Grace, outliving him by 12 years, on 15 January 1769. They were both recorded as being from Stainbrough. Grace would have been 74 years old.
Ann Fretwell (d. of John)
Ann, the youngest child of John and Ann, was baptised on 2 March 1699/70 at Cawthorne, just three months before her sister Grace's second wedding.
ANN filia JOHN FRETWELL bap March 2 day
Ann herself was married at the All Saints Church in Silkstone, by banns on 19 June 1721 to Stephen Arnold of Cawthorne, suggesting that, like Grace, she too resided in Silkstone. At the time of the marriage Ann was 21 years old. Stephen combined his rôle as Yeoman with that of Gardener, and it is likely that he was employed to work on the Spencer-Stanhope holdings. A later list of Estate positions filled by villages included 4 Gardeners and 6 Garden Labourers. RTF and WEF had not been able to add much on Stephen. From the Cawthorne records we find that the first recorded baptism of an Arnald [sic] took place in 1687, of an Arnoll [sic] in 1691, and of an Arnold in 1713, so they had lived in the village for some time.
The family records indicate that Ann and Stephen had at least one child — a son named Francis — whose date of birth has yet to be established, and for whom there is no entry in the Cawthorne Parish Register. The query as to whether Grace also had a son Francis has already been noted. Of significance, perhaps, is that there is no mention of any grandchild by the name Francis in the Will of Grace's and Ann's father. Possible deductions are that one or both children by the name Francis had died before 1724, when the Will was drawn up, or that if Ann and Stephen did have a son Francis, he was born after 1724. A further possibility is that John, for whatever reason, failed to make a bequest to a Francis grandchild.
Children of Ann Fretwell and Stephen Arnold

| Name | Born/Baptised | Died/Buried |
| --- | --- | --- |
| Francis | Aft 1722 | ? |
It is likely that Ann and Stephen lived their married life at, or close to Cawthorne, as their burials are recorded in the Parish Register. Ann lived to see 55, being buried in March 1756/66 and Stephen survived her by just over 10 years, and was buried in April 1766.
ANNE wife of Stephen Arnold Mar 4
STEPHEN ARNOLD Gardener Apr'l 5th
Joshua Fretwell
Joshua was the only son of Joshua Fretwell and Marg(a)ret of Hoyland and was born in 1686 at Hoyland Swaine, the hamlet to which his father had moved earlier. Joshua Jnr was a clothmaker by trade.
At the young age of about 20 Joshua married for the first time — to Easter (Easther?) Denton. The Silkstone Parish Register notes that this took place on 4 August 1706 and that both Joshua and Easter were of the parish of Silkstone. They were married for eleven and a half years, and seemingly remained at Hoyland Swaine, before Easter was buried on 30 January 1718/19 as also recorded in the Silkstone Parish Register.
Easter, wife of Joshua Frettwell of Hoylandswaine buried.
In that time two sons were born to the couple, who would have been 12 and 10 respectively when their mother died.
Children of Joshua Fretwell and Easter (Easther) Denton

| Name | Born/Baptised | Died/Buried |
| --- | --- | --- |
| William | 20 Jun 1707 | aft 1741 |
| John | Oct 1709 | aft 1733 |
Two years after Easter's death Joshua married for a second time in 1722. His new bride was Ann Tayle(o)r of Cawthorne and the ceremony was recorded as follows:
JOSHUA FRETWELL of Hoylandswain in ye Parish of Silkston and ANN TAYLOR (per B.T Ann Tayler) of Cawthorne marry'd by me Tho. Cockshutt by vertue of Licence granted by Mr Clarkson Vicar of Silkston May 1st.
The wedding took place in Cawthorne, which was Ann's parish, so it is not clear why a Licence would be required. Their first child, Joshua, was born just over nine months to the day after their marriage.
Children of Joshua Fretwell and Ann Tayle(o)r

| Name | Born/Baptised | Died/Buried |
| --- | --- | --- |
| Joshua | 11 Feb 1723 | 17 Nov 1898 |
Joshua was now 36, but no details are yet confirmed as to Ann's date of birth, although some speculative propositions can be made from the Cawthorne Parish Registers. If Ann was close in age to Joshua she may be the Ann who was baptised on 2 February 1683/84. This would tie in with a record in the Silkstone Graveyard Book, which has:
Ann Fretwell his [Joshua Fretwell] wife died 8 April 1758 aged 75
which would put her birth year at 1683. But the same source has a record of burial for Joshua:
Joshua Fretwell of Hoylandswaine died 21 April 1751 aged 79
which would put his birth year at 1672, which conflicts with the birth year of 1686 in WEF's notes. If Ann was considerably younger than her husband she may be the Ann, daughter of another Joshua, who was baptised on 3 June 1703. And if Joshua's second wife is identified as the latter Ann, she would have been around 20 on marriage, and her father would have been Joshua Tayle(o)r, described synonymously as both feltmonger and hatter, who was buried at Cawthorne on 4 March 1759, and who was predeceased by his wife Ann, who was also buried at Cawthorne on 12 March 1722/23.
Their son Joshua was born in 1723. His step-brothers would have been aged 16 and 14 — quite a disparity in age groups. But the older boys would, by this time, be either working with their father, or perhaps not even living at home if they had found employment or were apprenticed elsewhere.
William Fretwell
Apart from the age differentials between siblings which could result from second marriages, cross-generational disparities occurred quite frequently as a consequence of the tendency to produce large families over a long period of time. Thus we have William, son of Matthew and Mary Fretchwell, being born one year before his cousin Joshua's son, also named William. The fact, also, that William was in his early thirties when he married would have contributed to this situation.
Of William very little is known. He was baptised in Cawthorne on Boxing Day, 1706.
WILLIAM son of MATTHEW FRETWELL Dec. ye 26th
He rated a mention in his Uncle Johannes's will, at which time he would have been about 18 years old. It is likely that he remained in Cawthorne where his occupation was Husbandman.
The identity of his wife (assuming he was married) and the mother of his child Mary, born in 1731, is also a mystery, but as the marriage is not recorded in the Parish Register she possibly came from another parish, where the wedding may have taken place. We do not know, either, the dates of the couple's deaths, of which the most that can be assumed was that this sad event would have taken place after the birth of his daughter Mary.
Children of William Fretwell and ?

| Name | Born/Baptised | Died/Buried |
| --- | --- | --- |
| Mary | 21 Apr 1731 | ? |
In the realms again of speculation — could the Mary, tentatively ascribed as the wife and widow of Matthew, William's father (see under Second Generation), have been, in fact, the mystery wife of William, and for whom their daughter was named? If so, Matthew would have died prior to 1742, the date of the 'spare' Mary's burial.
WEF and RTF did very little research on the Fretwells of Hoyland Swaine, but research is now ongoing.
Ann Fretwell (d. of Matthew)
Ann, daughter of of Matthew Fret(ch)well and Mary Aude, was three and a bit years junior to her brother. She was baptised a Cawthorne in March 1710/11.
ANN (Anna in B.T) dau of MATTHEW FRETWELL Mar. ye 3rd
Just short of her 25th birthday, in 1735/36, she married Joseph Coldwell, also of Cawthorne.
JOSEPH COLDWELL and ANN FRETWELL both of Cawthorne publish'd and marry'd by me Tho: Cockshutt Febr. 19th
Like the Fretwells, the Coldwells could be considered a 'core' Cawthorne family. It was also an extended family, with many references to the name (and variant spellings) in the Registers. Joseph was the fourth child, and second son of John and Elizabeth(?) Coldwell, and was baptised in 1708.
JOSEPH son of JOHN COLDWELL June the 27th
Apart from Joseph, John and Elizabeth had four other children — 2 daughters and 2 sons. John's trade was that of glazier, and his son Joseph carried on this tradition, combined with his work as Farmer.
The Coldwells also took an interest in parish affairs, and a Joseph Coldwell is listed as Church Warden 2 for the years 1751, 1776-1778, under the heading Signatories to Bishop's Transcripts, which was one of the duties of Church Warden. Two Josephs in the Registers would fit the time frame for these appointments, and I would think that Ann Fretwell's Joseph fulfilled the duties in 1751, and their son, Joseph, carried on the tradition over the three years 1776-1778.
From my reading of the Cawthorne Registers I have tentatively given Joseph Snr and Ann three sons and one daughter of whom we know that one, John, died in infancy, surviving only one week.
Children of Ann Fretwell and Joseph Coldwell

| Name | Born/Baptised | Died/Buried |
| --- | --- | --- |
| John | 5 Apr 1737 | 12 Apr 1737 |
| Joseph | 27 Feb 1738 | ? |
| Susannah | 23 Nov 1740 | ? |
| Robert | 21 Jun 1743 | 12 Dec 1785 |
Ann died and was buried in May 1746, leaving Joseph to care for the three(?) remaining children, whose ages ranged from 9 down to nearly 3.
ANN (per B.T Anne) wife of JOSEPH COLDWELL (no month shown) ye 11th
An entry in the Register for 1747 finds Joseph marrying for a second time, his new wife being one Anne Dixon, also from Cawthorne.
JOSEPH COLDWELL and ANNE DIXON both of this Parish by Banns per me J. Radclyffe (per B.T Nov 11)
Within five years, three more children were added to Joseph's family, one son and two daughters.
Children of Joseph Coldwell and Anne Dixon

| Name | Born/Baptised | Died/Buried |
| --- | --- | --- |
| Hugh | 2 Sep 1749 | 9 Oct 1794 |
| Elizabeth | 5 May 1751 | ? |
| Sarah | 31 Dec 1752 | ? |
There is some difficulty with establishing the dates for Joseph and Anne's deaths, and the Parish Register offers some possible clues, but no firm conclusions. The burials of two Anns are registered for May 1792 and October 1793 respectively.
ANN COLDWELL Widow (no month shown) 10th (per B.T Apl 19)
ANN COLDWELL (no month shown) 21
Similarly there is a reference to the burial of a Joseph for January 1790
JOSEPH COLDWELL (no month shown) 10th
At this stage, taking account of the all the Coldwell families entries in the Register, and definitely pending further research, it might be acceptable to posit that the Joseph, husband first to Ann Fretwell and then to Anne Dixon lived to the age of nearly 82, and was buried early in the new year of 1790. Equally tentative, and taking the first cited Ann, his widow, and second wife, survived him by almost two years.