2nd Generation Spouses

| Surname | Given Name | Spouse of |
| --- | --- | --- |
| Crosland | Elizabeth | Francis Fretwell |
| Crosland | Elizabeth | Robert Fretwell |
| Helliwell | Susannah | Robert Fretwell |
| Dix(s)on | Sarah | Thomas Fretwell |
| Woodhead | Ann(e) | Johannes Fretwell |
| ? | Margaret | Joshua Fretwell |
| Aude | Mary | Matthew Fretwell |
Jenitte Fretwell
Jenitte was born, probably in Cawthorne, sometime before 1653, and her death year is marked by her burial in the Cawthorne Parish Register in 1660.
JENITTE the daughter of PEETER FFRETWELL was buried May the 26th
She would have been at least 7 years old when she died.
Francis Fretwell
Francis was probably born in Cawthorne before 1653, and died there around 1685. His wife, Elizabeth Crosland, was from Thornhill, some 13 miles from Cawthorne, where she was baptised, and where she was buried on 29 August, 1693 as recorded in the Thornhill Parish Register. They were married in Cawthorne in 1673, and the event is recorded Cawthorne Parish Register.
FRANCIS FRETWELL & ELIZABETH CROSLAND married Sep the 29
Despite a marriage lasting some 12 years, there is no record of any children being born to Francis and Elizabeth. It would appear that Elizabeth Crosland married Robert, following the death of his brother Francis at the age of 35 in 1685.
Robert Fretwell
Robert, second child of Peter and Mary, was born before 1653. He is cited in the Register of the Parish Church at Thornhill, which was 13 miles from his place of birth, and was his bride's birthplace, as marrying Elizabeth Crosland on 5 October 1690, some 5 years after the death of his elder brother Francis. Their childless married life only lasted a short time, as Elizabeth's burial, as noted above, took place just short of three years later.
Some time elapsed before Robert married again. By this time he was referred to as "Robert of Bretton in ye Parish of Silkstone". The parish town of Silkstone was only 2 miles, and the village of West Bretton only 3 miles or so from Cawthorne. Robert's second wife, Susannah Helliwell hailed from Mirfield, a little further afield, being 9 miles north from Cawthorne. The wedding was held in Mirfield, on 30th January 1711/12. Only one child is recorded from this marriage—Robert, baptised, according to the Silkstone Parish Register, on 28 July 1713. This would mean that Robert had to wait until he was in his 60s to produce an heir! It might also suggest that the birth date of before 1653 is brought into question.
Dorritthie Fretwell
There is no information for Dorritthie except for the two references to her birth and burial, just before her 30th birthday, in the Cawthorne Parish Registers.
DORRITHIE the Daughter of Peeter FFRETWELL was borne July the 29th
DORITHY FRETWELL buried July the 9
John Fretwell
John was born in 1658, and died, apparently a bachelor at the age of 34. Both events are documented in the Parish Register, the latter (taking account of the chronology) in November 1692.
JOHN the sonne of PEETER FRETWELL was borne July 22nd
JOHN FRETWELL (no month shown) the 30th
Thomas Fretwell
The Cawthorne Parish Register records the sad, short life of Thomas, the third son of Peter and Mary. He was baptised in 1661.
THOMAS the sonne of PETER FRETWELL was baptised July the 21st
and around his 23rd birthday, in 1684, he married Sara Dixon.
THO FRETWELL & SARA DIXON (per B.T Sara Dixson) maried no month shown the 12.
WEF has the month as July, but as there are no marriages recorded between June and November, the wedding may have taken place later than July.
Sara died and was buried on 24 April 1686, just before their second wedding anniversary. Thomas was a widower for just 15 months before he too died and was buried on 27 July 1687 aged only 25/26.

SARAH FRETWELL buried April the 24th
THOMAS FRETWELL buried July the 27th
There were no recorded children from the marriage.
Johannes Fretwell
The next born was Johannes (also known as John, but presumably only after his older brother of the same name had died). John was the fifth child of Peter and Mary, and of this generation of Fretwells is the person for whom we have the most information. As the first of his generation to produce male heirs, it is through John that the main Fretwell line is descended.
He spent his whole life at Cawthorne, having been born at there and baptised that same day at the Parish Church on 29 July 1664 and buried there, some 60 years later on 15 November 1724.
JOHANNES filius PETRI FRETWELL bapt: erat vicessimo nono die July (29th July)
JOHN FRETWELL (per B.T Woodman) November the 15th
John was referred to as John, Husbandman of Cinder Hill. Cinder Hill was a farm on the Spencer Estate and John would have been employed by the family to work on the farm. As we can see from the parish account he was a Woodman.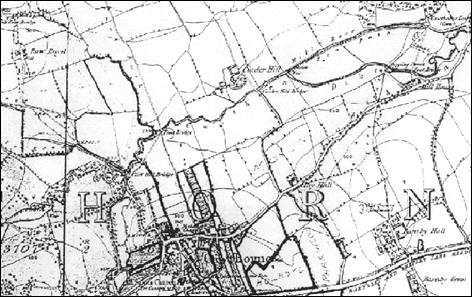 Location of Cinder Hill
Early historical accounts indicate that woodmanship was an ancient skill and remained an important element of land management and conservation. Wood was regarded as an economic asset for both fuel and, for some time, also dwellings and ship building. The bark was also required for tanning. Most woods were privately owned, often by the lord of the manor, but sometimes shared. The manorial woods were frequently subject to grazing rights on the commons for cattle and pigs.
Equally, the worth of a good husbandman was particularly valued. By the Elizabethan Statute of Artificers, Justices of the Peace were charged with setting the maximum levels of wages, and if by today's standards, the wages paid to agricultural workers around the mid to late 17th century seem paltry, they no doubt sufficed.
John married Ann(e) Woodhead on 3 December 1688, when he was 24 and she about 20 years of age in the Cawthorne Parish Church.
JOHN FRETWELL & ANN WOODHEAD married Decem' the 3d
There is some uncertainty as to where Ann was born. It was customary for women to be married in the parish of their birth, and she is referred to on marriage as "of this parish", but no reference to Ann having been born or baptised in Cawthorne has been found. A further pointer to her being at least a resident of Cawthorne at the time of the marriage is that apparently no Licence was required, as would be the case of a bridge marrying 'outside' her own parish.
WEF researched this question and ruled out any connection with the Woodheads of Meltham, and no connection has been traced to the Woodheads of Adwalton. At this point, from WEF's conjectures, the more likely provenance of Ann's family is Flockton, a village which is about 5 miles north west of Cawthorne. This theory is based upon a listing in a Manor Roll of all those eligible to serve on the jury in the district. The names of Robert Fretwell and John Fretwell, are duly shown respectively under West Bretton and Cawthorne, together with the name of Johes (Johannes or John) Woodhead of Flockton. This Woodhead may well have been the father-in-law or brother-in-law of John Fretwell.
Over a ten year period John and Ann produced five children, all of whom lived to adulthood.
Children of Johannes (John) Fretwell and Ann Woodhead

| Name | Born/Baptised | Died/Buried |
| --- | --- | --- |
| Mary | 28 Dec 1689 | 24 Jun 1736 |
| Francis | 24 Oct 1691 | 9 Jan 1727 |
| John | 19 Oct 1693 | 28 Dec 1732 |
| Grace | 27 Dec 1695 | 15 Jan 1769 |
| Ann | 2 Mar 1699 | 4 Mar 1756 |
The reference to the eligibility of both Robert and John Fretwell for jury service gives some indication as to their social and economic standing. Jury service was dependent upon a property qualification, defined in 1285 and extended in 1664 and 1692. From 1696, lists of eligible jurors—men aged between 21 and 70, who possessed freehold, copyhold, or life-tenure property worth at least £10 a year—were presented by each parish to meetings of the quarter sessions.
In 1714 we find John as one of the two church wardens—a position of some standing in the community.
Signatories to Bishops Transcripts

| Year | Minister | Church Warden 1 | Church Warden 2 |
| --- | --- | --- | --- |
| 1714 | Thomas Cockshutt | Francis Turton | John Fretwell |
| 1751 | John Radclyffe | John Bostwick | Joseph Coldwell |
| 1776 | Thomas Heron | John Rowley | Joseph Coldwell |
| 1777 | Samuel Phipps | John Bower | Joseph Coldwell |
| 1778 | Samuel Phipps | M. Bestwick | Joseph Coldwell |
John was also citied in the Parish Register as having contributed to the augmentation of the Cawthorne living in response to the following.
Terriers 8.1.5

The following is a true copy of ye instrument signed for ye augmentation of Cawthorn living.
WHEREAS the Govenours of QUEEN ANN'S Bounty for encouraging ye augmentation of poor living whereof unto any well dispos'd person or persons shall advance ye like sum (of Two Hundred Pounds) or more for ye same purpose we whose names are her(e)unto subscrib'd being inhabitants (or having estates) in ye Parochiall Chapelry of Cawthorn in ye West Riding in ye County of York do hereby consent promise and oblige ourselves to pay (in ye first place) Fourty pounds out of our Parish stock and everyone for himself ye following sums herein:after mentioned, and annex'd to our respective names.
Witness our hands this eighteenth day of December in ye year 1716.
John Fretwell 1-0-0
John Fretwell made his will on 6 November 1724, which was witnessed by his daughter, Mary Fretwell, Thomas Smith, and Thomas Cockshutt, the incumbent of the parish church. Son John was appointed Executor and the will was proved three months after his death on 24 February 1724/25. The following received bequests.
| | |
| --- | --- |
| Ann, Francis and John Fretwell | Wife, and the two sons |
| Mary, Grace, and Ann | Daughters, and wives respectively of Thomas Fawley, George Walker, and Stephen Arnold |
| William Fretwell | Nephew, son of Matthew |
| John, Robert, and Thomas Ant | Grandsons |
It is interesting to note that no provision was made for the grandchildren from Grace's second marriage, of whom one—Ann Walker—was born before the will was drawn up, nor for any other children that may have been born to John's other children. It should be noted, also, as will be seen in the account of the following generation, that the bequest to Francis was a mere shilling. This did not necessarily reflect any meanness on John's part, nor should it be taken to mean that there was bad blood between father and son. Francis, in fact, was not economically dependent on his father's benevolence.
John's widow Ann did not live to enjoy whatever had been bequeathed to her as she followed her husband to the grave, only 6 days after him aged about 56, being buried, according to the Cawthorne Parish Register for 1724.
ANN FRETWELL (relict of JOHN penulte) Novemb'r ye 21st
The Twins
The twins, Joshua and Matthew, were born four years after Johannes and were shown in the Cawthorne Parish Register as being baptised in 1668.
MATT & JOSSUA FRETWELL bap June 7 (B.Ts show Matthew and Jossia Fretwell June 7 1668)
Joshua Fretwell
Joshua may have spent his childhood in Cawthorne, but by the time of his marriage, the date of which is uncertain, but is estimated at around 1685, he was living in Hoyland Swaine, in the parish of Silkstone. Whether he was working on the land, or was employed in some form of trade is not known. His bride, Margaret, whose surname has yet to be established, hailed from Hoyland.
The only recorded child of this marriage is Joshua Jnr.
Children of Joshua Fretwell and Margaret ?

| Name | Born/Baptised | Died/Buried |
| --- | --- | --- |
| Joshua | 1686 | Aft 1722 |
In all, we do not have much to go on as far as Joshua is known. What is certain is that he died in his fortieth year for his burial is recorded in the Silkstone Parish Register for 30 November 1707. His widow lived only a short time longer, her burial being recorded as 27 March 1709 in the Penistone Parish Register.
It is interesting to note the place of burial, as it would have been expected to find Margaret being buried in the same parish as her late husband. Did she move to Penistone after his death? Have family there? Remarried?—all food for thought. Certainly there was a strong representation of Fretwells in and close to Penistone for many decades.
Matthew Fretchwell
Matthew (adopting the surname Fretchwell), was married at the relatively late age of 33, on 19 October 1705, to Mary Aude of Darton near Barnsley, 4 miles from Cawthorne, the marriage being recorded in the Darton Parish Register. There were two children from the marriage.
Children of Matthew Fretchwell and Margaret Aude

| Name | Born/Baptised | Died/Buried |
| --- | --- | --- |
| William | 26 December 1706 | ? |
| Ann | 3 Mar 1710 | 11 May 1746 |
Matthew earned his living as a wood cutter. As both children were baptised in Cawthorne it is likely that Matthew and Mary lived in the village after their marriage. Matthew outlived his twin brother by just over 20 years, having reached the age of 60 when he died. He was buried in 1728/9 at Cawthorne.
MATTHEW FRETWELL (per B.T Wood Cutter) January ye 5th
Whether he was predeceased by Mary, or if she outlived him, is not yet known. However there is one Mary unaccounted for in the burial records of the Parish Register, and Matthew's wife may 'fit the bill' in which case she survived him by some 14 years.
MARY FRETWELL (per B.T Mary Frettwell) widow June ye 3rd