Introduction
While I am confident with the integrity of most of the information on the spouses and children of the succeeding generations of Kay descendants, some is speculative, pending verification (or otherwise) by sighting original sources where such documentation exists.
The 2nd Generation Kays - children of Mary and Richard Kay - are dealt with in order below. Thereafter the general format for succeeding generations Kays - Gen 3 and Kays - Gen 4 & Beyond is a short introduction, family tree charts to show who 'stars' and the details provided in the accompanying linked pdf document.

Generation 2 - The Children of Mary (née Fretwell) and Richard Kay
Ann Kay
Ann Newton (nee Kay) was the oldest daughter, and first child, of Richard and Mary Kay (nee Fretwell). According to an IGI record she was baptised at St Peter's, Leeds, on 22 February 1778. Her husband was John Newton, who was probably born in Leeds, when is not known, but judging by the 1841 census and his death certificate Ann and John were about the same age. However, an IGI Family Group Record suggests that John may have been born about 1775 in Leeds. Ann and John married at St. Peters, Leeds, on 6 January 1799.
In 1826 they, or more likely Ann, are recorded as running a shop at 32 Park Lane, Leeds. (In 1891, 32 Park Lane is still recorded as one of a small group of shops). Family records also show that John was a Letter Carrier at the Leeds Post Office, Call Lane. He would have been in service 1840 when the postal system witnessed a radical change with the introduction of Rowland Hill's Penny Post. John is still working as a letter carrier when the 1841 census was conducted. He and Ann, together with some of their children, are living at 23 St. Paul's Street, just next door to Ann's bachelor uncle, John Fretwell.
| | | |
| --- | --- | --- |
| | | |
| John Newton | 60 | Letter Carrier |
| Ann Newton | 60 | |
| Elizabeth Newton | 35 | School Master |
| Francis Newton | 20 | Cloth Warehouseman, Journeyman |
| Mary Newton | 15 | |
| | | |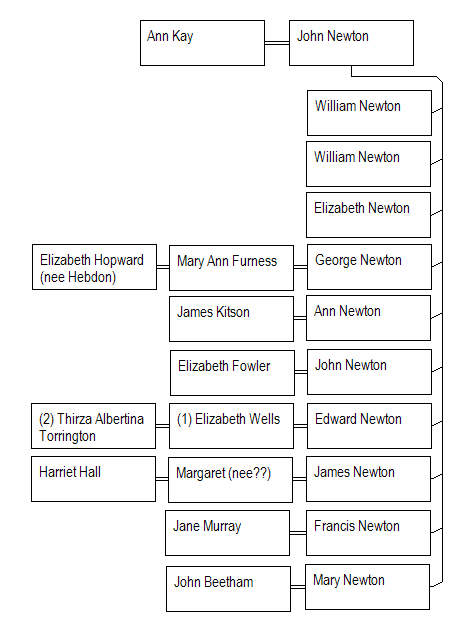 Not listed as being at home for the census are sons George, John and Edward and daughter Ann who had married and left home. James may also have married at this time but has not been located in the 1841 census. Also not listed, and yet to be verified were two sons, referred to in the IGI Family Group Record referred to above. According to this source, a son William was born to John and Ann on 25 October 1800, and another son, of the same name was born to them on 9 September 1801. This suggests strongly that the first William would have died as a baby. The question then arises – did the second William survive to adulthood. I have not been able to find any close match in the 1841 census, or the 1851 census. Adding weight to the supposition of him dying young is the fact that there is no mention of him in John Fretwell's will, and the Talbot Estate document of 1899, which lists the known children of Ann and John Newton, makes no reference to a William. So, at this stage, assuming the IGI source is correct, and as it does list all the other children, we can speculate that the first two children born to Ann and John did not survive infancy/early childhood. There are a number of references to the Newton family, and specifically to Ann and John, in the will of John Fretwell.
To my niece Ann Newton £150 to be paid out of the sum of £350 owing to me from her son George Newton.

To the said John Newton and Ann his wife during their joint lives my dwellinghouse No 23 St Paul's St Leeds and on the decease of the survivor to the use of Charles Todd and George Newton and my friend John Eyres of Leeds Grocer upon trust for the issue of the said John Newton and Ann his Wife.

To my niece Ann Newton an annuity of £20.
It must have been some comfort to the Newtons to know that they could remain in their St. Paul's Street home for the rest of their lives and that their children would also have a roof over their heads if they chose to stay there.
The Fretwell will is dated 2 December 1848, so we know that John Newton was alive at that time. However by the 1851 census Ann Newton was a widow. In fact John, letter carrier, died on 17 July 1849, at home, aged 70. The cause of death was "Paralysis 9 days" which suggests perhaps that he had a stroke or a heart attack. The informant was son Edward Newton who was living at East Retford, Nottinghamshire, and who had presumably come to assist his mother in the days before his father died. It was Edward who registered the death on 28 July 1849.
The 1851 census finds Ann Newton still living at 23 St. Paul's Street, with two of her children and a niece. Ann is now running a lodging house, which would probably have brought in some income. Mary Newton was very much the "baby" of the family, being some 22 years younger than her sister Elizabeth. Ann E May is Ann Eliza May, daughter of Ann's sister Mary May (née Kay) and her husband William May.
| | | | |
| --- | --- | --- | --- |
| | | | |
| Ann Newton (W) | 73 | Lodging House Keeper | Leeds |
| Elizabeth Newton | 48 | At Home | Leeds |
| Mary Newton | 27 | At Home | Leeds |
| Mary E May (Niece) | 26 | Teacher of Drawing | Pickering |
| | | | |
Also in the house are 2 servants, Jane and Mary Ann Goldthwaite (17 and 12) and 2 lodgers - Robert S. Sandau (Middlesex) and Hermas Waring (Royston, Yorks). Still living next door, at 22 St. Paul's Street, was Uncle John Fretwell (mistranscribed as John Dretwell) aged 88 and two servants Mary Taylor and Sarah Webster.
For her last census record, Ann is with son Francis and his family in 1861 at 42 Elmwood Street, Leeds.
| | | | |
| --- | --- | --- | --- |
| | | | |
| Francis Newton | 41 | National Schoolmaster | Leeds |
| Jane Newton | 39 | | Barnsley |
| Alfred Seaton Newton | 12 | Scholar | Leeds |
| Walter Joseph Newton | 10 | Scholar | Leeds |
| Ann Newton (mother) | 83 | | Leeds |
| | | | |
She is now an elderly lady of 83 and Francis and his wife Jane are caring for her. Just one year after the 1861 census Ann died, aged 84 on 27th May 1862 at Elmwood Street and Francis registered the death on that same day. Ann is described as widow of John Newton, a postman and the cause of death was Old Age and Bed Sores, suggesting that she would have spent most of her last months bedridden.
John Kay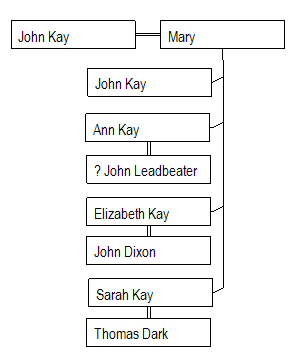 At this stage the information for John Kay and his wife Mary is gleaned mainly from the Will of his uncle John Fretwell with some reference to census returns.
Based on the RTF and WEF notes, John was the first born son of Mary (née Fretwell) and Richard Kay. I have found an IGI reference to the baptism of a John Kay, son of Richard Kay, for 19 March 1780, at St Peter's Church Leeds. The provenance of his wife Mary, and the date and place of their marriage, have not been established. We know from the Will that John Kay had died before it was drawn up in December 1848. We also know, that Mary was alive in December 1848 as she was to receive £33. In the Will the children of John and Mary Kay were referred to as :
To my great nieces and great nephew Elizabeth Dixon wife of John Dixon of Leeds Woolstapler, Ann Kay and John Kay, children of my said late nephew John Kay...

To my great niece Sarah Dark daughter of my said late nephew John Kay deceased …
From this we know that by 1848 Elizabeth and Sarah Kay had married. There is no reference to a wife of son John, and the Will suggests that Ann Kay was still single in 1848. I have traced the accounts of Elizabeth Dixon and Sarah Dark but the children John and Ann (if any) are proving to be most elusive.
Based on the assumption that John and Ann had not married (but refer below for more on Ann Kay), a possible citing for them and their mother has been found in the 1841 census at Woodhouse Lane, Leeds. According to this census return, all were born in Yorkshire and, if it has correctly identified Mary as the widow of John Kay, it undermines a theory of a marriage between John and Mary (nee Ashworth) on 6 January 1801 at Bolton Le Moors, Lancashire.
| | | |
| --- | --- | --- |
| | | |
| Mary Kay | 60 | (Independent) |
| John Kay | 25 | Watchman |
| Ann Kay | 25 | |
| | | |
Ten years later, an 1851 census record may be that for Mary and John but no mention is made of an Ann (for details refer to the Generation 3 section John Kay Jnr).
Again, if this has correctly identified the Kay family, it puts Mary Kay's estimated year of birth as 1781. Just to confuse matters further, I have not been able to locate a death registration post 1848 for Mary that would fit this birth year.
Until much of the above information is confirmed or refuted, it must be treated as speculative.
Edward Kay
Records suggest that Edward was the second surviving son of Richard and Mary (née Fretwell) Kay. Some information about him and his children is gleaned from the will of John Fretwell of Leeds, Gentleman, which was drawn up on 2 December 1848.
To my great nephew James Kay the son of my nephew Edward Kay £45 to be paid out of the sum of £635 owing to me by Charles Todd.

And as concerning "the [Railway] Foundry Estate" and the moneys to arise therefrom out of one fourth part thereof I give

To James Kay one of the sons of my said nephew Edward Kay £50.

To Mary Amelia Kay, Charles Kay, Edward Kay the younger, and John Fretwell Kay the other children of my said nephew Edward Kay £25.

And the remainder of such fourth part I give to the maintenance and support of my Nephew Edward Kay now of unsound mind and Mary his wife and their children James, Mary Amelia, Charles, Edward and John Fretwell Kay.
On 5 April 1835 Edward married Mary Higginson at the parish church of Manchester. Mary may the baby who was born on 26 February 1802 and baptised the following month on 7 March at Prescot, St Mary, Lancashire and the daughter of Thomas Higginson, mariner, and his wife Mary Holding, who had married at Prescot, Lancashire on 12 April 1801.
Edward and Mary started married life in Lancashire where their first child, Mary Amelia was baptised in October 1837, with her father's occupation being given as painter. Shortly after Mary Amelia's birth the family relocated to Leeds, where three sons, Charles, Edward, and John Fretwell were born respectively in 1838, 1841 and 1843. For the first two Edward was employed as a time keeper, but for the last he was again a painter.
However Mary Higginson was Edward Kay's second wife, as confirmed by their marriage record which lists Edward as a widower. A West Yorkshire, Non-Conformist record shows the birth on 7 February 1827, and the baptism on 27 April of that year at St Peter's, Leeds of a James Robert Kay, son of Edward and Sarah Kay. The record states that father Edward was a painter. There is a record of burial on 20 April 1830 of a Sarah Kay, wife of Edward Kay, at St. Peter's Church, Leeds. At this stage Sarah's maiden name and provenance has not been established, although there is a marriage record between an Edward Kay and a Sarah Harper for 21 June 1818. Further, an 1822 Yorkshire directory lists Edward Kay as a House Painter, of 45 Duke Street, Leeds.
However, it is as a time keeper that we find Edward Kay in the 1841 census, living with his family in Pearsons Street, Hunslet, Leeds. All except Mary, his wife, are recorded as being born in Yorkshire, and as noted above, Mary Amelia was not Yorkshire born. The household includes Edward's son. The youngest child, John Fretwell Kay, was yet to make his appearance.
| | | |
| --- | --- | --- |
| | | |
| Edward Kay | 46 | Time Keeper |
| Mary Kay | 40 | |
| James Kay | 13 | |
| Mary Kay | 4 | |
| Charles Kay | 2 | |
| Edward Kay | 6 mo | |
| | | |
In 1848 John Fretwell referred to Edward Kay as being of unsound mind, and he would have died sometime between then and the 1851 census as Mary is a widow by that time. In fact, Edward died on 17 April 1849 at 5 Camp Street, Leeds. His profession was given as Painter and the cause of death (with no reference to any unsound mind) as Asthma. His son James Kay, of Silver Street, Hunslet, was in attendance.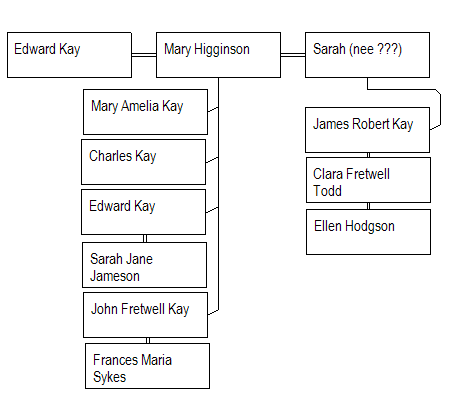 The 1851 census return sheds a little more light on Mary Kay and her children. They were living in the Little London district of Leeds, at 5 Alfred Street. Mary's place of birth is given as Prescot, Lancashire, and Mary Amelia Kay is shown as having been born at Salford, Lancashire, while the other children were born in Hunslet. The eldest child, step-son James, is no longer at home having married Ellen Hodgson and set up home at Brighton.
| | | | |
| --- | --- | --- | --- |
| | | | |
| Mary Kay (W) | 45 | School Mistress | Prescot, Lancashire |
| Mary A Kay | 14 | | Salford, Lancashire |
| Charles Kay | 12 | Scholar | Hunslet |
| Edward Kay | 10 | Scholar | Hunslet |
| John Kay | 7 | Scholar | Hunslet |
| | | | |
From Mary's age given in the 1851 census an approximate year of birth would be 1806. However, for the 1861 census her estimated birth year is given as 1801. She has moved since the 1851 census and is found at home with 3 of her children at Bentley, Chapel Allerton, Headingley.
| | | | |
| --- | --- | --- | --- |
| | | | |
| Mary Kay (W) | 60 | Painter's Widow | Prescot, Lancashire |
| Mary Amelia Kay | 24 | | Salford, Lancashire |
| Edward Kay | 20 | School Master | Hunslet |
| John Fretwell Kay | 7 | Book-keeper at a Plumber's Works | Hunslet |
| | | | |
It is not clear whether Mary Kay is still working as a school mistress, and if so, whether son Edward was working with her. On the other hand, Edward may have taken over from her as she had now reached an age when she would have no doubt enjoyed a rest! Younger son John has also found work at this stage.
Son Charles Kay, was not located in the 1861 census. The reason for this is that on 15 December 1852, at the age of 14, Charles died of typhus fever at home at 5 Camp Street, West Leeds. His mother was with him when he died and his father is given as Edward Kay, a painter (deceased).
At the age of 66, Mary Kay, widow of Edward Kay, a Painter (Master) died at home in Far Headingley, of phthisis, on 8 August 1867. Present at her death, and the informant, was her youngest son John Fretwell Kay.
Mary Kay
Mary, daughter of Mary (née Fretwell) and Richard Kay, was born in Leeds on 14 February 1898, and married William May, a seedsman, by banns, at St. Peter's Church Leeds on 13 June 1822. I was delighted when contacted by Gil Langfield of Melbourne with regards to the May family, and even more so when he gave me a copy of his privately published book 'Family Stories'. One of the sections of this thoroughly researched work concerns the May family of Burneston, and it has proved to be very helpful in constructing the story of this extensive family.
The Leeds Directories of 1800 and 1809 list a William May, Gardener of Duke Street, and a William May, Gardener and Seedsman of Duke Street, is listed in the 1817 edition. These entries refer to William May Snr, father of 'our' William. William Snr was buried on 23 June 1822, aged 54, and only ten days after his son's marriage. He left the family nursery business to his wife and his eldest son, John. William was to receive a mere £5. No doubt hurt and disappointed, William and Mary left Leeds to set up business themselves at Pickhill, in North Yorkshire.
Within a short time of setting up at Pickhill William was making his mark. The Leeds Intelligencer of 9 September 1824, reported on the Yorkshire Horticultural Society exhibition. William won an award for 'the ten best apples', and was recommended for
Seedling Hollyhocks, a specimen of the Turkish Oak, a very fine specimen of a new Stock, and a dish of very excellent White Dutch Runners.
In 29 December 1832 the York Herald carried the following advertisement.
HOPE NURSERY
Leeming Lane, Near Ripon

WILLIAM MAY, Nurseryman, Seedsman, and Florist, in returning his sincere Thanks to his Friends and the Public, begs to inform them that he has REMOVED his business from Pickhill to Hope Nursery, Leeming Lane, where his Business will in future be carried on, and trusts by his best attention to the Favors of this Friends, to merit their continued Support.
He further begs to inform them that his STOCK of Fruit Trees, Forest Trees, Evergreen and Flowering Shrubs, with Herbaceous and Green-House Plants, are of the best quality and upon the most moderate Terms.
N.B. He has just received his annual supply of Garden and Flower Seeds for the ensuing Season.
William strove to develop and expand his business which continued to prosper as illustrated by a notice he placed in the Yorkshire Gazette of 28 October 1837.
HOPE NURSERY
Leeming Lane, Near Ripon

WILLIAM MAY, grateful for the very distinguished Patronage he has received, and the liberal Support he has experienced, during the fifteen years he has been in Business, begs to return his sincere Thanks.
He assure the Nobility, Gentry, and the Public generally, that no exertion on his part shall be wanting to merit a continuance of that distinguished patronage he has already received.
It is W.M.'s determination to cultivate, with increasing assiduity, all that is interesting in Ornamental Trees, Shrubs, Greenhouse and Hardy Herbaceous Plants; together with Florists' Flowers of every description.
W.M. has, during the past summer, visited the principal Nurseries in the Neighbourhood of London, as well as those in the Country, from which he has made considerable Additions to his Stock of Camellias, Geraniums, Calceolarias, Hybrid Rhododendrons, Indian Azaleas, Greenhouse and Hardy Herbaceous Plants, generally. To his Collection of Roses, he has added all the esteemed Hybrid Varieties, &c.
From the Experience W.M. has had in the Seed as well as general Nursery Business, it has enabled him to add to the Seed Department every Article, both in Culinary Vegetables and Ornament Flower Seeds, that has been deemed worthy of Notice, and begs to assure his Friends that the same attention will continue to be paid to every Article in his Business being sent out, of the best and most correct quality.
W.M's Stock of Fruit Trees and Forest Trees are this season extensive and select, which he will offer at Moderate Prices.
He begs to announce that he has just received his annual supply of Duct Bulbous Roots, consisting of Hyacinths, Narcissus, Jonquils, Vanthal and other early Tulips for Pots and Glasses, Crocus, &cc., to which he solicits Notice.
Catalogues of Plants, Forest Trees, and Dutch Roots, may be had on application at the Nursery.
N.B. Plantations contracted for.
It was at Pickhill that the first child, Rowland William May, was born in April 1823, to be followed by Ann Eliza in 1824, John in 1826, Henry in 1828, Charles in 1829, and Mary in 1831, before the family relocated to nearby Burneston. It was here that four other children were born - Sophia Mary 1833, Emma Isabella 1836, Flora Elizabeth 1838 and Edwin Fretwell 1840.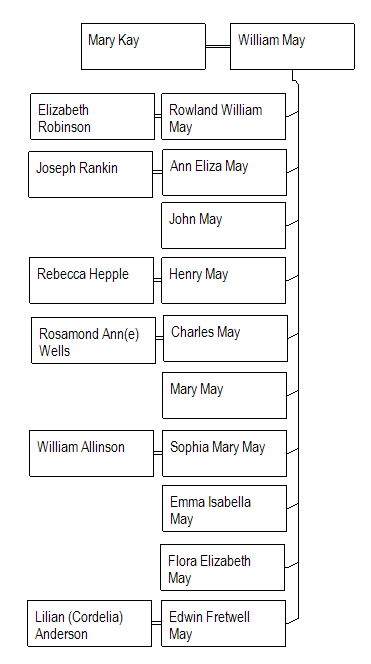 For the 1841 census William and Mary, with eight of their children are listed at home with them at the Hope Nursery Pickhill, together with the general domestic servant, 15 year old Jane Lambton. Daughter Sophia May is not listed with her family as she was a boarding pupil at a school at Patrick Brompton. Also not mentioned is Flora Elizabeth May, who died on 17 January 1839 aged 7 months, at home at the Hope Nursery, Burneston, of Inflammation of the Chest. William May, her father, recorded as occupier of house, Leeming Lane, registered her death on 3 February.
By the time of the next census Mary May was a widow. The Leeds Mercury of 28 December 1850 carried news of his death.
On the 13th inst., in his 50th year, highly respected, Mr. MAY, of Hope Nursery, Leeming Lane, Bedale
As had his father, William died relatively young. The cause of death was phthisis, and the informant was one Thomas Simpson of Hope Town in the township of Burneston. William was buried at Burneston on 18 December.
Mary, as head of the household for the 1851 census, is now running the Hope Nursery business which, judging by the number of employees, is doing rather well. However, this belies the fact that William may have been insolvent at the time of his death. He died intestate and his estate was put into administration. When probate was finally granted in 1852 it was to William Beverley of Leeds, a creditor and, who it transpires, was the owner of Hope Farm, and William May the tenant.
Apart from Mary May, the 1851 household comprised five of her children and a domestic servant.
| | | | |
| --- | --- | --- | --- |
| | | | |
| Mary May | 51 | Nursery and Florist employing 8 men, 4 boys and 3 women | Leeds |
| John May | 25 | Assistant Nurseryman | Pickhill |
| Henry May | 23 | Assistant Nurseryman | Pickhill |
| Charles May | 21 | Assistant Nurseryman | Pickhill |
| Sophia May | 17 | | Burneston |
| Emma May | 15 | | Burneston |
| Ann Johnson | 17 | House Servant | Newton le Willows |
| | | | |
Not at home on 30th March were sons Rowland William May and Edwin Fretwell May, and daughters Ann Eliza May and Mary May. By this time Rowland had married and left home and Edwin ("masquerading" as Edward) was at a boarding school. Ann Eliza, a Teacher of Drawing, was in fact staying with her aunt Ann Newton at 23 St Paul's Street, Leeds. Mary May, on the other hand, had died at the age of 19, very shortly after her father. The death certificate records her death as occurring on 1 February 1851 and caused by Hysteria, and exclusively female condition. Again Thomas Simpson was in attendance.
Between 1851 and the census conducted in 1861, two more May children died. The death of the son John must have been a particular blow to Mary as she relied heavily on him in the management of the business. He died aged 26 on 8 August 1852, his passing noted by the Durham County Advertiser of 13 August.
OBITUARY - It is with the most painful regret we have to announce the death of Mr. John May, of the Hope Nurseries, near Bedale, son of the late Mr. W. May, F.H.S., the founder of that extensive and well conducted establishment. The melancholy event took place on Sunday afternoon, the 8th inst., at the family residence, the immediate cause being a severe attack of Bronchitis, the same fatal complaint, which hurried his lamented father to the tomb. Mr. John May was an excellent young man in all the relations of life, and gave promise of much usefulness to all around him, but he has been cut off "in the flower of youth," though we trust as a "ripe sheaf" in the garner of the Lord! For some time Mr. John May filled a responsible situation, in the celebrated nurseries of Messrs. Rendle, at Plymouth, but on the death of his father, he returned to his native roof, to take charge of the valuable business connected with the Hope Nurseries. He was an enthusiastic lover of plants, and had extensive knowledge on all subjects, kindred to gardening. His premature death will be lamented by a wide circle of acquaintances, and deeply deplored by his family, to whom his virtues had greatly endeared him.
Nearly five years later, on 25 January 1857, Emma Isabella May died at the age of 21 from epilepsy, from which she had apparently been suffering for some nine years before her death. Elizabeth Jackson was the person present when Emma died an New Inn, Leeming Lane, Burneston. Interestingly, it was nine years later, on 31 March 1866, that her will was proved on her estate of Effects under £200.
The Will of Emma Isabella May late of Healem Lodge in the Parish of Burneston in the County of York Spinster deceased who died 25 January 1857 at Healem Lodge aforesaid was proved at the Principal Registry by the oath of Henry May of the Hope Nurseries in the Parish Aforesaid Florist and Nurseryman the Brother the Executor according to the Tenor of the said Will.
The 1861 census finds Mary aged 61 and listed as House Proprietor at home at 107 Park Street, Masham, not far and to the west of Burneston. The only other person in the household was her 21 year old son Edwin, who was employed as a grocer's assistant.
Ten years later, for the 1871 census, Mary was boarding with the Cordukes family at Kirklington, a village not far from Bedale. I do not know what the connection with the Cordukes may have been, but Mary was probably well acquainted with them.
| | | | |
| --- | --- | --- | --- |
| | | | |
| John Cordukes | 58 | Farmer of 84 acres | Sheriff Hutton |
| Mary Cordukes | 53 | | Aldborough |
| Jonathon George | 21 | Farmer's Son | Topcliffe |
| John Cordukes | 19 | Farmer's Son | Topcliffe |
| Mary Cordukes | 14 | Farmer's Daughter | Topcliffe |
| Mary May (Boarder) | 71 | Annuitant | Leeds |
| | | | |
And it was at Kirklington that Mary died, aged 72, on 23 November 1871. Widowed at a relatively young age, taking on the family business, and the loss of a number of children must have all taken their toll. The cause of death was given as 'Exhaustion without Specific Disease'. Her son Henry May was with her when she died. Henry, of Hope Nurseries near Bedale, was also the sole executor of Mary's estate, valued at 'Effects under £450', the will being proved at York on 14 March 1872. The will was written on 9 June 1869 directing that the estate be divided between her four remaining sons - Rowland William, Henry, Charles and Edwin - and daughter Sophia Mary. Unbeknownst to Mary May was the fact that her Sophia was no longer alive at the time.
Isabella Kay
The birth years given in the various records for Isabella Kay, daughter of Richard and Mary (née Fretwell) Kay, are somewhat fluid. For instance, based on the 1851 census data, she would have been 14 at the time of her marriage. It is not until her death, in 1880 at the age of 77, that a more realistic birth year is confirmed.
Isabella Kay was born on 38 May 1802, and baptised on 22 August of that year at St. Peter's Church, Leeds. She was almost 20 when she married Charles Todd on 5 March 1822, also at St. Peters. Charles had been born on 25 January 1795 to John and Mary Todd, and baptised a few weeks later, on 1 March, at St. Olave, in York. His parents were John and Mary Todd.
Isabella married rather well as Charles was to make his mark as a highly regarded civil engineer. He had been apprenticed to Matthew Murray, of the Steam Engine Manufactory of Messrs. Fenton, Murray & Jackson, and this was where he was working when he was listed in the 1835 Leeds Directory for Trades and Professions as "Todd Charles, engineer, 7 Greenmount Terrace". This firm built the world's first commercially successful steam locomotives, for the Middleton Railway, and in the 1830s built locomotives for the Liverpool & Manchester Railway, the Great Western Railway, and some foreign railways, including for France, so Charles Todd gained valuable experience in locomotive building. (The pre-1837 data has been provided by Sheila Bye, Historian of the Middleton Railway Trust).
In 1837 Charles was a partner in the Airedale foundry in Hunslet, founded in that year by James Kitson (who had married Isabella's niece, Ann Kay). The venture was a failure and the partnership was dissolved. In 1837, there was a prolonged Machine-Makers Strike in Leeds, which affected most companies, and may have precipitated Todd into founding a new company. While Kitson began afresh in 1839 and soon associated with Mr. Thompson, an iron merchant, and Mr. Hewitson, an apprentice and draughtsman of Messrs Stephenson, Charles Todd, in partnership with Shepherd, set up on his own to start the Railway Foundry, manufacturers of locomotives, carriages and wagons, and an enterprise in which his wife's uncle, John Fretwell, had a vested interest.
Charles left the firm in June 1844, which was taken over by James Fenton in 1846, becoming Fenton Craven & Company. After leaving the Railway Foundry, Todd formed the Sun Foundry, and is listed in Slater's 1847 directory as "Todd Charles, Sun Foundry, Dewsbury Road".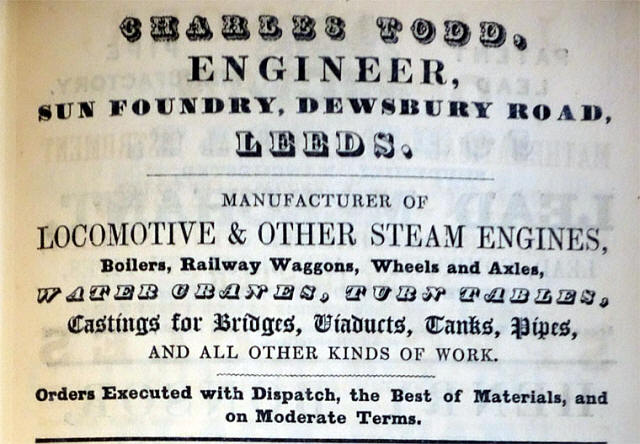 In between these various complicated business arrangements Charles and Isabella had acquired a family. By the time the 1841 census was conducted four daughters had been born - Emma Isabella, 1825; Laura, 1827; Julia, 1830; and Mary Amelia, 1834. The 1841 census has the Todd family living at Cumberland Street, Hunslet, Leeds.
| | | |
| --- | --- | --- |
| | | |
| Charles Todd | 40 | Engineer |
| Isabella Todd | 35 | |
| Emma Isabella Todd | 15 | |
| Laura Todd | 15 | |
| Julia Todd | 11 | |
| Mary Amelia Todd | 6 | |
| | | |
The last of their children, Clara Fretwell Todd, was born shortly after the census night, on 30 September 1841.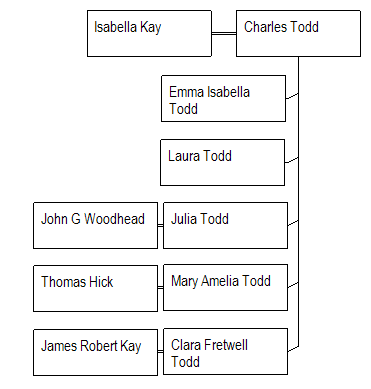 We find Isabella at home with four children in 1851 now living at 1 Dewsbury Road, Hunslet, which was no doubt convenient for Charles as the Sun Foundry was also located on Dewsbury Road.
| | | | |
| --- | --- | --- | --- |
| | | | |
| Isabella Todd | 43 | Engineer's Wife | Leeds |
| Emma Isabella Todd | 22 | No Business | Bolton, Lancs |
| Julia Todd | 19 | No Business | Manchester, Lancs |
| Mary Amelia Todd | 16 | No Business | Manchester, Lancs |
| Clara Fretwell Todd | 9 | No Business | Leeds |
| | | | |
Missing from home on census night is Charles Todd who is found as a lodger at the Axe Inn, in St May, Aldermanbury, London. Also not listed with Isabella is daughter Laura Todd who had died at home in Dewsbury Road on the 10 September 1846 of typhus. In reporting her death, the Leeds Intelligencer mis-stated her age as 17.
Leeds - Thursday last, of a short and painful illness, which her piety had prepared her to meet with Christian resignation, aged 17 years, Miss Laura Todd, second daughter of Mr. Charles Todd, engineer.
By 1851 Charles was not a well man and in early 1852 he was forced to sell up. The following notice was placed in the 24 April 1852 issue of the Leeds Mercury.
SUN FOUNDRY, LEEDS,
Very important to Engineers, Railway Companies, Machine
Makers, Millwrights, Boiler Makers, Smiths, Brokers, and others.

Mr. WHEATLEY KIRK is honoured with instructions from Mr. Charles Todd, the eminent Engineer, &c., of the Sun Foundry, Dewsbury-road, Leeds, who is declining business on account of ill health, to SELL by AUCTION, on the Premises of the said Sun Foundry, on Monday, May Tenth, 1852, and following days.
ALL his truly valuable PLANT, Machinery, Tools and Utensils, Stock-in-Trade, &c., &c., full and detailed particulars of which will be given in future advertisements, and in descriptive catalogues, which will be prepared in due course, and any further information, in the interim, may be had of Mr. Toup, on the Premises; or of the Auctioneer, at his Officer, 24, Princess street, Manchester.
Some time after the 1851 census the Todd family moved to 1 Blundell Street, which is where Charles Todd died on 30 September 1852. The death certificate records the cause of death as "Rheumatic Gout - Diseased Heart and Anasarca". He was 57 years of age and described, at the time of his death, as Gentleman. He may well have received treatment at the General Infirmary which ran off Blundell Street.
The will of John Fretwell confirms that he had a financial interest in the Railway Foundry business, and perhaps he had also assisted Charles Todd with the Sun Foundry. When John drew up his will in December 1848, Charles was indebted to him to the tune of £635. Charles was appointed as one of the Executors but John Fretwell outlived him. Accordingly, by a codicil to his will, John appointed Isabella Todd as a replacement executor. John Fretwell died on 5 June 1855 and his will was proved on 17 November of that year. Apart from any balance of the £635 referred to above, John bequeathed to Isabella and her daughters :
all his wines Liquors and consumable Household Stores in his dwellinghouse No 22 St Paul Street Leeds, all the residue of his silver plate and all his household goods and furniture during her life and on her decease to her four children Emma, Julia, Mary Amelia, and Clara, and the said messuage or dwellinghouse 22 St Paul's Street Leeds for life and after her decease to her 4 children.

all the rest of his clothes (one suit was to be given to nephew John Kay).

(after some one-off small bequests to other family members) Isabella, during her life time, and thereafter her children, were to receive a part of the income from the "the Foundry Estate" capital account.
After Charles died Isabella moved house and in 1861 was found, with two of her daughters, at St Paul's Street, Mill Hill, Leeds, presumably at No 22, the house she inherited. Once again we have a problem with Isabella's age. In 1861 she would have been in her fifties. Neither Julia nor Mary Amelia are at home as they have by now married and moved away.
| | | | |
| --- | --- | --- | --- |
| | | | |
| Isabella Todd | 50 | House Proprietor | Leeds |
| Emma Isabella Todd | 30 | | Bolton, Lancs |
| Clara Fretwell Todd | 20 | | Leeds |
| Eliza Bapty | 16 | Servant | Leeds |
| | | | |
For the 1871 census we find Isabella, still at St Paul's Street and living next door to John and Mary Beetham (née Newton and Isabella's niece). Visiting are her married daughter Julia and granddaughter Amy Isabella. Clara is no longer living at home, having married James Robert Kay, and on census night, daughter Emma was staying with Clara and James (see notes for Clara).
| | | | |
| --- | --- | --- | --- |
| | | | |
| Isabella Todd | 65 | Housekeeper | Yorkshire |
| Julia Woodhead (Daur) | 28 | No Business | Lancashire |
| Amy Isa Woodhead (GDaur) | 12 | Scholar | Yorkshire |
| Sarah Scrivener | 21 | Domestic Servant | Bedfordshire |
| | | | |
This is the last census record we have for Isabella as she died one year before the 1881 census. According to the death certificate there was no one with Isabella Todd, widow of Charles Todd Engineer, when she died age 77 at 22 St Paul's Street. An inquest was conducted by John G. Malcolm Coroner for Leeds, on 10th February which determined that Isabella was "Found Dead Syncopic [loss of consciousness] from Natural Causes". The certificate was registered with John William Fourness, Deputy Registrar, on 13th February 1880.