The Children of Ann (née Wright) and Peter Mayking
William Mayking
Based on the 1841 census record in which his age is given as 13, William's year of birth would be around 1827/28 which is borne out by the fact that at the time of his marriage in 1846 William was a minor. On 9th July 1846, after the calling of banns, William, then a shoemaker living in Duke Street, married Ann Jennings, also a minor, at the parish church of St Peter, Leeds. The only other official records I have found for William is that he was the informant for his son John's birth registration in 1846, and the the Talbot Estate Account document in which William Mayking is listed and can reasonably be taken as still alive in 1890, based on the fact that he is neither listed as "deceased" or as having assigned his portion of the proceeds. Similarly Ann seems to have disappeared from the official records after the 1851 census. Son John died young, but daughter Emma married Thomas March, a marble mason, and they had a number of children.
<![if !vml]>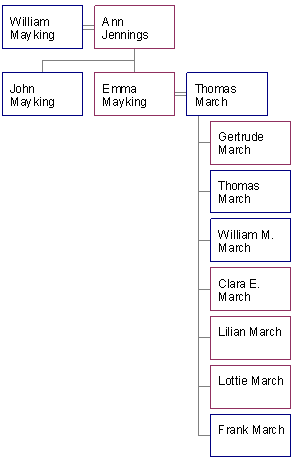 <![endif]>
Click here for PDF notes for William Mayking and family
Alfred Fretwell Mayking
Although the 1841 census listed Alfred as having been born in Leeds, the 1851 census has him as having been born in Nottingham – very confusing. We do know that he was born about 1830, that he worked as an engine painter, and that he was given a special mention in his great-uncle's will as a minor and the recipient of £50. However he would not live long enough to benefit from his portion of the Talbot Estate capital. Like his parents he died relatively young - in January 1878 at the age of 47. His widow, Mary Ann, remarried shortly after, worked for some time as a publican, and was still going strong for the 1901 census.
<![if !vml]>

<![endif]>
Click here for PDF notes for Alfred Fretwell Mayking
Anna Maria Mayking
Anna Maria Mayking is a problem! The 1841 Census lists a Maria, aged 5, as a child of Peter and Ann Mayking. It could be assumed that her full name was Anna Maria Mayking - and she is the same person as listed in the 1890 Talbot Capital Account document, but with her married name Anna Maria Leonard. Family records suggest that Anna married a Thomas Leonard but no record has yet been found to substantiate this. The notes attempt to follow her (and the person thought to be her husband) through the census returns, with the rider that the vagaries of the ages given for the various census records make this a particularly difficult exercise. The family tree is also speculative at this stage.
<![if !vml]>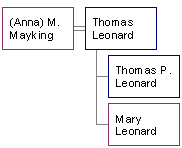 <![endif]>
Click here for PDF notes for Anna Maria Mayking
The Children of Eliza (née Wright) and William Hollings
Tracing the children of Eliza and William has proved easier than for the descendants of Ann and Peter Mayking. But the account throws up some very interesting family relationships!
Ann Hollings
Ann Hollings was born in 1829 in Leeds. In 1854 she married Alexander Hutchinson, a Warehouseman (and later Brewer's Assistant), born about 1824 in Leeds. Ann and Alexander had 4 children, Eliza who does not seem to have married, Francis who earned his living as an engine maker and who married Ada Schofield, Annie who married her cousin William Fretwell Hollings, a son of Ann's sister-in-law, Harriet - which accounts for the rather strange family tree shown below - and James who was in the newspaper business and married Annie Atkinson. Ann outlived her husband and after his death moved to Bradford where she spent the rest of her life.
<![if !vml]>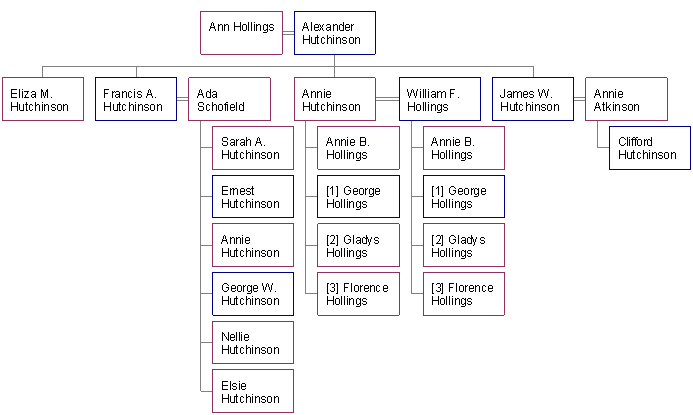 <![endif]>
Click here for PDF notes for Ann Hollings
<![if !supportFootnotes]> <![endif]> Harriet Hollings<![if !supportFootnotes]><![endif]>
According to an IGI reference, Harriet was baptised in 1834 at Holbeck and this birth year is confirmed by the 1841 census return, where she is listed as a 7 year old girl, living with her family at Holbeck. Harriet was not at home for the 1851 census as she was a servant in the household of Godfrey Wood, Ornamental Confectioner at 16 Commercial Street, Leeds. In fact. apart from a short time as a Lodging House Keeper, Harriet spent most of her life in service of one kind or another. And she needed the work as an unmarried mother of two boys one of whom, William, spent some time in the Newcastle Ragged School and the other, Thomas, who seems to have been boarded out as a new born so that his mother could continue working. However, Harriet seems to have maintained a sense of humour when naming her sons - she gave each of them a 'family' middle name - William Fretwell Hollings and Thomas Dixon Hollings!
<![if !vml]>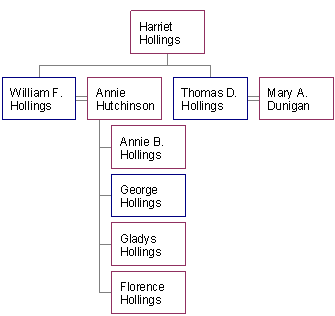 <![endif]>
By the time of the 1881 census both boys had left home. They subsequently married - William to his cousin Annie, and Thomas to a hotel servant Mary Dunigan - this relationship cut very short by Thomas's untimely early death.
Harriet is listed in the Talbot Estate document as being still alive and a recipient of the proceeds to the tune of £270-1-0, which suggests that she was still living at the date of the death of the last surviving annuitant – Eliza Hollings, her mother, on 19th October 1889. I have found possible sightings for Harriet in 1881,1891 and 1901census returns - working as a domestic servant in various establishment s - but these are not not confirmed.
Click here for PDF notes for Harriet Hollings
William Hollings<![if !supportFootnotes]><![endif]>
William Hollings Jnr was born some time after his sisters on 11th August, 1843 at home at Lane End, Holbeck. His father, described as a cloth dresser was the informant of the birth, which was registered two weeks later on 25th August 1843.He was at home in Anchor Street with his parents and two of his sisters for the 1851 and by the time of the 1871 census he was a young married man with a family, living at 13 Palermo Street, Hunslet.
<![if !vml]>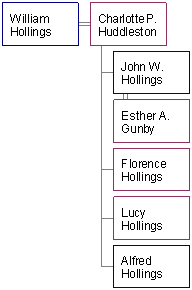 <![endif]>
William and Charlotte, a dress maker who was born in Leicester, were married in 1866. Both daughters died young, Florence as a baby and Lucy in her early 20s. Son John. who had trained and worked as a letterpress printer, married into the Gunby family - which comprised a father and a number of sons all in the Game, Poultry and Fish business, so presumably they all ate rather well. Young Alfred graduated from office boy in 1891 to insurance clerk by 1901 at which time we was a 25 year old bachelor.
It seems that some members of the Hollings family moved to the Horton area of Bradford sometime after the 1901 census - perhaps to be closer to William's older sister Ann Hutchinson who was already living there.
Click here for PDF notes for William Hollings