Introduction
While I am confident with the integrity of most of the information on the spouses and children of the succeeding generations of Wright descendants, some is speculative, pending verification (or otherwise) by sighting original sources where such documentation exists.
The 2nd Generation Wrights - children of Ann and Thomas Wright - are dealt with below. Thereafter the general format for succeeding generations - Wrights - Gen 3 & Beyond - is a short introduction, family tree charts to show who 'stars' and the details provided in the accompanying linked pdf document.

Generation 2 - The Children of Ann (née Fretwell) and Thomas Wright
Ann Wright
Ann was the elder of two children born to Thomas and Ann Wright (née Fretwell). Nothing much is really known about her father except that he was a clothworker, but her mother was sixth child of John and Isabella Fretwell and she was born in Tadcaster in 1760 and baptised there on 28th September of that year at St Mary's parish church.
Ann was born at Kirkgate, Leeds on 5 October 1798, and baptised at St Peter's church one month later on 4 November. She married Peter Mayking, a painter, on 28 April 1825 at the parish church of St Peter, Leeds. Peter was probably born about 1793, but no birth or baptism record has been located. The Mayking family is proving most elusive to track, made more difficult with the surname also being spelt 'Makin'. For instance, Peter Mayking was not a native of Yorkshire, but where he was born is uncertain, although it may have been in Nottinghamshire, which is where, on 12 July 1815, a Peter Maykin, a painter, was initiated into the Warren Lodge, Nottingham, and where, at Mansfield, as least on of his children, Alfred, was born. Baines has recorded him as a miniature portrait painter of 65 Norfolk Street, Sheffield in 1822. Through the various trade directories we know that Peter moved to Leeds sometime before 1826, where he was living at 26 St Peter's Square and was still there for in 1828 and 1829. A later directory of 1837 lists him as 'Mayking Peter, artist, Sheepscar'.
Moving now to the 1841 census return, we find Ann and Peter (transcribed as Marking) and their family living in Millwright Street. Only Peter was recorded as not having been born in Yorkshire.
| | | |
| --- | --- | --- |
| | | |
| Peter Mayking | 45 | Miniature Painter |
| Ann Mayking | 45 | |
| William Mayking | 13 | |
| Alfred Mayking | 11 | |
| Mary Mayking | 9 | |
| Maria Mayking | 5 | |
| | | |
All four children were baptised under the surname Makin at St Peter's parish church on 13 July 1846. The youngest child was named Anna Maria. While not reflected in the baptism record, Alfred had been given Fretwell as his middle name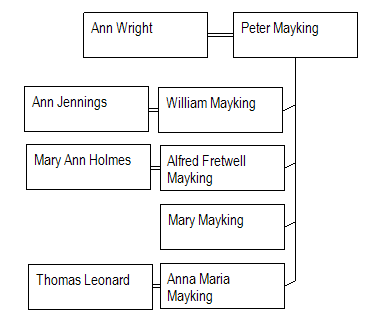 As with the nephews and nieces of his other sisters, John Fretwell provided for the Mayking family in his will drawn up on 2 December 1848 and from the bequests we learn quite a bit about the state of the family at the end of 1848.
To the three children of my late niece Ann Mayking the wife of the late Peter Mayking of Leeds Painter 15 pounds.

To my great nephew Alfred Mayking a minor son of my said late niece Ann Mayking 50 pounds.

To the children of my late niece Ann Mayking one fourth of the remaining fourth part thereof (Talbot Estate).
So, by 1848 the Mayking children are orphans. In fact, they had been orphans for just over three years. According to the death certificate of portrait painter Peter Mayking, he died on 29 December 1842, at home at 4 Millwright Street, aged 49. The cause of death was recorded as phthisis, more commonly known as the chronic wasting away disease of tuberculosis. His widow Ann followed him just 2½ years later. The family may have moved after Peter's death because Ann died on 14 July 1845 at 5 Camp Street, Leeds, of consumption, at the relatively young age of 46. Present with her when she died was one Sarah Hallewell who made her mark on the certificate when it was registered two days later.
The 1890 Talbot Estate Capital Account document lists the three children of Ann Mayking as, William Mayking; Alfred Mayking (deceased); Anna Maria Leonard (Assignee of). Neither the will nor the Talbot Estate document makes any reference to the Mayking daughter Mary which suggests that she may have died sometime between being baptised in July 1846 and December 1848, when the will was drawn up.
There is no record of where the children lived after their parents died, or who looked after them.
Eliza Wright
Eliza was the second of the two known daughters born to Thomas and Ann Wright (née Fretwell). She was born in Leeds on 13 May 1801 and baptised at St. Peter's parish church on 21 June 1801. She was 27 when she married William Hollings, a cloth dresser, at St. Peter's church on 7 February 1828. William's provenance and date of birth has not been established - William Hollings was a very common name, and not knowing his parents' names makes identifying 'our' William very difficult. However I have found a record for a William Hollings, son of William Hollings, being born on 4 May 1805 and baptised on 10 July 1805 at Leeds, but this is only speculative. Of note is the place of birth given for the various census returns - Yeadon in 1851 and 1871, and Leeds thereafter.
The 1841 census records Eliza and William, with 3 children, living at Lane End, Holbeck., and all are recorded as having been born in Yorkshire.
| | | |
| --- | --- | --- |
| | | |
| Eliza Hollings | 40 | |
| William Hollings | 36 | Woollen Cloth Dresser |
| Ann Hollings | 12 | |
| Eliza Hollings | 9 | |
| Harriet Hollings | 7 | |
| | | |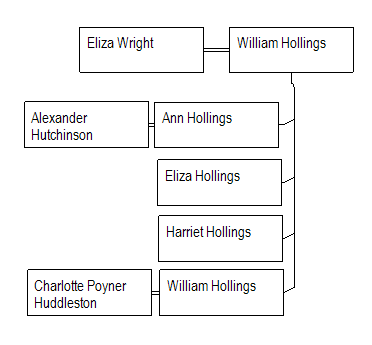 John Fretwell, in his will, dated December 1848, refers to William and Eliza as follows :
To the 3 children of my niece Eliza Hollings, wife of William Hollings of Leeds Cloth Dresser £15.

To my niece Eliza Hollings an annuity of £32.

...another fourth thereof [the Talbot Estate] to the children of my niece Eliza Hollings.
It is evident therefore that in 1848 Eliza and William had three living children. However these were Ann, Harriet and William, the latter not appearing on the 1841 census as he was not born until 1844. So from this we learn that daughter Eliza had, most likely, died before John drew up his will. A 1 July 1842 burial, at Holbeck, for a ten year old Eliza Hollins has been located and may be the record of this Hollings daughter's death.
The 1851 census finds the family at a new address, 98 Anchor Street, Hunslet, with son William now included and with William now having different occupation, and his wife having hardly aged since the previous census!
| | | | |
| --- | --- | --- | --- |
| | | | |
| William Hollings | 45 | Belt Maker | Yeadon, Yorks |
| Eliza Hollings | 42 | | Leeds |
| Ann Hollings | 42 | Formerly Waiting Maid | Leeds |
| William Hollings | 7 | Scholar | Holbeck |
| | | | |
Daughter Harriet is not at home as she was elsewhere employed as a Nursegirl.
William and Eliza have not been located in the 1861 census but reappear for the 1871 census (name transcribed as Hollins). Between 1851 and 1871 they had moved again, and are now found at 24 Roscoe Street, next door to their married daughter Ann, living at number 22.
| | | | |
| --- | --- | --- | --- |
| | | | |
| William Hollings | 66 | Belt Maker | Yeadon, Yorks |
| Eliza Hollings | 69 | | Leeds |
| | | | |
They are still living at the same address in 1881, but William's place of birth is stated as Leeds and he still seems to be working. Daughter Ann and her family are still next door at number 22.
| | | | |
| --- | --- | --- | --- |
| | | | |
| William Hollings | 76 | Machine Belt Maker (Leather Goods) | Leeds |
| Eliza Hollings | 79 | | Leeds |
| | | | |
William lived a further seven years. He died on 14 July 1888 at 22 Coxhill Place, Leeds, aged 83. He was described as a Flax Mill Hand, and the cause of death was "Cerebral Haemorrhage, Convulsions, Coma" as certified by H M Cross, MB. Daughter Ann Hutchinson was present at the death and was the informant. She gave her address as 22 Coxhill Place, which was close to Roscoe Street, being situated off the Buslingthorpe Road and across the Chapeltown Road, suggesting that either she nursed her father at home or both her parents were living with the Hutchinsons at the time.
His widow outlived her husband by some fifteen months. We know from the Talbot Estate Capital Account document, that Mrs. Eliza Hollings, the last surviving annuitant, died on 19 October 1889 just short of her 90th birthday and this is confirmed by her death certificate. Eliza, widow of William Hollings, Machine Belt Maker (Journeyman) did die on 19 October 1899, and her death was registered on the same day. She was 89 years old and the cause of death as certified by J. G. Holmes, LRCB, was 'Natural Decay' which is a rather blunt description but nonetheless apt for a lady who lived to such a good age. Her son William was present at the death and was the informant. He gave his address as 4 Grant Terrace Leeds, which was the stated place of Eliza's death. It would seem that after William Snr died, Eliza went to live with her son.