Earlier Fretwell family history researchers had an abiding interest in primogeniture, and thus concentrated their efforts on recording and validating the references of the main Fretwell lineage. I suspect, too, that they were searching for proof of an irrefutable link with nobility. This is understandable given that the Fretwells hold a family crest, the design of which intriguingly replicates that of the Frecheville family. Lacking any proven familial credentials, there is no entitlement to claim the right of armiger.
In recognition of this particular interest, and to record the information that these researchers had collected, and to which I have been able to contribute some additional material, before moving on to the start of the 'Fretwells proper', I have included a section on the Frechevilles.
"....A short while ago I was sent a copy of the Parish Register of Almondbury, Volume I, which covers the years 1557-1598. In it there appears the marriage of Peter Fretchvile to Margaret Wodrofe on the 26th January 1573/74, and on the 26th October 1579 Margaret Fretchwell, probably the same as above, is a witness at a baptism. In December 1591 Margaret Fretchvill is buried..."<![if !supportFootnotes]>[1]<![endif]>
From such snippets of information is much research generated!

Frecheville Origins
The Frecheville family came to England with William the Conqueror, but it was not until about 1200 that any definite reference to their establishment in the Staveley region is confirmed. At this time, by marrying into the Musard family, which at that time owned most of the Staveley lands, they became heirs to the property, established themselves and here built their ancestral home.<![if !supportFootnotes]>[3]<![endif]> In 1301 Sir Ralph Frescheville of Staveley of Derby, Devonshire, and Nottinghamshire, was summoned to Parliament as a Baron. (29 Edward I).<![if !supportFootnotes]>[4]<![endif]>
Frecheville Pedigree
The Visitation of Derbyshire 1662-1664 recorded the pedigree for the Frescheville family.<![if !supportFootnotes]>[5]<![endif]> This is reproduced below in the original format.
Ex Rotulis Pipae




Oxinefortscre. a°.13°.Hen: 2




De Placitis Foreste




Torsthulle, Eustachij de Freschevill. r'. c. de dim' Marcor




Norfolc. et Sudfolc




a°.2°.Ri: 1.




Et in terris datis Cardeni de Freschenvill 121i. 18s. 6d. blanc. In Heningham de dim' Anni.

RADULPHUS DE FRESCHEVILLE Justic' ad gaolam deliberand' a° 1200. Registr' de Welbecke Pag: 1 had issue

ANKERUS DE FRESCHEVILLE mortuus a° 3°.Hen: 3. Claus: Hen: 3 M. 14 mar. Juliana filia et heres Huberti filij Radulphi Baronis de Criche. Carta penes Comit' de Kingston and had issue

DNUS RADULPHUS DE FRESCHEVILLE miles mortuus a° 45°.Hen: 3. Esceat' a° 53°.Hen: 3 Derb. had issue

DNUS ANKERUS DE FRESCHEVILLE Baro de Criche. Esceat' a° 12°.Ed: 1 n° 14 Derb. obijt eodum anno. Esc: de a° 53°.Hen: 3 n° 20 Derb. mar. Amicia filia primogenita Radulphi Dni Musard et coheres Nicholai Dni Musard fratis sui. Orig': de 29° Ed: 1 Derb. and had issue

RADULPHUS DE FRESCHEVILLE miles summ': inter alios Barones ad Parliam' apud Sarum a° 25° Ed: 1. M. 25 mar. Margareta filia et heres Johnannis Beaufoy de Parke militis. Ex Archivis Johannis Dni Frescheville. and had issue

RADULPHUS DE FRESCHEVILLE miles obijt a° 23° Ed: 3 had issue

ANKERUS FRESCHEVILLE filus et heres. Fines Michaelis de a° 36° Ed: 3 mar. Agnes relicta Willelmi Favell et heres Amphiliciae matris suae uxoris Johannis de Glapton. Fin' Mich' de a° 36° Ed: 3 and had issue

RADULPHUS DE FRESCHEVILLE miles obijt a° 4° Hen: 5. Carta penes Johannem Dnum Frescheville. mar Johanna a° 42° Ed: 3. Carta penes Johannem Dnum Frescheville. and had issue

GERVASIUS FRESCHEVILLE<![if !supportFootnotes]>[6]<![endif]> filius et haeres. ex Peticione Exhibita Regnaldo Bray mil: Canc' Ducat' Lanc: temp H. 7. mar. Margareta. Ex Archivis Johannis Dni Frescheville. and had issue

PETRUS FRESCHEVILLE Arm' filius et haeres obijt a° 19° H: 7. Tumulus in Ecclesiâ de Staveley. mar. Matilda filia Thomae Wortley de Wortley in Com: Ebor:. Tumulus est in Ecclesiâ de Stavely. and had issue

JOHANNES FRESCHEVILLE arm' filius et heres obijt a° 24° H: 7. Tumulus in Ecclesiâ de Staveley. mar. Elizabeth filia Henrici Sothill arm' et her' matris suae Eliz' filiae et her' Thom' Nuthill arm'. Ex Archivis Johannis Dni Frescheville. and had issue

JOHANNES FRESCHEVILLE ar' filius et heres obijt a° 10° H: 8. Esc: de a° 28° H: 8 n° 1° Derb. mar. Elizabetha filia Johannis Sutton in Com Derby arm'. Ex Fenestris Ecclesiae de Staveley. and had issue

PETRUS FRESCHEVILLE miles filius et heres. Hollinshed in vita Ed: 6 mar. Elizabetha filia Richardi Tempest militis and had issue

PETRUS FRESCHEVILLE arm' filius et heres. Vic' Com Derb a° 12° Eliz. Termino Mich'  a° 12° Eliz. mar. Elizabetha filia Gervasij Clifton de Clifton milit' uxor prima. Tumulus in Ecclesiâ de Clifton (no issue) and Margareta filia Arthuri Key de Woodsam in Com Ebor' arm' Uxor altera by whom he had issue

PETRUS FRESCHEVILLE miles filius et heres Temp: Eliz' Jac': & Car' primi mar. Jocasa filia Thomae Fleetwood de Vache in Com. Buck Arm' relicta … Osburne obijt Apr: 1619 uxor prima and … uxor secunda ob: s. prole and had issue

JOHANNES DNUS FRESCHEVILLE Baro de Staveley superstes a° 1668 a° 20° Car' 2di, 20 hearths<![if !supportFootnotes]>[7]<![endif]> in 1670; d. 31 Mar. 1682; mar. 1stly Bruce, d. of Francis Nicholls of Ampthill. co. Bedford, who d. s.p. 2ndly Sara filia et heres Johannis Harington<![if !supportFootnotes]>[8]<![endif]> milit' by whom he had issue

Christiana uxor Caroli (Powlett) Dni St John obijt sine prole 22 July 1653




Elizabetha uxor Phi: Warwicke arm' superstes a° 1668




Francisca




and 3rdly Anna Charlotte filia Henr' de Vic militus c. 7 June 1666
Glovers Directory of 1831 makes reference to the earliest Freschevilles as follows:
In Crice and Soketorp Leuric and Levenot had four ox-gangs of land to be taxed. Land to one plough. There are three acres of meadow. Wood pasture three miles long and one broad. And one lead mine. Value in King Edward's time 40s now 30s. Ralph holds it.

To this Ralph succeeded his son, Ralph Fitz Rauf, the first Baron of Crich, in king Stephen's time, who, in the time of Henry I gave certain lands in Hartshorne to the Knights Templars. To him succeeded Hubert Fitz Ralf, Baron of Crich, who was a great benefactor to Darley Abbey,<![if !supportFootnotes]>[9]<![endif]> and gave to the King 30 marks' fine to make his woods in Crich a free chase, and to have hounds and deer of his own there, and dying 9 Henry III. Ralph de Freschevile, his next heir, son of Juliana, his daughter, succeeded him in the barony of Crich. His son Anker de Freschevile, left it to his sone Ralfe, who was summoned to Parliament as Baron of Crich, 25 Henry III.; who left it to another Ralfe, who, in 19 Edward II, alienated the manor of Crich to Roger Belers and his heirs. He died seised of it in 1325.
Glover cites the Harleian Manuscripts as follows:
Crech, in the High Peake, the tenure of that noble family of Musarde. Hasculphus Musarde, the 20th of the Conqueror, did hould Crech and Staveley, in the countie of Darbie – who had issue Richard Musard, Baron of Staveley, who had issue Hascelphus Musard, Baron of Staveley, who had issue Rauff, who had issue Rauffe (6 Richard I.) who had issue A Musard, married to….Freshvyle, who had Crech and Stavely in his wyves right.
A little more is known of some of the others mentioned in the Pedigree.
Margaret Frecheville
Margaret, wife of Peter Frecheville I, and grandmother of Lord John Frecheville, Baron of Staveley, has been given credit for her work for education, and in particular for her interest in the co-founding of the Netherthorpe Grammar School. The School records cast doubt on her credentials.
Netherthorpe Grammar School


The old school at Netherthorpe 1812
The following information was obtained from a Yorksgen correspondent, and is taken from the booklet "A History of Netherthorpe School", written by a former teacher at the school.
Of pre-Reformation Grammer [sic] Schools Derbyshire possesses but few, and Staveley cannot claim to be one of them, though it is definitely of Tudor times and one of some ten in Derbyshire which still exist from this early date. Officially it dates back from 1572, though it must be confessed that there is no documentary evidence of a reliable nature to indicate this particular year. It is therefore, an ancient Grammer School with endowment, as distinct from the modern secondary school.

One has to remember that the word 'Grammer' in the title refers not to the English but to the Latin language. It was a free grammer school, the word 'free' probably meaning just what it says. It must not be thought that Staveley was a school for paupers or the indigent. The founders certainly intended it for the use of the parish and district; not for the poor alone, but for all those who desired a Latin education. The numbers of actual 'poor' would be very few; poverty would of itself ensure an early contact with remunerative employment. The fact is that Elizabethan boys would be the sons of farmers, artisans, tradesmen and the lower professional classes, and they would nearly all live in or near Staveley. Obviously their parents had to be sufficiently well off as to be able to keep them as school until about fourteen years of age when they might proceed either to university, instead of putting them to work. [Latin was taught free of charge, but additional subjects had to be paid for, a custom which continued until almost 1900].

Previous reference was made to the date 1572 as the date of foundation, and to the absence of any confirmatory evidence. This appears to be an error. The statement seem to rest on the word of the two Lysons in Volume V of their Magna Britannia 1817, but an application to the original manuscripts of these authors shows that they left no authority to which their statement might be referred. In 1820 the same date is given in Gentlemen's Magazine<![if !supportFootnotes]>[10]<![endif]> again without confirming authority. The error appears to originate in a document, a copy of which is preserved in a Guard book of the Jackson Collection at Sheffield Public Library<![if !supportFootnotes]>[11]<![endif]>, in a collection towards the history of the Frecheville family. The document states:

"By deed of 6th Sept., 14 Elizabeth, between Margaret Frecheville, widow of Peter Frecheville bequest…"

and beneath is added the date 1572. However, although 14 Elizabeth might fall in 1572 this is an obvious error, for in 1572 Margaret Frecheville was not a widow at all. Peter, her husband, did not die until 1582, and the correct date of her endowment is not 14 Elizabeth, but 33 Elizabeth, or 1591, the date 6th September being identical. It was, no doubt, the original of this document in the Jackson Collection which led to the date 1572 being adopted by the brothers Lyson; it is however, an error and they were misled.

The Frecheville bequest was made by Margaret Frecheville and embodied in a deed bearing the date:

"…sixth day of September in the three and thirtieth year of her Majesty's Reign, between Margaret Frecheville Widdow, late wife of Peter Frecheville of Staveley in the said County of Derby Esqr. deceas'd, on the one part; and Edmund Stephenson, William Margerison and James Osborn on the other part."<![if !supportFootnotes]>[12]<![endif]>

Margaret secured to these three persons certain lands and tenements in Staveley, Westwood, Nether Handley and Middle Handley, to the use of herself and her heirs for ever, with the proviso that her son Peter and his heirs:

"…shall yearly for ever and from and after the decease of the said Margaret Frecheville, for and during all such times as there shall be a learned Schoolmaster provided, had and employ'd for, and in, teaching and instructing the Children of the Inhabitants of the said parish of Staveley, for the time being at the new erected Schoolhouse at Staveley Netherthorpe aforesaid or in any other convenient place within the said parish give, pay and bestow the sum of eight pounds of good and lawfull mony of England for and towards the finding of such a schoolmaster as aforesaid. And they further Present that the said Margaret Frecheville died about the nine and twentieth of November in the four and thirtieth year of her Majestie's Reign."

This bequest has been put first because it embodies the disputed date. It was not, however, the earliest bequest.

The family of Frecheville was, in part, descended from Ralph Fitzhubert, one of the principal Derbyshire landowners mentioned in the Domesday Book. His descendant, Juliana Fitzralph, heiress of the barony of Crick, married Anker de Frecheville, and a subsequent Anker married a co-heiress of Baron Musard of Staveley, which began the connection with Staveley. The line became extinct with Lord John Frecheville, the famous Royalist, in 1682. Margaret Frecheville was the daughter of Arthur Key of Almondbury, Yorkshire and her first husband was Francis Woodrove. She subsequently married Peter Frecheville.

The original bequest was that of Judge Francis Rodes, who appears to have been unjustly deprived of the honour by the error of the dates in the Frecheville bequest. Rodes' bequest stated:

"…by his Will and Testament in writing, bearing the date the seventh day of June in the 29th year of her Majesty's Reign [1586] did Will and Devise the yearly Rent charge of fifteen pounds per annum, which he, the said Francis, had to him and his heirs assur'd forth of his Manor at Elmeton in the whole pr. annum Twenty pounds, to be employed for ever for the maintenance of the new erected Grammer School at Staveley Netherthorpe, the finding of two scholarships in St. John's [College] in Cambridge, and the relief of the poor hurt and maimed soldiers which shall be sent to Warrs out of the townships of Staveley, Barlebrough and Elmeton in the County of Derby; That is eight pounds by the year tow'rds the said School, other eight pounds pr. Annum for the said Scollarships and four pounds yearly for the Relief and Succour of the said Soldiers."
Peter Frecheville
What I know of Peter Frecheville II comes from the discovery by WEF of a coat of arms above the Staveley Town Hall.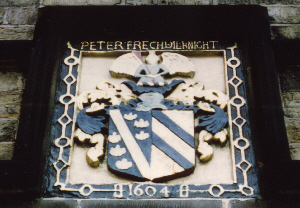 Coat of Arms - Staveley Town Hall
This was followed up by WEF's wife, Sylvia, and in response to her letter she received not only the following information, but also a photograph.
"Research into the history of the Hall also states with regard to the shield :

'It is not know when building began, but Sir Peter De Frescheville II placed above the door of the enlarged Hall a slab inscribed with his name, achievement of arms, and the date 1604. This still stands (though now incorporated into a porch of much later date). The Shield of Arms is interesting and enigmatic, in that it depicts the paternal coat of Frescheville impaling that of Margaret Kaye, sir Peter's mother. To those who understand the rules and conventions of heraldry, this poses a considerable problem, since one would expect the coat of Frescheville alone.

As the arms stand, they represent the marriage of Margaret Kaye to Sir Peter's father. The answer might well be that Lady Frescheville had intended to rebuild the Hall, but had died before completing her aim. Her son had fulfilled this, and had perpetuated her memory by representing her arms above his name.'

I hope this of help to you."<![if !supportFootnotes]>[13]<![endif]>
Peter is also named as providing for a hospital, which was erected at Woodthorpe (just outside Staveley) in 1632, to accommodate four aged persons of each sex, and he assigned £4 per inmate per annum.<![if !supportFootnotes]>[14]<![endif]>
John, Baron Frescheville of Staveley
John was created Baron Frescheville of Staveley, in 1665, and was regarded as something of a notable figure in the Civil War, earning a mention in the account of The Siege of York 1644:
In a letter dated 16th May 1644, John Frechville, a Royalist writing to Lord Loughborough, said
'…according to the best intelligence we have from York it is not so distressed'.
Admittedly Frechville had his tongue in cheek as he was trying to persuade Prince Rupert to 'take in' Derby in his sweep into Lancashire but this opinion about conditions agrees with others forthcoming at the time…
John had strongly fortified his mansion, had raised a battery of twelve pieces of cannon, and held out against the Parliamentarian forces for a considerable time before, in August 1644, he was obliged to surrender by capitulation.<![if !supportFootnotes]>[15]<![endif]>
A further reference is made to John in a 1932 journal article<![if !supportFootnotes]>[16]<![endif]> in respect of the disbursements of Chris. Foster, Constable for the time being 1644
"Paid to Capton Fressell Commannder and overseer of the mill for groundings of corn aboute procuringes of St. John del Picke (Pike) parish to conterebute and pay the ffulle halffe pay for one horse everey daye which was wholy charged uppon our parish at the raite of 16d (pence) per day to the bakers that grounded at Georger Blaids mill for Generall Kinge his regiment."
John Frescheville is mentioned in the Thorpe Salvin parish register, which records a minor skirmish involving troops under his command:
1645. There were five men buried in the beginninge of October being slayne in a fight on Thorpe More betweene ye garrison of Welbeck on the Kings part & Captaine Rodes on the Parliament part. The manner of which scurmige was thus: A partie of welbeck horse was drawne out under the com'and of John Jametz, major of Colonell ffretchwell to discrie a partie of the Parlaments wch. had give an Alaru' to the welbeckians at worksopp where they had killed two of the Kings partie, Jametz drew up his partie in the hollins on the more meeting wth the forlorne hope of the enimies, who fled unto theyr bodie com'anded by Captain Rodes of Steetly, which was devided into 3 companies to the number of 200. Jametz had advanced but with 18 men, and his forlorne hope beinge some threescore flyinge, the Parlamenters pursued kild five men, & tooke fortie the most of which they wounded after quarter was give, one of them escaped which was Thomas Battersbie whose hand they cutt of which was buried in ye churchyard of Thorpe Salvin.<![if !supportFootnotes]>[17]<![endif]>
Later, on 11 September 1676, Lord Frescheville writes to Sir John Hotham, advising that he is sending a soldier to appear before the magistrates.<![if !supportFootnotes]>[18]<![endif]>
A correspondent of WEF alluded to the purported Frecheville/Fretwell link when he posed the question:
"Do you know if the Lord John Fretwell was derived from Lord ffretchwell, as I have found two entries relating to this name as follows:

St Martin's (York) Register 1557-1812:

1670 Bapts, Ann, the Daughter of Jude Lee, gent. under the Command of Lord ffretchwell, the 6th. day of October.

1676 The sonn to Jon Mortis by Margaret his wife, the 3rd day of October, my Lord ffretchwell Trumpeter, a ffrenchman.

Also:

Burials 1673. An infant of Mr. Jude Lee, a Trooper under Lord ffretchwell, was Buried 27th.September in Midd Alley. St. Martins, York"<![if !supportFootnotes]>[19]<![endif]>
The Pedigree, supported by the Visitation of Derbyshire 1662-1664, and the stained glass window in the Frecheville Chantry, which according to Samuel Lewis was presented by Lord Frecheville in 1676<![if !supportFootnotes]>[20]<![endif]>, indicates that John was thrice married.
He had no children by his first and third wives, the mother of his three children being Sara Harrington. The daughters, and their husbands were:
<![if !supportLists]> 1. <![endif]>Christiana, married to Charles, Duke of Bolton<![if !supportFootnotes]>[21]<![endif]>

<![if !supportLists]> 2. <![endif]>Elizabeth, married (1st) Philip Warwick, Esq, and (2nd) Conyers D'Arcy, second Earl of Holderness

<![if !supportLists]> 3. <![endif]> Frances (1638-1698) married Colonel Thomas Colepepper<![if !supportFootnotes]>[22]<![endif]>
However, he had no male heirs, and according to the Parish Church records his 'heritage' passed to the Ramsden family of Yorkshire. A second reference to the Ramsden/Frecheville links is found in an account of the history Barwick-in-Elmet, the one-time home of Robert Fretwell who features in the Second Generation of Cawthorne Fretwells.
As an aside, there is an intriguing letter written by Lady Frescheville to her daughter-in-law Mrs Colepeper :
"I have desired the bearer, one of our good neighbours, Mr Burlye, to deliver you an eagle stone, which I believe is right, and good as any. I wish you have no occasion to use it; but if you have, I pray that it may do you good."
I have consulted various dictionaries and other sources to find out what an eagle stone was, and to what purpose it would be put, with no conclusive answer. According to one source (Brewer's Dictionary of Phrase and Fable) eagle stones (aetites) are yellow clay ironstones, supposed to have sanative and magical virtues. They are so called because they are found in eagles' nests, and it is said that without these stones, eagles cannot hatch their eggs. Another theory is that the stones were used for "scrying" (seeing) and were known as 'seer stones'. Yet another property ascribed to an eagle stone is that it was supposed to be able to detect theft.
From the legend of the Frecheville window we can deduce that Sir John Ramsden was a brother-in-law to Baron John, who had at least one sibling, Margaret, and a nephew, William. From this we also see that the Pedigree deals almost exclusively with primogeniture, and it is not unreasonable to speculate therefore that there may have been male siblings to perpetuate the family name, a thesis supported by the Frescheville Memorials.<![if !supportFootnotes]>[23]<![endif]>
This hypothesis gains some credence from an 1899 publication entitled The Old Halls, Manors and Families of Derbyshire, Vol 3 of which deals with the Scarsdale Hundred.<![if !supportFootnotes]>[24]<![endif]> The Appendix is headed Table of Reference for Names of past or present Lords of the Manors of the Scarsdale Hundred. The listing for the Parish of Scarcliffe is divided into two sections, one for Palterton Manor and one for Scarcliffe Manor.
Under Palterton Manor we find : Henry III Frechevilles (a Junior Branch)
And under Scarcliffe Manor is recorded : Forfeited by Ankere de Frecheville. Given to the Priory of Newstead.
Some food for thought!
Frecheville Memorials<![if !supportFootnotes]>[25]<![endif]>
The close connection of the family with Staveley is commemorated in two Memorials in the Parish Church of St. John Baptist—the Frecheville altar tomb and the Frecheville Chantry (The Jesus Chantry). The earliest of the Frecheville monuments are the two brasses attached to the present tomb, both in memory of Peter Frecheville who died on 25th March, 1503.<![if !supportFootnotes]>[26]<![endif]> This tomb is also notable for its small brass emblem of the Trinity inlaid above the scrolls. The brass seems to have been made and installed before Peter died, for the date of his death was left blank to be filled in later. However, it seems that on his decease the second brass was inscribed and the old one left blank.
The Frechevilles had a further connection with the Parish Church of St. John Baptist Church. At the time of Peter's death another member of the family, Richard Frecheville, was Rector, a position he held from 1494 to 1528.<![if !supportFootnotes]>[27]<![endif]>
| | |
| --- | --- |
| | |
| Jesus Chapel (Frecheville Chantry) | The Frecheville Window |
Frecheville Altar Tomb
The first brass depicts Peter in his armour with his feet resting on a greyhound. His family coat-of-arms is on his tabard (the tunic worn over his armour). Unfortunately at some time the head and shoulders of the brass have been torn away, although oddly enough, the two scrolls issuing from the head are still intact. They read:
"Sta Trinitas unus Deus Miserere nobis"

"Holy Trinity, one God, have mercy upon us"
and
"Deus picius esro mihi peccatori"

"God be merciful unto me, a sinner"
The second one depicts him and his wife Matilda kneeling at desks facing each other. Kneeling behind Peter are eight sons, and behind his wife seven daughters. Under the figures of the second brass is an inscription which reads:
"Here under fote lieth the bodys of Peyrs Freychwell and Maud<![if !supportFootnotes]>[28]<![endif]> his wyf, and some tyme squier unto the noble and excellent prince Henry VI, and Lord and patron of this churche. Peyrs deceasyd the XXV day of March, the yere of Our Lord MDIII. On whose soullys, Jhu have mercy, Amen".<![if !supportFootnotes]>[29]<![endif]>
If this brass is factually accurate, Peter and Matilda had 8 sons and 7 daughters—a brood of 15 in all. There is no references to the age at death of Peter, nor any dates for the birth, marriage and death of Matilda. But taking account of the number of children, and assuming a (perhaps too young?) age of 21 at marriage, a birth date for Peter of around 1467, and a marriage date of around 1488 might be suggested. It may be that, taking the brass as a true representation of the full sum of their issue, not all the children may have lived to maturity. However, some of the children must have proceeded to adulthood, as later references bear testimony.
The death of Peter and Matilda's son John Frecheville, six years after his father in 1509, is marked by a fine incised slab of alabaster to his name which lies slightly raised from the ground on the opposite side of the chancel to his father's tomb.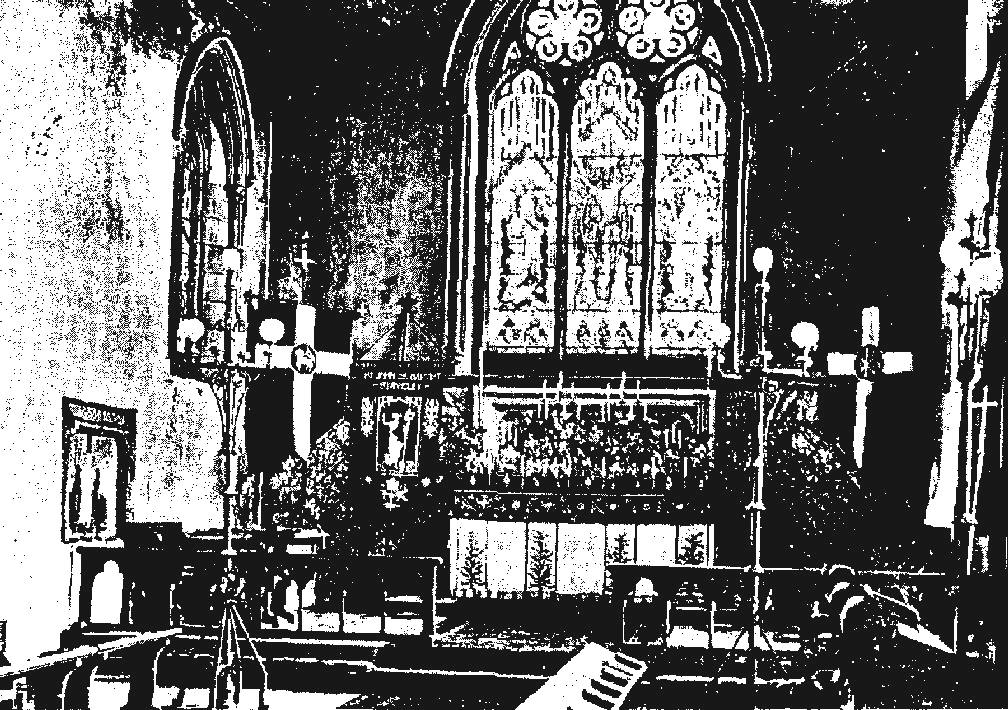 Interior of Parish Church of St John the Baptist
The Frecheville Chantry
A chantry was a private chapel, normally attached to a parish church or a chapel-of-ease, with an altar for the celebration of mass, usually near a person's tomb or effigy, for the soul's repose in purgatory, of the founder or his or her nominees, or for the souls of the members of guilds, corporations and fraternities who had erected such a chapel. Wealthy men invested heavily - for example, Cardinal Beaufort requested 10,000 masses for his soul. Humble villagers grouped together for an annual obit (memorial mass).
The system began in the 13th century, but became fashionable in the later Middle Ages, (14th century) particularly after the Black Death, when the number of endowments to monasteries declined sharply. By the Reformation there was a total of 3,000 chantries, most cathedrals had up to two dozen (in 1366 St. Paul's had 74) and large churches had several.
Chantry chapels were built at the end of the aisles of the nave, extending along the side walls of the chancel or within the transepts of cruciform churches. They were dedicated to the saints nominated by the founders. Some of the chantry chapels founded by the nobility are major works of architecture, with fan-vaults, carved and gilded woodwork, and stained glass windows.
The endowment of a chantry chapel allowed for the employment of a priest who received either a money payment or land to farm or rent. Many chantry priests were employed specifically for this function, and, as they had no pastoral duties, founders often provided for the mass-priest to teach in school.
Ostensibly to rid the Church of superstitious practices, but incidentally increasing government revenue, chantries were confiscated and dissolved under Edward VI in 1547.
The Frecheville Chantry or Jesus Chapel dates from the 14th century, being an extension of the south aisle added then. It is separated from the Chancel by an octagonal pillar supporting two arches dating from the same period. Peter, great-great-grandson of the Peter Frecheville referred to earlier, is here commemorated by a wall plaque, modest for a man so renowned and in comparison with the grand tombs of his ancestors. As noted, his wife was connected with the Netherthorpe Grammar School, and he himself began the extensive building of Staveley Hall which still bears his name and arms over the door, and which was completed by his son, another Peter.
His son John, the last and most famous of the Frecheville line, has three memorials to himself in this Chapel, and one to his daughter. His finest memorial in the Chapel is the heraldic window erected to commemorate his peerage and painted by the famous York glass-painter Henry Gyles<![if !supportFootnotes]>[30]<![endif]>. In the two supporting lights of the window we see the four coats of arms of:
<![if !supportLists]> 1. <![endif]>Frecheville impaling Nicholls (his first marriage) top left
<![if !supportLists]> 2. <![endif]>Frecheville, bottom left
<![if !supportLists]> 3. <![endif]>Frecheville with an inescutcheon of Harrington (his second marriage) bottom right, and
<![if !supportLists]> 4. <![endif]>Frecheville impaling De Vick (his third marriage) top right.
In the centre is a large shield denoting the rising fortunes of the family.
Frecheville Coat of Arms
The Coat of Arms featured in the Staveley Church is described as follows :
Az. a bend betw. Six escallops ar. Crest - a demi-angel issuing from a wreath ppr. Crined and winged or, on the head a cross formée of the last, vested in pale, and the arms in armour ppr. holding in both hands an arrow in bend or, feathered and headed ar. Supporters - Two angels habited as in the crest, each holding an arrow.
<![if !supportFootnotes]>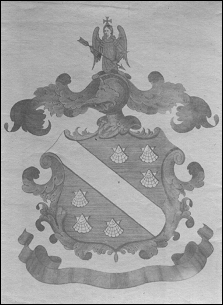 <![endif]>RTF, researching the Coat of Arms, found the following information:
Sir Ralph Frescheville and John, Baron Frescheville of Staveley
FRESCHEVILLE (Staveley, co, Derby, Devonshire, and Nottinghamshire, temp Henry III. Sir Ralph Frescheville, knt, was summoned to Parliament as a Baron 29 Edward I *;
His Lordship left three daus., his co-heirs - Christian, m. to Charles, Duke of Bolton; Elizabeth, m. first to Philip Warwick, esq., and secondly to Conyers D'Arcy, second Earl of Holderness; and Frances, m. to Colonel Thomas Colepepper). Az. a bend betw. Six escallops ar.
Crest - a demi-angel issuing from a wreath ppr. Crined and winged or, on the head a cross formée of the last, vested in pale, and the arms in armour ppr. holding in both hands an arrow in bend or, feathered and headed ar. Supporters - Two angels habited as in the crest, each holding an arrow.
He observed that the Frescheville or Freshwell families carried the same Arms, and following the trail of this line of research, identified the the Freshfield family as alone of the descendants of Baron Frescheville (which RTF strongly believed included the Fretwells) who are entitled to claim the right of armiger.<![if !supportFootnotes]>[31]<![endif]>
<![if !supportFootnotes]> <![endif]>
Freshfield Coat of Arms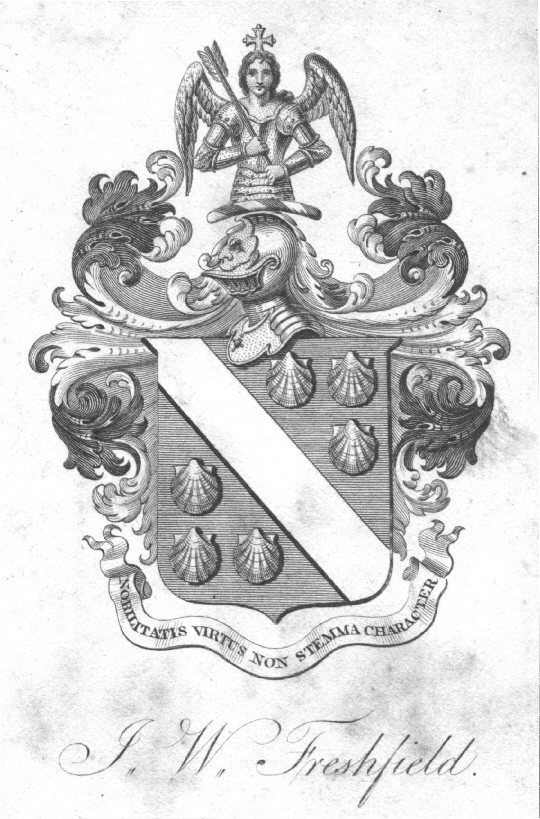 HENRY RAY FRESHFIELD, Esquire, of Kidbrooke Park, in the county of Sussex, Justice of the Peace, Member of the Court of Lieutenancy of the City of London. Born February 2, 1814, being a younger son of the late James William Freshfield, Member of Parliament, by his wife Mary, daughter of James Blacket.
Armorial bearings - He bears for Arms : Per bend nebuly or and azure, two bendlets between six escallops all counterchanged. Upon the escutcheon is placed a helmet, befitting his degree with a mantling azure and or; and for his Crest, upon a wreath of the colours, a demi-angel proper, winged or, vested argent, the arms in chain-mail holding a lance in bend point downwards also proper, charged on the breast with a cross botony and on the head a like cross gules. Motto - "Nobilitatis virtus non stemma character."
Married, October 1, 1840, Jane Quintin, daughter of the late William Crawford, Member of Parliament of Pipp Brook, Dorking; and has Issue - Douglas William Freshfield, Gentleman, Master of Arts of the University of Oxford, Barrister-at-Law, born April 27 1845 (married November 27, 1869, Augusta Charlotte, daughter of William Ritchie, Esquire, formerly Advocate-General in Bengal, and has had, Henry Douglas Freshfield, Gentleman, born September 10, 1877, died 1891; and four daughters). Seat - Kidbrooke Park, East Grinstead, in the county of Sussex.<![if !supportFootnotes]>[32]<![endif]>
Heraldic Terms
| | |
| --- | --- |
| az | azure |
| ar. | argent - silver |
| crined and winged or | with golden hair and wings |
| vested in Pale | with straight garment |
| bend | the broad band across the shield |
| bendlet | a little bend which occupies a sixth part of a shield |
| per bend nebuly | stone extending through the thickness of a wall ornamented with wavy lines |
| escutcheon | the shield with coat of arms |
| botony | a cross which terminates at each end in 3 buds, knots or buttons |
| gu | or Gules - red - symbol of valour |
| ppr. | proper - represented in its natural colour or colours |
| armiger | Latin name given to every English gentleman who has the right of a coat of arms |
Surname Variations
If proof is needed of the fickleness of spelling, the list below of the variants on Frescheville and Fretwell will stand as testament.
| | | | | |
| --- | --- | --- | --- | --- |
| ffretwell | Frescheville | Frecheville | Freschvile | Freshvyle |
| Fretwell | ffretweel | Fressell | Frecchewell | Freshwell |
| Fretchville | Fretchwell | Fretwel | Frechville | ffretchwell |
| Fressheyle | Frechewell | Frechevyle | Fretchewyle | Fretcheville |
Staveley—Now and Then
Lewis's 1848 A Topographical Dictionary of England rather dryly describes Staveley as
…a parish in the union of Chesterfield, hundred of Scarsdale, northern division of the county of Derby, 4¾ miles north-east by east from Chesterfield, containing, with the chapelry of Barlow, 3,315 inhabitants, of whom 2,688 are in Staveley township.
The parish comprises 6,827 acres. The soil is chiefly a loamy clay, with some earth of lighter quality in the higher land; the substratum abounds with ironstone and coal, of the former of which much is smelted. The village is pleasantly situated on the east bank of the river Rother; the Chesterfield canal runs through the village, and several tramroads have been formed in connection with the various collieries in the parish. The Staveley station of the Midland railway is 3½ miles from the Chesterfield station, and 2¾ from that of Eckington.<![if !supportFootnotes]>[33]<![endif]>
I am indebted to a DERBYGEN List correspondent for the following, more animated, extract on Staveley, and its Frecheville connections.
The Manor of Stavelie, which is mentioned in the Domesday Book, belonged to Hacon the Saxon. After the Norman Conquest it was given to a Norman knight named Ascuit Musard. Upon the death of Baron Musard, through the marriage of one of his sisters, a share of the manor came to the Frecheville family. The Frechevilles also came over to England with William the Conqueror and in 1544, via a circuitous route, a Sir Peter Frecheville acquired the rest of the manor. Thus Staveley became for many years the chief seat of the Frecheville family. There are still many reminders of this in Staveley, such as Frecheville Street and a Frecheville house named for the pupils at what was the Grammar School which was founded in 1572 by Margaret Frecheville, and many monuments and a chapel dedicated to the family in the parish church of St John the Baptist By 1681 the Duke of Devonshire had become the principal landowner, having bought the manor and estate from Lord Frecheville of Staveley, another Peter who had been created a peer in 1644.<![if !supportFootnotes]>[34]<![endif]>

Although predominantly a rural community, by the early 1800s a variety of small businesses were serving a population of around 3,000: brush manufacturers Fletcher & Son, boot- and shoe-makers George Bagshaw and Benjamin Fox, maltsters John Chester at Norbriggs, James Birkeft the miller at Staveley Mill, tailors Benjamin Furniss and Thomas Parkin, and of course the wheelwrights and blacksmiths essential for the care of the horses, wagons and carts. Well endowed with taverns and beerhouses, and a selection of shops catering to most needs, the village of Staveley, along with the outlying hamlets of Woodthorpe, Marsden Moor, Netherthorpe, Poolsbrook and Barrow Hill, were quite self-sufficient.

By the mid-1800s this was all beginning to change. The ironworks and the collieries were slowly transforming Staveley into an industrial town and by 1900 Staveley was thriving. The railway and the canal ran through the centre of town, passing very close by the ironworks, and so distributed the products of these industries to all parts of the country. By 1950 probably 90 per cent of Staveley's workforce was employed in the mines or at Staveley Works. The collieries have since been shut down and demolished, foreign companies have taken over what was the iron and steel business to produce chemicals, and small industrial units seem to be the shape of things to come.

During the 1960s the Staveley of old began to disappear. There were no longer the little short cuts - a quick nip down Devonshire Street into Duke Street pop up New Street and you cut the long High Street/Market Street comer, down past Buttermilk Row and under the Arches to Railway Cottages. The little rows that were a feature all around Staveley, such as Renshaw's Row, Gregory's Row, Netherthorpe Row, Bent Lane, The Poplars, Prospect Place, all made way for more modern housing and new shopping facilities. At one time there seemed to be a public house every few yards: the Crown, where the Staveley Feast was held in the field at the side, the New Inn in New Street, the Devonshire Arms on High Street, and the Canal Tavern, handy for the strollers on the canal path, all vying for customers with the ones that have survived until the present. And do you remember the shops? Frisby's shoe shop on the Cross, Woodhead's Drapery, Bowmer's the tobacconist the big Co-op on High Street, all the little sweet shops, wool shops, hat shops, chip shops, and not forgetting the ironmonger 'Sonky' Sales where anything could be 'got for the morrow'.

It's good to look back occasionally to how we used to be, when life moved at a slower pace; but perhaps we endow things with a rosy hue that hides just how hard that life sometimes was. Yet there were also the good times, the big celebrations, the church and chapel festivities, the parades and band concerts, the football and the Staveley Feast.

To illustrate various aspects of Staveley the author selected photographs which, which, together with his potted history, give some idea of the people and places that made Staveley the town it once was. One of these is a rear view of Staveley Hall, 1906 and is accompanied by the following short account.

The Hall was built in 1604 by Peter Frecheville on the site of a previous house, which could possibly have been the manor house of Ascuit Musard, Lord of the Manor after the Norman Conquest. In 1644 the Hall was garrisoned against the Parliamentary troops by John Frecheville (son of Peter), a staunch Royalist but surrendered to Major General Crawford, who had marched down to Staveley after taking nearby Bolsover Castle. John was later made a peer for his loyalty to the Crown. In 1681 the house was sold to the Duke of Devonshire. Plans to demolish the Hall in 1750 were halted by the Reverend James Gisboume, who chose to live there after its restoration in the 1770s. It was used as the rectory by successive rectors and curates until a smaller, more manageable, residence was built in the rectory grounds. The Hall was then taken over by the Staveley Council for use as offices. The outbuildings and stables have since been extensively renovated and sports and leisure facilities provided in the grounds.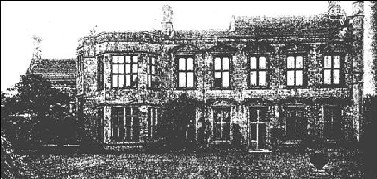 Staveley Hall
<![if !supportEndnotes]>

Footnotes
<![endif]>