We have inherited a series of cards documenting the rites of passage of a group of Fretwells who have as their common denominator Maltby. These Fretwells had their roots in the Maltby area, being variously baptized, buried, married and resident. Some of the cards hold sufficient data to clearly establish a person's dates of birth and death, spouse, parents and offspring. Others merely document a name with perhaps one or two items of information, which makes it difficult to see where they fit into the scheme of things. To compound the problem of the latter category is the frequency of the first name Roger, Robert and Ralph.
If and what connection there is between the "Maltby" and the "Cawthorne" Fretwells has not been established. However, as a group, the Maltby Fretwells seemed to have been a more well-heeled group than their Cawthorne (?) cousins. They married into families of the 'minor gentry' class, and, in keeping with their status, many of them and their spouses were buried within a Church and/or merited a memorial to their passing.
Maltby and Districts

The following descriptions are taken from Baine's Directory of the County of York (1823).
Maltby
Maltby is a parish town in the upper-division of Strafforth and Tickhill, situated 7½ miles from Rotherham, 13 from Sheffield and 47 from York. It was the seat of John Cook, esq. The Church, dedicated to St Bartholomew, was in the deanery of Doncaster. A school was founded by one of the Earls of Castleton, and kept in good repair by his heirs. The population numbered 679.
Hooton Levitt
Hooton Levitt in the parish of Maltby, with a population of 95, was the seat of William Hoyle, esq. It is situated 5 miles from Tickhill, and 7 from Rotherham.
Stainton
Stainton, also a parish town in the same division as Maltby, is 9 miles from Rotherham, and 45 from York. It had a population of 218, which included the small settlement of Hellaby. The Church is dedicated to St Winifred, and comes within the deanery of Doncaster.
Braithwell
Braithwell a parish town in the upper-division of Strafforth and Tickhill, is 5 miles from Tickhill, 6 from Rotherham, 8 from Doncaster and 45 form York. It has a population of 438, and the Church, in the deanery of Doncaster, is a vicarage, and is dedicated to St James.
Bramley
Bramley, in the parish of Braithwell, is 4 miles from Rotherham and 10 from Doncaster. It has a population of 310.
Micklebring
Within the township and parish of Braithwell, 5½ miles from Rotherham and 9 from Doncaster.
Todwick
A parish town of 210 people in the upper-division of Strafforth and Tickhill, 7 miles from Rotherham, 7¾ from Worksop (Notts), 10¼ from Sheffield and 49 from York. The Church, a rectory within the deanery of Doncaster, is dedicated to St. Peter and St. Paul.

Maltby in the 17th Century
The following is a extract Chapter 8 of The Growth of a Township www.maltbyonline.co.uk.
"The new social patterns brought new social groups. There was an increase in the number of financiers, professional classes, doctors and the like. With them there were the yeoman farmer. In the Seventeenth Century a village like Maltby could divided into four classes - the peers, the gentry, the yeoman farmers (a class of middle people in a condition between gentlemen, cottagers and peasants). Last saw the largest class, the common people ... little is known of them ... Just beyond the Parish boundary at Hellaby, one emergent family of merchants was becoming prominent. This family, the Fretwells, appear in the early Seventeenth Century Registers. They were numbers among the "gentry". Like the other up-and coming families, they were buying and selling land around Maltby. They had humble beginnings in Maltby and Hellaby. It is recorded that in 1610 a Richard Fretwell, carpenter, married Lucy Herring of Hooton Levitt. One branch of the family lived in Hellaby Hall. the family is remembered in a quaint wall-tablet attached on the Don Jon Hotel : "James Fretwell built this, 1676". The tablet must originally have been attached to a wall in some earlier building, because the Don Jon is a modern structure. Although the Fretwell had inter-married with other "gentry", they passed out of Maltby's history. Before this happened Ralph Fretwell, a significant landowner, who lived at Hellaby Hall, went to Barbados in the West Indies. He was a sugar Planter and Chief Justice of the Court of Common Pleas in Barbados. In 1771 Fretwell was convinced by George Fox, the Founder of the Quaker Movement. He became a Quaker and in 1674 was removed from his post as Chief Justice because of his beliefs. He suffered numerous prosecutions for allowing the negro children to attend religious meetings in his house, for not paying his Church dues and for refusing to carry out Militia duties. However, his singlemindedness and witness served him well materially. He gained enough wealth to build the present Hellaby Hall in 1692 ... Ralph Fretwell also became rich enough to leave each of his three daughters £5,000 - a very large sum in those days!"

Family Groupings
As an initial and tentative attempt to make some sense of the card index data, and using other sources, what follows is groupings of these Maltby Fretwells indicating, where there is some degree of certainty, the relationships between the groups.
Following the groupings, those Maltby Fretwells who have as yet to be fitted into the jigsaw are listed, together with what (little) information is known about them. Hopefully, with further research, they will find a home.
Before dealing with the various groupings, the following table, linked to the particular individuals, gives the surnames of people who married into the Maltby Fretwells.

John Fretwell of Sowcome and Hellaby (? - ?)
The following posited lineage is constructed from the family documentation and also from the Fretwell Pedigree MS630 & 631 from Familiae Minorum Gentium (pp1303-1306).
Generation 1
John is thought to have been born around 1510 and to have originated from Sorcombe in the parish of Warsop (Notts) - from a reference to him as being John of Sokeholme. He married into the Hellaby family, thereby acquiring the property and the 'handle' John of Hellaby. The marriage is estimated as having taken place around 1535.
Generation 2
Robert, son of John, married into a respectable local family, the Bosviles. His wife was Margaret, daughter of Jasper Bosville. As well as being "of Hellaby" Roger was also referred to as Roger of Edlington, suggesting the ownership of property in that district. Precisely when Roger was born is not known, but his burial is recorded as 11 December 1574, and his will was proved on 6 October 1575.
Margaret married a second time, to Richard Cosin of New Hall Grange in Laughton en le Morthen. They had a daughter, named Ann, who, in the Pedigree is identified as their heir and as the widow of Lewis Waterhouse. Margaret outlived both her husbands, and she made her will as the widow of Richard Cosin on 20 October 1606. One stipulation of the will was that she be buried in the Church of Stainton.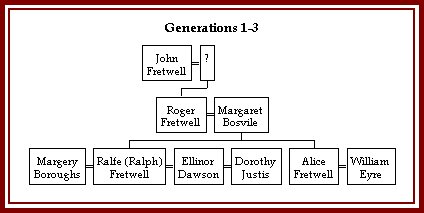 Generation 3
Roger Fretwell and Margaret Bosvile had two children
| | |
| --- | --- |
| | Ralph Fretwell |
| | Alice |
Ralph Fretwell, of Hellaby and Maltby, Gent., was baptised on 21 September either in 1558 or 1559 at Braithwell. How long he lived is not known, but he was living at the time of Visitation of 1612. His will was dated April 12 1638, and was proved at York on 19 October 1647, which suggests that he lived to a ripe old age. In that time he was thrice married.
There are some discrepancies between the family data and the Pedigree in the dating and ordering of Ralph's marriages. The family data only refers to two marriages, to Margery and Ellinor, the latter being recorded as by Licence in 1606. However, there are also some obscure references to a Dorothy which suggest a third wife. The order given here is based on the Pedigree. His first wife was Margery, daughter of Richard Boroughs of Rotherham, and they were married in July 1583. Wife Number 2 was Dorothy Justis, and they were married at Sheffield on 11 July 1610. Some time around or after 1617 Ralph married, by Licence, Ellinor Dawson, a widow, and mother of a son, Thomas Dawson. She is thought to have come from Todwick, and her will was dated 14 September 1632. But, as for all Ralph's wives, we do not have the date of death.



Sister Alice married William Eyre of Bramley Hall, Braithwell. Nothing else is known about her.
Generation 4
The Pedigree shows 2 children as having been born to Ralph and his first wife Margery. These were:
| | |
| --- | --- |
| | Edward Fretwell |
| | Alice Fretwell |
Edward, elder son and heir, married Jennett (Janet), daughter and heir of John and Dorothy Clarke of Micklebring. The wedding took place at Braithwell on 25 January 1606/7, whereby, in the right of his wife, the groom was then referred to as Edward of Micklebring. He predeceased his father, and in accordance with a provision of his will, proved 17 December 1623, was buried at Braithwell, on 19 February 1622/3. According to a reference in the Court baron of Connesbrough, Edward, Janet, and Dorothy Clarke (then widow) were admitted tenants of two moieties of five oxgangs of land in Braithwell and Micklebring, which John Clarke had surrendered at a court January 3rd, 4 James I (1606), to the use of himself for life, and afterwards one moiety to the use of Edward and Janet, the other moiety to the use of Dorothy for life, with the remainder to Edward and Janet - Fines 12s 6d each.
After Edward's death, Jennette may have remarried, as there is a record in the Braithwell Parish Register of the baptism on 2 February 1628/9 of Jane, daughter of Jennett Fretwell, father named as William Wilson.



With Alice Fretwell we find another connection with the Bosvile family through her marriage at Braithwell on 29 January 1610/1 to Thomas Bosvile, of Braithwell, Gent. Alice was also buried at Braithwell on 23 July 1644. One son is recorded of the marriage - another Thomas, who later became Vicar of Braithwell.

Edward and Alice had 3 step-brothers and 1 sister through their father Ralph's subsequent remarriage. (The Pedigree gives the step-mother as Dorothy Justis; the family records have her as Ellinor Dawson).
| | |
| --- | --- |
| | Dorothy Fretwell |
| | Roger Fretwell |
| | William Fretwell |
| | John Fretwell |
Dorothy Fretwell was baptised at Stainton in 1610. She married a man from Norton, Derbyshire, Jerome Rollinson (Rawlinson) of The Ha(e)rdings. The Pedigree ascribes to this couple one son Robert Rollinson (1637-1686), and three daughters. Elizabeth, baptised in 1639, married to William Butler of Sheffield in 1663, and named in her Uncle Roger's 1680 will. Sarah (dates unknown) married into the Hoyland family, and Helen (dates unknown) married, on 3 December 1657, Anthony Chapman, cutler of Hawstinbank. Sarah and Helen were also mentioned as nieces in Roger's will.



Roger, baptised in October 1612 at Maltby and Gent. of that parish, did well for himself in marriage. He wife was Mary, daughter of Nathaniel Hunt of Swabey in Lincolnshire. Mary was the sister of Abraham Hunt of Stainton, and their mother was a daughter of Sir John Bolles of Louth. Roger drew up his will on 24 November 1680 and was buried nearly one year later, on 1 August 1681, at Maltby. According to the compiler of the Pedigree, Roger, in his will, speaks of having settled lands at Wickersley on his kinsman Edward Fretwell. He also mentions his kinsmen Dr Henry Eyre (related to William Eyre of Bramley Hall, husband to Alice?), Ralph Fretwell, his nephew Thomas Bosvile, vicar of Braithwell, his niece Hannah Wortley, niece Rebecca Howson (not sure where this surname comes from - perhaps should read Dawson?), and one Aquila Dawson (related to Ellinor Dawson?).



William, referred to as of Gent. of Herringthorpe, was baptised at Maltby on 2 April 1617. He married a local girl, Dorothy Pashley of Maltby at Braithwell in September 1651. William made his will on 27 February 1659, and appointed his brother Roger as Executor.
The Pedigree gives their offspring as John who lived from 1652 to 1719, and who is thought to have been buried in the Silkstone Church, and a daughter, Elizabeth. She was apparently committed to the tuition of her grandfather Pashley and, according to the Pedigree, married John Hobson of Dodworth in the parish of Silkstone. There is clearly a discrepancy here, as John Hobson's mother's maiden name was Helen Fretwell. Family records have a reference to Hellen, daughter of William Fretwell of Bramley, born 30 Mar 1654, and baptised at Braithwell on 6 April 1654. (See under the Fretwell Family Links, Hobson).




There is no wife allotted to John Fretwell. However he apparently acquired the Rectory of Maltby through his father's will, and he was also named in the wills of Ellinor Fretwell (née Dawson) and brother Roger.
Generation 5
Edward and Jennett Fretwell produced a large brood of 8 children, 6 of whom survived to adulthood.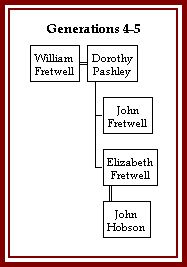 Son and heir, Ralph of Hellaby Gent., was baptised on 27 November 1697 at Braithwell. He and Margaret Spencer were married at Sheffield on 17 May 1630. Margaret was the daughter of William Spencer of Bramley Grange. Ralph's will was dated 28 May 1677 and it was proved on 29 July 1681. His long outlived his wife, who was buried at Sheffield on 18 May 1639. The baptism date of their last child, Alice, is also 1639, suggesting that Margaret may have died as a result of a difficult childbirth. There is some speculation on the part of the Pedigree compiler that Ralph then went on to marry twice more. First to widow Faith Taylor, on 28 August 1639 at Sheffield. Faith was buried 11 January 1642/3. Ralph may then have married another widow, Anne Burbridge, at Chesterfield some 18 months later, on 4 September 1643. Certainly he would have appreciated some assistance in caring for his young brood.



Richard, Yeoman of Hellaby, was baptised on 7 November 1609, two years after his elder brother . His wife has not been conclusively identified but may have been Ellen Goodwi(e)n. They have four children ascribed to them. Sadly, the two daughters, Sarah and Ruth died in infancy. Thomas started an 8 year apprenticeship in the Company of Cutlers of Hallamshire in 1647, the fee of £6 being paid by Ralph Fretwell. Nathaniel was born in 1639 and died aged aged around 22 in 1661.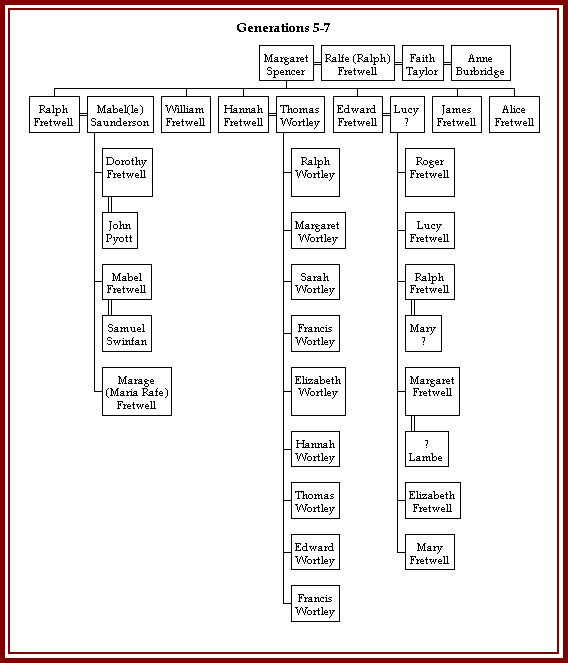 All that is known about Edward, son of Edward of Micklebring, is that he was baptised at Braithwell in December 1611.



Third born Mary (Marie) was baptised on 16 June 1614 at Braithwell. We know little else about her apart from an illegitimate son John Fretwell, who was baptised at Braithwell on 29 January 1632/3. Mary would have been around 18 when this child was born. The Parish Register records the event with the notation "Begotten upon her bie Daniell Grotte, Gent".



Elizabeth, baptised on 11 December 1616 at Braithwell, married Thomas Bowles. Sister Annah (Anne), baptised at Braithwell in 1619, married John Gilberthorpe of Wickersley, the banns being called by one William Beckwith, JP. Witnesses to the ceremony were stated to be Rodger Fretwell and Thomas Bowldes, uncle and brother-in-law.



As Thomas and John were both baptised on 18 June 1622 it is assumed that they were twins. Thomas was buried some 54 years later, at Braithwell on 10 July 1676. Brother John outlived him by 8 years, being buried aged 62, also at Braithwell on 19 September 1684. John was known to be living at Hellaby in 1677, where he is named in his brother's will. The Braithwell Parish Register records John, together with one Thomas Waterhouse, as a witness to the marriage of Thomas South of Hooton Levitt and Bridget Waterhouse of Braithwell.
Generations 6 and 7
Ralph and Margaret were parents to 6 children.
| | |
| --- | --- |
| | Ralph Fretwell |
| | William Fretwell |
| | Hannah Fretwell |
| | Edward Fretwell |
| | James Fretwell |
| | Alice Fretwell |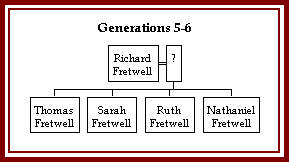 Ralph Fretwell of Hellaby was baptised at Sheffield on 23 June 1631. He married Mabel Saunderson, and they had three children. Dorothy married John Pyott of Strathay, Staffordshire. Second daughter, Marage (also known as Marafe - from a combination of the first letters of her parents' names, and Maria Rafe) was baptised at Braithwell on 14 February 1689/90 but was dead before 1701. The third child, and another daughter was Mabel who, on 18 November 1710, became the wife of Samuel Swinfan, M.D., of Birmingham. In the Pedigree, Dorothy and Mabel are referred to as co-heirs.
Ralph spent some years far removed from his Maltby origins, living and working in Barbados. Quite what he did there is not known, but he seems to have made his mark. The Colonial Papers for the year 1666 (Minute 1121) list him as a member of the Assembly of Barbados, being one of the two Representatives for the parish of St. Andrew's. In April 1671 (Min 482) Ralph was one of the signatories to a Committee Report, addressed to 11 Gentleman Planters in London, referring to the measures put in place to meet the Mother Country's requirement that taxes be levied locally to fund the Island's fortifications. The next year, in November 1672, (Minute 965 Nov) Ralph was a member of a Barbados Council Committee charged with considering and reporting on the Acts of the country. It is not certain whether Ralph still retained his position on the Council in 1681, but an entry in the Colonial Papers for June 7 of that year (Min 132) sees Ralph Fretwell, with others, having presented a petition (the subject of which is not given).
An excerpt from the Parish Registers of 1680 -

"A List of the Masters & Mistresses names wth what Lands & Seruants & negrees they haue, & Asoe what christenings & Burialls that been in the Parish of St Andrews"
records that Ralph Frettwell, Esqr had not acquired any land, had no Negro servants, had no children baptised, nor any member of his family buried. However, he did 'own' one servant. Whether he retained this servant, or replaced him with another is not known. But Ralph did acquire another, one Wm Cossens, in December 1685. William Cossens was one of 90 rebels of the Monmouth Rebellion who, under the captaincy of Roger Wadham, and departing from Weymouth, had been transported aboard the "Happy Returne" of Pool.

What drew him to the West Indies is a matter for speculation, but he may have been encouraged by reports from two other Fretwells (related?). The Barbados records for 1638 listing the inhabitants who possessed more than ten acres of land, included Henry and Thomas Fretwell. 'Speculation' is an apt word because, whatever Ralph did when he was in Barbados, it paid off handsomely. On his return to England, and some time before 1692, he built Hellaby Hall, situated 1¼ miles west of Maltby, a grand residence in Dutch Colonial style, set in a walled garden. The Hall has been described as
"A curious and quite dramatic house of c.1700. Five by three bays. The front is of two storeys but with a third in a large, bold, but unquestionably awkward gable. The windows have flat frames and originally had all mullion and transom crosses. The doorway has an open segmental entablature on Tuscan pilasters. Quoins. The gables start on both sides with big fleshy volutes and then rise in slopes and curves to a flat top. Three windows under it. The side of the house, owing to the fall of the ground, also has three storeys, though it does not reach the gable height."
(Nikolaus Pevsner, The Buildings of England : Yorkshire West Riding)

(The building is still standing, restored, and serving as a Hotel).

During his time in the Barbados Ralph embraced Quakerism, which had a strong following among the colonials. Ralph did not live long to enjoy the fruits of his time in the West Indies, and was dead some time before 1701.

The following is an extract from the Diary of George Fox : Travels in America - 1671-1673,
"The third of the Eighth month, early in the morning, we discovered the island of Barbados; but it was between nine and ten at night ere we came to anchor in Carlisle bay.

We got on shore as soon as we could, and I with some others walked to the house of a Friend, a merchant, whose name was Richard Forstall, above a quarter of a mile from the bridge. But being very ill and weak, I was so tired, that I was in a manner spent by the time I got thither. There I abode very ill several days, and though they several times gave me things to make me sweat, they could not effect it. What they gave me did rather parch and dry up my body, and made me probably worse than otherwise I might have been.

That same week I went to Bridgetown. There was to be a general meeting of Friends that week; and the visit I had made to the Governor, and the kind reception I had with him, being generally known to the officers, civil and military, many came to this meeting from most parts of the island and those not of the meanest rank; several being judges of justices, colonels or captains; so that a very great meeting we had, both of Friends and others.

The Lord's blessed power was plentifully with us; and although I was somewhat straitened for time, three other Friends having spoken before me, yet the Lord opened things through me to the general and great satisfaction of them that were present. Colonel Lewis Morice came to this meeting, and with him a neighbor of his, a judge in the country, whose name was 'Ralph Fretwell', who was very well satisfied, and received the Truth ...

Having been three months or more in Barbados, and having visited Friends, thoroughly settled meetings, and dispatched the service for which the Lord brought me thither ... I set sail from Barbados to Jamaica on the 8th of the Eleventh month 1671."



The only information for William is his baptism date - 25 March 1632 - at Stainton.



Hannah married into the Wortley family, her husband being Thomas Wortley, a Cap. Burgess of Doncaster. They had 9 children, but in her father's 1677 will only 5 are referred to. At least Francis and Hannah died as infants. Perhaps another two also died young, or were born after after 1677.



Ralph's brother Edward Fretwell of Wickersley, married a woman named Lucy. Her provenance is not known, but she died a widow at Redford, and was buried at Stainton on 24 July 1727. In 1677 Edward and his wife are mentioned in his father's will. Edward was still alive in 1714, the date of his own will. There is a reference to him having sold land at Wickersley to Richard Smith of Carlton, in Lindrick, for the princely sum of £1295.
Two sons and five daughters were born to Edward and Lucy. The oldest child, Roger was baptised at Braithwell on 22 May 1677, but died in his 15th year. He was buried on 6 October 1690. Lucy, the first daughter, was baptised at Braithwell in 1681. Whether she married, and when she died is not known, but she was presumably alive in 1714 when she was mentioned in her father's will.



Next in line was another Ralph. His baptism took place at Brampton in Derby on 15 May 1684. In 1701 he received £200 from his Uncle Ralph's estate. Ralph's wife was called Mary and all that is known of her is that she died a widow and was buried at Stainton on 7 November 1733.



Second daughter Margaret, baptised at Braithwell on 7 January 1685/6, was named in her father's will of 1714 as the wife of ? Lambe. So we deduce that she, and her husband were still alive in that year. Margaret also received £200 from her Uncle Ralph's estate in 1701. Little is known of the fifth child, Elizabeth, except that she was baptised at Wickersley on 11 September 1688, and was named in her father's will of 1714. The last two, daughters Sarah and Mary, did not survive past infancy. Sarah was baptised at Wickersley on 9 January 1689/90 and was buried there 9 months later on 17 October. Mary, baptised at Wickersley on 29 March 1692, died before reaching her 6th birthday. She too was buried at Wickersley, on 11 December 1697.



James did not survive to adulthood. He was baptised on 16 May 1636 and buried in October 1649. All we know is the baptism year, 1639, for the last born, Alice. As has been noted above, this was the same year as her mother died.






With the passing of Roger, and sometime before 1733 of the death of Ralph, came the end of that Fretwell line, unless William, son of Ralph had an heir, or their were male heirs from the marriage of Ralph and Mary. A notation at the end of the Pedigree is therefore tantalising:
"Roger Fretwell of Gringley on the Hill, in 1780, obtained copies from the Registrar of Stainton of the burial of the two widows [Lucy and Mary] and also of Mrs Helen Fretwell, Spinster, 11 February 1743/4.

1795, Feb. 8, d. at Bautry, Mrs. Fretwell, aged 75, and on the 11th, Mr Fretwell, aged 65. They had been mar. upwards of 40 years, and were both interred in one grave at Everton (Magazine)...I conceive that these Fretwells were descendants of the Ralph above named, son of Edward."

James (Jacob) Fretwell (1562/3-?)
The following was constructed using the card index and a pedigree published in Familiae Minorum Gentium MMS. 616 (pp 1286-7) provided to the compiler by William Hoyle Fretwell. The Pedigree is headed up Fretwell-Redfearn-Hoyle

.

Generations 1, 2 and 3

The Pedigree shows James's father and grandfather as being, respectively, Robert and Roger Fretwell, and it states that Roger Fretwell was known to have been living in 1531. Nothing is known of his wife, nor of that of his son Robert, of Hooton Levitt parish, whose birth and death dates are also not established. Neither of these two men, at this stage, can be confidently matched with the Rogers and Roberts of the card index.



The third generation of this family group is easier to track. James (Jacob), referred to as "of Hooton Levitt", was baptized on 6 February, 1562/63 at Stainton, and was said to have been the first Fretwell baptised in the Stainton parish. He married Catherine (Catharina) Bonvile, daughter and heir of Adam Bonvile of Wybridge (or Ivybridge?) in Devonshire. When James died is not known, but a sepulchral inscription at Maltby church confirms that his wife died in July 1613.
Here buried lyeth Catherine wief of James Fretwell one of the daughters and heires of Adam Bonville of the house of Ivybridge in Devonshire who dyed ... day of July 1613.
Catherine was buried on 3 July 1613.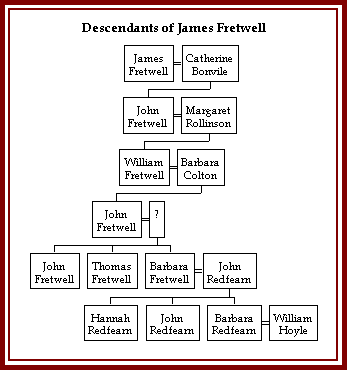 Generation 4
John Fretwell (whose name was also spelt Frettwell), son of James and Catherine, was baptized at Maltby on 11 January 1600/1. When John married Margaret Rollinson on 6 February 1627/28 in Norton he was 27 years old. Nothing further is known at present about Margaret.
Generation 5
If the records are to be believed John had to wait many years before the birth of an heir. William Fret(t)well of Hooton Levitt was baptized on 15 February 1645/46. He died on 26 July 1700, at the age of 55, his passing being commemorated by an inscription in the Maltby Church, where he was buried on 27 July 1700.
Hic supter haud ita procul ab hav Columna reconditae jacent reliquiae Gulielmi Fretwell, de Hooton-Levett qui ex hac vita migravit 26 die Julii anno a christi nativitate 1700, aetatis autem suae 55. Serius aut citius metam.
William married Barbara Colton, who predeceased him. She was buried in the quire of the Maltby Church on 23 March 1684/85.
Generations 6 and 7
Son of William and Barbara, Mr John Fretwell, also of Hooton Levitt, died on 2 December, and was buried on 5 December 1725. From the memorial in Maltby Church
John Fretwell, of Hooton-Levet, gent. 1725, aged 53
he would have been born in 1672. He left a will, the date of which is thought to be 18 May 1725. His wife is an unknown, but John did have some offspring to no doubt benefit from the will.
Generation 7
In fact John and his wife produced three children.
| | |
| --- | --- |
| | Barbara Fretwell |
| | John Fretwell |
| | Thomas Fretwell |
The eldest child, Barbara, was baptised on 11 June 1713 and lived to the age of 60. She died on 18 September 1773, and was buried in the Maltby Church. Barbara married one John Redfearn of Sheffield, who was an Attorney. He survived his widow by four years, having died on 17 October 1777. He was buried in a vault in Maltby Churchyard.

They had three children, two daughters and a son. Hannah died unmarried on 26 April 1775, aged 40 and was buried at Maltby. John Redfearn, of Hooton Levet, Gent, also died unmarried on 2 March 1794. The second daughter, Barbara, married William Hoyle of Sheffield, an Attorney, and Clerk to the Cutlers' Company, and also of Aughton Hall. Barbara died, aged 49, on 10 January 1796, and was buried at Maltby. Her husband died just over ten years later, on 1st September 1807, aged 66.



John died before reaching his first birthday, having been baptised at Maltby on 28 June 1716, and buried there on 29 March 1717.



Thomas was baptised on 15 December 1718 and died, unmarried, on 1 September 1753 at the relatively young age of 35. With him ended this branch of the Fretwell line. He was buried in the Maltby Church, where there was a memorial in his honour:
Thomas Fretwell of Hooton-Levett gent. 1753, aged 35.

James Fretwell, The Diarist
I have included James Fretwell, (1699-1772)in the Maltby page. Nothing has yet come to light to link him in with any of the above Fretwell families, although his roots were in the same district. So, rightly or not, for the moment he has found a place here. A fuller account of James, his family and life, and a transcription of the Diary is dealt with separately.

The following references are taken from the notes left by WEF and RTF. These people are yet to find a home. I have made some comments, based on the family notes. Any assistance on these Fretwells will be very much appreciated. I am only an email away.
| Name | Data | Ref | Comment |
| --- | --- | --- | --- |
| Roger | Born abt 1485 in Carr-Hooton Levitt and died aft 1510? | | Wife unknown. |
| Robert | of Warsop, born abt 1508? Mar Margaret? Uncle of Roger of Edlington - witnessed will dated 26 Dec 1535, proved 16 May 1538 | | Son of Roger and brother of John of Sokeholme? |
| Thomas | s/o Robert and Margaret?, bap 1529, bur 20 May 1618, Maltby? | | ? |
| William | s/o Robert and Margaret?, no dates | | Born bef 1538? |
| Elene | d/o Robert and Margaret?, no dates | | Born bef 1538? |
| Elizabeth | d/o Robert and Margaret?, no dates | | Born bef 1538? |
| Elizabeth | d/o Robert F, bap 12 Mar 1560/1 | PR Braithwell | ? |
| William | of Nethermilne, no dates | | Father of Elizabeth, bap 1600? |
| Jane | d/o Roger and (Margaret Bosvile?) no dates | | Sister of Alice, Margaret and Ralph? |
| Margaret | d/o Roger and (Margaret Bosvile?) no dates | | Sister of Alice, Jane and Ralph? |
| Elizabeth | d/o and w/o William F, bap 2 June 1600 | PR Maltby | Same wife as w/o William buried 2 Jun 1614? |
| Isabella | d/o Robert F of Maltby, bap 5 Oct 1605 | PR Maltby | Robert of Maltby |
| Robert | of Hellaby, born abt 1537? bur 29 Dec 1609 | PR Maltby | 2nd son of John and ? Hellaby, and brother of Roger? |
| Johannes | s/o Ralph F of Hellaby, bap 30 Aug 1607 | PR Maltby | Son of Ralph by 2nd or 3rd wife? |
| ? | w/o Robert F of Hellaby, bur 20 Feb 1612/3 | PR Maltby | |
| ? | w/o William of Nethermilne, bur 2 June 1614 | PR Maltby | Mother of Elizabeth? |
| John | of Hooton Levitt, mar Mary Barnes? | ? | ? |
| Richard | of Braithwell, mar Ellen Goodwin, 15 Sep 1615 | Rotherham Mar Regs | Richard, son of Edward and Jenette Clark? Ellen the unknown wife of the Pedigree? |
| Eleanora | w/o Robert F of Maltby, bur 29 May 1618 | PR Maltby | Mother of Isabella? |
| Robert | mar Maria West, 2 Feb 1618/9 | PR Maltby | 2nd wife of Robert of Maltby? |
| Thomas | s/o Robert F, bap 6 Jan 1619/20, bur 8 Apr 1620 | PR Maltby | Son of Robert and Maria West? |
| Robert | s/o Robert F, bap 28 Jul 1622 | PR Maltby | Son of Robert and Maria West? |
| ? | w/o Thomas F, bur 20 May 1618 | PR Maltby | If wife of Thomas, s/o Robert and Margaret?, she was buried the same day as her husband |
| Margaret | d/o Richard F of Maltby, bap 18 Apr 1624 | PR Maltby | Daughter of Richard and Ellen Goodwin? |
| Jacob | s/o Richard F of Maltby, bap 30 Dec 1627 | PR Maltby | Son of Richard and Ellen Goodwin? |
| Alice | d/o Richard F of Maltby, bap 3 Jun 1631, bur 2 Nov 1680 | PR Maltby | Daughter of Richard and Ellen Goodwin? |
| Bartholomew | s/o Richard F of Maltby, bap 24 Aug 1642 | PR Maltby | Son of Richard and Ellen Goodwin. If so - an 11 year gap between Bartholomew and Alice |
| Elizabeth | d/o Johannes F, bap 3 Dec 1628 | PR Maltby | Possibly the daughter of Johannes, son of Ralph of Hellaby? Sister to Eleanor, Dorothea, Johannes, Maria, and James |
| Eleanor | d/o Johannes F, bap 27 Nov 1630 | PR Maltby | Possibly the daughter of Johannes, son of Ralph of Hellaby? Sister to Eleanor, Dorothea, Johannes, Maria, and James |
| Elinor | d/o Johannes F, and mar 25 Apr 1653 William Fisher | PR Maltby | The same person as Eleanor above |
| Dorothea | d/o Johannes F of Hooton Levett, bap 14 Feb 1632 | PR Maltby | Possibly the daughter of Johannes, son of Ralph of Hellaby? Sister to Elizabeth, Eleanor, Johannes, Maria, and James |
| Johannes | s/o Johannes F of Hooton Levett, bap 9 Dec 1635 | PR Maltby | Possibly the son of Johannes, son of Ralph of Hellaby? Brother to Elizabeth, Eleanor, Dorothea, Maria, and James |
| Maria | d/o Johannes F of Hooton Levett, bap 17 Nov 1642 | PR Maltby | Possibly the daughter of Johannes, son of Ralph of Hellaby? Sister to Elizabeth Eleanor, Dorothea, Johannes, and James |
| James | s/o John F of Hooton, bap 5 Feb 1649 | PR Maltby | Possibly the son of Johannes, son of Ralph of Hellaby? Brother to Elizabth, Eleanor, Dorothea, Johannes, and Maria |
| Johannes | s/o Bridget Sanderson of Maltby, bap 13 Jan 1647 | PR Maltby | Who is Bridget Sanderson?? |
| Richard | s/o Bonville Fretwell of Maltby, bap 9 May 1647 | PR Maltby | Bonville named after Catherine Bonvile who married James? |
| Dorothy | of Barbados, wed, testatrix ACC-? 21 Apr 1699 | Smith MSS Vol 4 P 114,115 HRP 12/20 | Tie in with Ralph F who went to Barbados? |
| Ralph | s/o Dorothy F of Barbados, 1679, and 21 Apr 1699 | Smith MSS Vol 4 P 114,124 HRP 12/20 | Tie in with Ralph F who went to Barbados? |